My Baby Turned 5 Today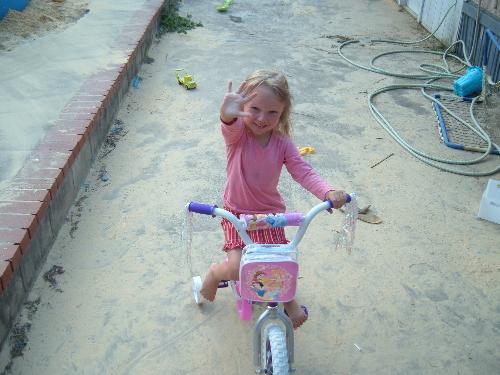 United States
8 responses

• Canada
10 May 09
She does look like she is really enjoying her bike. I guess you have to watch that she does not go around the block. And is she ever cute. I never was pregnant with my sons, they were adopted, but when they come over to visit, and they are large, I look at the photos of what they were when they were little and they grew so much?

• United States
10 May 09
It is actually a big fenced in area, so she can not go around the corner. I have a great respect for people who adopt children. May you have a great mothers day

• Canada
10 May 09
We have a large road and we have children next door and across the street around her age, and they are always on the road playing. So we all have to watch them. At least your daughter is safe. And happy mother's day to you.


• United States
10 May 09
Hi Melissa....she is just a beautiful little girl, and looks so proud and happy on her new bike. She is at such a fun age because she doesn't wat to be a baby but she does't not want to either.I hope she really enjoys her bike over the summer and has a really good and safe time on it. flutterby

• United States
11 May 09
Oh yes she is definitely ambivalent about being a big girl, vs mommies baby. She will adjust, and thank you so much for your kind words.

• Sweden
10 May 09
Congratz! My little brother turned 6 months today.

• United States
10 May 09
6 months, they are so cute, at that age.

• United States
10 May 09
Five was very hard on me. My trio turned five March 31st and I cried the entire week before. I did great at all the other birthdays, but five was very hard for me. They are no longer babies when they turn five, big school is next... She is adorable on her bike. Happy Birthday to your baby girl.

• United States
10 May 09
I homeschool, so I do not have that going away feeling, but I can understand what you mean. Thank you, and have a happy mothers day.

• United States
13 May 09
I know how you feel, my little guy just turned 5 recently too. The other day I just went and registered him for Kindergarten in September. I can't believe he is going to be in Kindergarten, he is my youngest of three children and my last one. To me he is the baby and he is still a baby, I know he isn't but to me he is my baby, it is very difficult for me to see him get so big.

• United States
13 May 09
They grow up so fast. Seems like I just found out that I was pregnant with my oldest and now I have 2. One will be 3 in June and the other 1 in July.

• Philippines
13 May 09
It is a good news that she already turned 5 happy birthday.