She did it!!!!!!!! (proud fathers rant)

Lancaster, New Hampshire
6 responses

• Philippines
14 Jun 09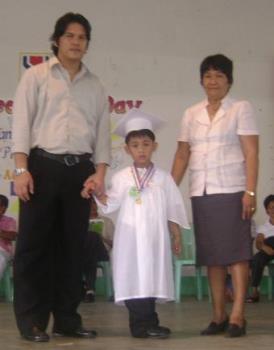 Hi there!Congratulations to you and your daughter! My son graduated from kindergarten last March and I was really happy and proud and yours graduated from high school and that like magnifies the feelings. I think it's also a bittersweet moment since you see your daughter growing up but it's great because you built a strong foundation from her and education is something that no one else can take away from her no matter what.


• United States
14 Jun 09
Hard to believe you have kids old enough to be in highschool, much less graduated from it! You must've started early.

Congratulations to you and your daughter, this is indeed an accomplishment to be proud of and I thank you so very much for sharing some GOOD news here at mylot! Blessings to your family, may your futures be filled with many more happy, proud, and glorious moments such as this.


• United States
14 Jun 09
Awesome. I'm two years away from my daughter graduating and then my son will be 3 years behind her. I can only imagine the mix of emotions you're describing. I don't want to imagine it TOO well. I'll wait til it's my turn. :-) I know you're a great dad and I'm sure she will do well in life.

• United States
14 Jun 09
Congratulations! You have every reason to be proud.