missing mom

United States
July 23, 2009 9:06am CST
My mother is not with me any more she has passed away every day I miss her she was not just my mother she was my best friend we did so much together I miss talking to her every day on the phone I miss every thing about her, Loosing your mother I think is the hardest thing in life, How many of you lost your mother and miss her? How many of you still have your mother around? Tell us somethings about your mother and why you love her?
4 responses


• China
23 Jul 09
mum.. my mother is very strict to me.and my mother is a good mother.

• United States
23 Jul 09
I'm so sorry for your loss, I list my mother n law last month and she was one of my best friends. I think of her all the time, I miss her dearly, I still expect for her to walk in the room, dosent se real yet. My Mom is still here thank you God, she is my heart. She having some med problems which scares me so bad. Please pray for her her name is Mary. Thank you. Liz

• Philippines
23 Jul 09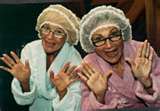 Yes have also same feeling like you had. My mother was already gone here on earth. I missed her smile, he loveliness, and sweetness to care us in the family. I miss her hugs, voice, and laughter for long years. So awesome mother and so wonderful for me. She gave everything for me even tho she will not have. Very caring, thoughtful and genuine always.