Who will die first/ get eradicated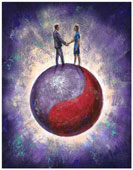 India
August 27, 2009 7:59pm CST
It is been perceived that the life was all about the female only species on earth.And only after lot of necessities during those initial stages the Male version being brought out on the soil. As all the female one's are having X and X chromosomes i.e. they have one pair of X chromosomes,while the Male population is having or carrying two different set of chromosomes i.e. to say X and Y. With the Time for the last millions of years the Y chromosomes have mutated; This mutation could not be rectified because there is only one set of Y chromosomes....... and this very Y chromosome for which one becomes a Male will destroy the Male generation as the Time pass off.......
2 responses

• Malaysia
28 Aug 09
rocket ... that is an interesting theory ... now i know why woman were given the reproduction capabilities, it was because they were first and they were reproducing babies (female) by themselves ... that is why the male cant have children without the woman .. ha ha ha nice theory !!!

• India
29 Aug 09
Very good. Dear sanjana_aslam you are very right and almost right on the conclusion, its very true that "Its only women who are the real creator of the world and rest of the things are for them, by them and off them". secondly you are very right again the they only passes the X chromosomes....its all been programmed, we can't do anything about it, it just that we (males)are here to follow the magnet like the Bee or the Ants etc are doing.......everything thing else are superficial......the difference between the insects and we human(males)are that the former does not know all the heck about they just do their duty and have honey in return while the humans knowingly do their duty for the shake honey .......good luck and thanks for the valuable comments.


• India
29 Aug 09
Surprise,Surprise,Surprise.Yes we both male and female are the wheels of the same chariot(destiny) but we human species should not forget the very fact they are the only one who brought us into this world (for what purpose these superior females thought to bring the males on this earth;and on the other hand what the male counterpart perceive). Its no doubt that we are of same species but,knowing it that they(female) are the master of the Y chromosomes are totally something different is what we see in every society across the world. Thanks for sharing your valuable thoughts with the mylotters.