Paper tissues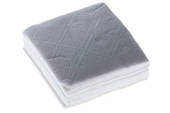 India
September 21, 2009 8:31am CST
Whenever i go out I will carry two types of paper tissues. The ordinary one like hand herchief for wiping my hand after i finish my tiffin in a restaurent and the other one is a wet tissue in a sealed sachet, for wiping the face for freshness and good smell. Do you carry any tissues with you? If so, how much?
3 responses


• India
21 Sep 09
I had a very bad experience which i never forget. Since then I started to carry some tissues with me without fail. The experience is this, We all went to attend one marriage and had our lunch. The lunch may be tasty but full of Dalda/vanaspathi which is greasy like butter. After finishing the lunch, we went to wash our hands. But with mere water the grease is not cleaned and we searched for ANYTHING desperately to clean our hand but nothing is available and the same was the problem with the other people who had lunch with us. Everyone was searching everywhere for the solution of the greasy hand. Finally i am forced to take my new and costly kerchief to clean mine and my family members hand and threw it there itself. This incident taught a very good lesson for me to carry tissues everywhere all the time. Am I boring you, my friend?

• India
22 Sep 09
It is not possible. It became so greasy and looked very awkward that even if I wash it, It is not going to become as clean as it was before. Besides it reminds me of the bitter experience

• India
29 Sep 09
yes i will carry tissue papers when i go to out of station. actually i perfer napkins. it is more confertable to wipe the hands. for freshness i use to wipe with wet tissues. thankyou.

• India
29 Sep 09
It is hygienic either. simply in times of extreme sweat, we can just use and throw. Even when we are suffering from severe cold, only paper tissues are the best choice.

• India
22 Sep 09
My preference is always cloth hand kerchief. I can use it for both dry use and wetting it to wipe my face, though two different ones I keep for both the uses.

• India
22 Sep 09
Though I have cloth hand kerchief, I prefer tissues especially when I catch cold. We can use and throw. When our hands are greasy, why should we wipe it with cloth kerchief and bother to wash straining ourself. i think it is waste of time and energy.