Look, she said, A Double Rainbow;

Jamaica
September 27, 2009 3:51pm CST
My D and I went to our second city to do a grocery shopping at a place like Costco's or something, yesterday. We had a good time but both of us were weighed down with problems. Her's being that because of the economic downturn students were unable to meet their financial obligations at University and her hours had been cut to 3 a week. Payment for this does not meet her monthly car payment and she was dis cussing this with me and we were struggling to find options.She is teaching on line at another University but her income is still small.

I was listening to her on one level and responding but was feeling devastated as my sister had called me and told me the devastating news of her step daughter's ravaging cancer that had just been discovered. Inoperable and she will leave two little boys of six and seven. Herr husband had run off years ago. Also I have my AGM coming up where they will decide if they want to employ me for another year or not.

So we are all under mega stress and I also have a close friend who is now in Miami and her prognosis is not good. She then spotted the double rainbow and it was magnificent and the colours were glowing against the dark clouds. Spectacular. I feel that it was made especially for us to be reminded of our God and that He is in charge.

We continued on our way filled with a sense of hope and the double rainbow did not disappear until we reached Ocho Rios. Have you ever seen a double rainbow?
8 responses

• United States
27 Sep 09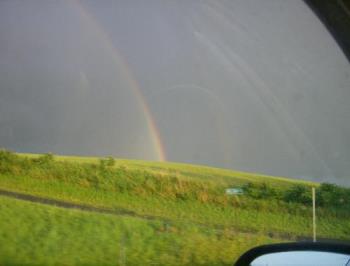 Yes I have, recently as a matter of fact. It was out while I was driving to pick up my hubby from work. We were also under a lot of stress due to our finances and we only had 1 working vehicle at the time. It at least took my mind off my problems for awhile. Here's a picture I took... You can almost see the second rainbow, it's very faint... it's on the right of the more obvious rainbow.

• United States
27 Sep 09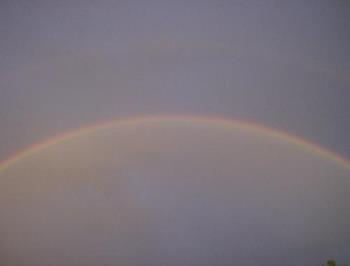 Here's another picture, hopefully you can see better... this is the same rainbows.

• Jamaica
28 Sep 09
I can see it quite clearly. I don't know why we didn't take a picture of the one we saw. This is so beautiful. I took it as a sign of God's love. I have been through binds before and will probably be in binds again but how we approach and deal with problems is the main thing. I sometimes need a reminder that God is in charge and that I should not stress myself out too much. Won't be online much after today what with the Owner's AGM coming up - sop much preparation. Blessings

• Jamaica
28 Sep 09
I have just noticed that I have a rainbow in my avi- a coincidence? I think not. Feel so cheerful already.


• United States
27 Sep 09
sTRESS, AN AWFUL THING TO HAVE TO LIVE with & i'm sorry u have so much right now. So sorry to hear about rache's situation, bless her heart she has a hard time the last year. I know u are worried about your job, i so hope all goes well for you. Sickness is always hard for everyone. i hope they all get a miracle & get well. I have seen a double rainbow but it's been a long time since i saw any kind of rainbow. I hope it was a sign of good luck for y'all to see it. Where there is a will there is a way & i know u have the will. God bless u & all your family.

• Jamaica
28 Sep 09
Rachel is always upset if her plans do not work out properly. She just has to hold on for about 4 more months as jobs in her field will be offered and she stands a good chance of getting a job. Stress is a killer and I should be dealing with it better and not let it getting me down. I am a survivor but I go a bit wobbly at times! Blessings

• United States
28 Sep 09
We all get wobbly at times, no shame in that. my son finds out tomorrow where they will be moving. i guess i'll be past wobbly then. Thank heavens i have friends like u. Tell rachel to hang tough.

• United States
27 Sep 09
No I can not say that I have ever seen a double rainbow. By double I must ask if you mean they overlap at the side, or just what you mean. God does show up to us in mysterious ways. He's always around to let us know that we are being watched over and cared for by him. I hope that all goes well for you and your daughter, and for you sister's step daughter and her family, may they be blessed...

• Jamaica
28 Sep 09
By double I mean that one rainbow is over another rainboe with space in between. Thank you for your good wishes. When is your wedding date?

• United States
5 Oct 09
Oh Okay I've seen those before. One time I saw a cloud that looked like an angel, how beautiful!

• Australia
1 Oct 09
Hey, Yea actually when I was younger I saw many double rainbows, and they looked really awesome. Sadly with many digital cameras, you can't really take the photos that clear, because rainbows aren't that clear either. Make sure you have a good day, God bless and Happy Lotting!!


• Jamaica
1 Oct 09
This was the first that I had ever seen and it was wonderful as it was set against the dark clouds so the colours were brilliant. Really breathtaking. It is incredible that you have had the luck tio have seen so many. Blessings


• Jamaica
28 Sep 09
This is the forst tht I have seen one and it was so beautiful. Many thanks for your good wishes. I am a tough old lady and will survive these toimes too. Just so stressful as t whether I have a job for another year or not. Do not want t6o ask my children for money to make my car payments and still have a coupole of years left to pzy for the house too.

• United States
27 Sep 09
I'm so sorry for all of the bad news. I have never seen a double rainbow. I think that was put there for the two of you to let oyu know not to give up hope. Hang in there, it seems what you have been worried about may be something that you don't need to worry about.


• Jamaica
27 Sep 09
Thank you. I am too old to believe in coincidences. I think that God's timing is always perfct. Many blessings. We both feel better today.

• Jamaica
22 Nov 09
Our troubles seem to be never ending. I hope things turn around for all of us soon. I would have been one of those students but have opted to maybe do long distance online as my time for attending classes is mega slim. I saw a double rainbow once but its size and position scred the daylights out of me and my siblings we were almost God was on His way down from heaven. The rainbow was located right in the back of our yard. It mean it was just there and so huge and scarey yet oh so totally awesome. We were kids then and home alone with no parents to assure us it was not the end of the world. Even now when we recount that experience we wonder if we were the only ones who saw it.

• Shingle Springs, California
28 Sep 09
Sure I've seen one and it is thing like double rainbows and humor that keep me going on a bad day. Hope your daughter finds something with a little more hours soon. And I'm really sorry about your niece. :-(