Are You Accident-Prone?

Carlisle, England
December 18, 2009 4:30pm CST
I was pushed over onto a gravelled car-park many years ago. I suffered a cracked bone in my nose so had to have stitches in that and a cut lip. It looked really bad at the time! This was way back in 1989 and - luckily - I have had no broken bones since. I do trip up though, all the time. I manage to stop myself from completely falling over but it can be embarrassing when there's a lot of people about. One person will generally ask me if I'm ok and I'll reply, "Yeh, fine" through clenched teeth! Accidents this year include; trapping my thumb whilst shutting the car door (don't ask). Luckily I had gloves on so it could've been worse. By far the worsed incident though, was an accident with a pan of extremely hot water...that ended up all over my wrist. God, it hurt! However, I did the right thing, immersed my arm in cold water for AGES, then had it bandaged at the hospital. It's right as rain now, just slightly red, so I'm lucky it didn't scar. So tell me, have you ever had any nasty accidents?
3 responses

• Philippines
19 Dec 09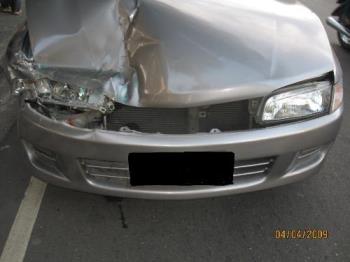 Hi, janey. Not me, luckily. It is my oldest son. I say most of the accidents he had been into must be because of his carelessness, too. When he was a small child, he met so many minor accidents. He had his upper lips cut while pumping the manual water pump, had been bitten by our same dog twice when he was 3 years old and he accidentally took kerosene to drink. Now that he is an adult, he had been into minor traffic accidents. He had forgotten the car keys (sometimes locking it in) for so many times. Had done minor damage to the car because of miscalculations. The worst was early this year when he suffered a cut on his lips (again), because of the impact when he bumped a passenger jeepney.


• Carlisle, England
19 Dec 09
Oh dear, he is accident prone isn't he? I thought I was bad! But at least they are minor accidents, nothing too serious.

• Philippines
19 Dec 09
Sad to know those instances. God is so good for me that I havent experience yet being into an accident. But I still believe nobody is considered as an accident prone person, accident are unexpected, we can forsee them sometimes so avoidance will be our next move, but most of it occurs in our least expected moment.

• Carlisle, England
19 Dec 09
Well that's very true. I think I should be more careful in future and pay attention to what's going on around me.

• Garden Grove, California
20 Dec 09
hi janey I did not used to be accident prone, but three years ago I had a bad fall on the sidewalk in back of my favorite restaurant where i was walking to intending to eat breakfast out on my day off. well my job was lost and the breakfast never happened at all. I fractured my left shoulder so badly that Ihad to have an artificial should joint put in, a month of therapy, another month of therapy, and still Ican only lift my left arm up to about my waist.so long lasting effects of that accident. hospital, and rehab place.