Those little green men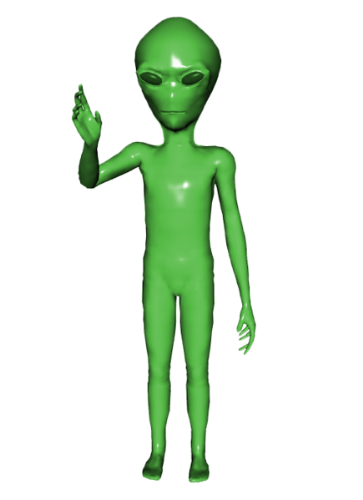 Australia
February 7, 2010 2:36am CST
...and the fact that they are aliens. In connection to that, I would like to ask if there are times you feel alienated from a group of people, or you tend to alienate somebody because he couldn't fit into your clique? Do you sometimes have a superior feeling over another person? Or do you tend to be a member of the masses of people who feel inferior towards some group of people. I'm talking about myLot members who share similar interests for a long time that the strength of their bond seems to be impenetrable by newcomers. How about in real life?
9 responses

• Italy
7 Feb 10
Hi Theresa! Green men eh?

I never have feelings of superiority online or off but of inferiority, yes. If I feel someone is doing something better than I am able to that's when it happens. I try and watch and learn how they do it and see if any of their ways can rub off on me, not to be like them but at least to be able to do the same thing. I don't feel that there are groups here which are impenetrable (spelling?). There are certainly many groups of friends who have known each other since the beginning but they are not aliens and they welcome others with open arms. Sometimes there are language problems but by 'stalking' them in a friendly manner you can pick up their lingo and start joining in to

ù Are you having those sensations? I really do hope that I am reading this wrong and that is not the case


• Australia
8 Feb 10
Those sensations you're talking about? That's precisely what I meant!

You should try green sometimes, mysD. Not that I have any issues against yellow but well, just saying. Impenetrable - i don't even really know the exact spelling. I just let the spellchecker do its job!

So how's the s*e*x page going?


• Italy
8 Feb 10
Oh that page (I should never have done that one I guess


) I have moved into the money interest tonight. I feel more at home there

Hey just barge in wherever you see someone you know. There are a lot of new users too and they are all 'mingling' so try it yourself too.

• Italy
8 Feb 10
Mine wasn't a hidden desire to go there!

It was a need, I had a purpose! That makes it different and justifiable

Now I get the idea that you want to be there but need a hand to hold?



• India
8 Feb 10
Since your topic is only restricted to myLot I would say that it is left to you to 'gatecrash' or not. I say gatecrash because if you looked at some of the discussions they are only between certain members as you have rightly pointed out. But it should not stop you from participating and that is how a newbie could be a part of the group that gets together as they have common interests. Just try and see. They will pick up your thread too!

• Australia
9 Feb 10
Hi AK, that is very reassuring of you, so thanks a lot.

Actually my discussion wasn't really limited to myLot alone. I also made mention of real life. Nevertheless, you're right, despite the alienated feeling, it should not stop me from participating.


• India
9 Feb 10
This feeling of alienation in real life is universal. I am very sensitive and if I feel that I am not wanted I will never ever get back there. Here in myLot I have yet to get that feel but I need to work a lot more to be accepted here by one and all and it is but natural. I too have my preferences and for reasons unknown I get put off by some here. Not good really. I will try not to get this feeling!


• Australia
10 Feb 10
I guess all of us need not to get into any of those negative feelings

especially that some if not most of them are just self imposed! Now this advice works both ways. Feeling of alienation should not stop us from participating nor should it hinder us from going back to where we do not want to get back to unless if that spelled major trouble.



• United States
7 Feb 10
Hi Theresaaiza, I have at times felt alienated from certain groups of people but that is I think mostly because of my own lack of confidence. I get along with most people and I definitely don't feel superior to anyone in real life or on mylot. I do think that on mylot certain friendships do get stronger but I don't think those friendships are impenetrable by newcomers. Do you? Maybe it is awkward for a newcomer as it would be in real life??

• Australia
9 Feb 10
I used to be very confident when it comes to mingling with people until maybe I went overboard and risked some friendships perhaps because of my lack of tact sometimes. Ever since I got to an argument with a classmate and she told me I was arrogant, I guess I just stopped being the friendliest person on Earth. It's surprising how people's opinions can sometimes change our personality. But I would admit it was my fault. We're friends now.

• United States
9 Feb 10
no one is perfect and we all do things that we wish later that we could retract. Don't let it affect you so much. It's just one incident. it doesn't define who you are. I am normally a very quiet and laid back person. Every once in a little while that other side of my nature will emerge. it happens.


• Australia
10 Feb 10
Actually my talkativeness had been my identity for some time. Then suddenly here comes my laid back and quiet and shy personality. It feels strange sometimes!


• Germany
7 Feb 10
In real life, I am not a group person. I like to do my own thing. Live and let live so to speak. Since this last week I am going to school again, learning German and learning for a new job. We have to do so many things as a group. I hate it. I love going to school, but I don't like working in groups. I like to work alone. But okay, I have to make the best of it. Have a nice day Theresaaiza!


• Australia
8 Feb 10
I can tell that your independence is so much your strong suit. It isn't bad to go solo if you can manage as long as you still have healthy interactions with people. Judging from what I notice on your participation here at the Lot, I think you are doing a great job.

Long time, no see, my dear!


• Germany
20 Feb 10
Thank-you Theresaaiza! That makes me feel a lot better. Yes I do have healthy interactions with other people. But, I still like to do my own thing. When I am by myself I get more done and learn more at the same time. Like at school. There are people beside me asking me questions about the subject, at the same time the teacher is still explaining. When someone talks in between I don't hear what the teacher is saying and I am lost. People are always thinking I know everything. But I don't! Because I listen I can get by, but if I cannot listen because someone is talking to me, then I would rather sit by myself. That is what I mean about being by myself. Lots of people think they can do everything, but always seem to need help. I don't need help because I do it on my own. When I know what I have to do, sure then I love to help others. But first I have to be able to listen! Oh well, we will see where this goes.

How have you been doing? I have been very very busy. Take care, have a great weekend.

• Australia
5 Mar 10
I think I know exactly what you mean. Sometimes, being with many people hovering about you during times when you needed to focus on something messes up with the concentration thing. That is why I never go on group studies because being talkative as I am, I end up messing other people's concentration too! I guess there is a right place for me at the right time. :) I have been quite busy myself. :)

• Philippines
8 Feb 10
I had experienced that way back in my elementary days. They were really arrogant to small people, acting like rich kids, but then I realized that we were going to a public school so they should not be acting like that. Had fought with them, and that was pretty bad. One against four, who won? you bet. Ahahah, you know how kids fight

• Australia
9 Feb 10
Ugggh....those spoiled rich kids!

Forgive them for they know not what they do.

Actually, I came from a private school where it's not breaking news to find a bunch of them. I never really got along with them, and I doubt it if they had any desire whatsoever to mingle with a simple girl like me. I had my world and they had theirs. Until now, even if during social gatherings we could just laugh off our differences in the past, I still sense that gap lurking somewhere.

• United States
8 Feb 10
I have not encountered any problems on MyLot. In real life, any problems are of mny own making because I tend to be shy. There are some groups that sometimes make me feel uncomfortable. This is not the same as feeling inferior.

• Australia
9 Feb 10
I would have to agree that some groups just don't seem to be of similar wavelength as ours. And perhaps they would feel the same about other people. I guess that's one example of how unique human beings can be?


• Shingle Springs, California
8 Feb 10
I tend to be uncomfortable around groups of people. And I've never really been in a clique...

• Australia
9 Feb 10
Allow me to disagree.

You really seem to be in great company here in myLot. Okay, honestly,

I have kind of stalked some people so that's how I knew.

Shake hands!

• Shingle Springs, California
9 Feb 10
I've made some friends here, true, but I don't think of it as a clique. Lots of new people get in. Actually, when I started here I felt kind of left out myself.

• Australia
10 Feb 10
Feeling left out probably really is quite a universal feeling as I've been told. But it's great that we've finally found some circle of friends here, don;t you think?



• United States
8 Feb 10
You're right. Being friends here and seeing them often and having newcomers, I am not as quick to act to than to my friends. As I don't want to offend them with my jokes or straightforwardness. I think it's better to gently work your way through. In real life I would be the same. I do not talk openly with someone I just met. I make sure I get to know them a bit before doing so.

• Australia
9 Feb 10
That's right. The key is to test the waters for some time before diving in, right? Thanks for the response!


• Garden Grove, California
8 Feb 10
theresaaiza hi I do not particularly feel superior over anyone else here in my lot, and just a tad with this ex street person who came here right off the streets. she refuses to make friends with the rest of us at our table, then sits there and mumbles to herself.I do think that something happen to her on the street that has totally screwed up her mind. Do I think I am better, not really,just have not had some of the bad times she must have had, but the antisocial thing, if I a real introvert can stir myself enough to make social small talk at our table, then she ought to try a bit to converse with us. I have some good bonds here on mylot and my best friend and I share a very strong common bond. But I can be friendly to newcomers, although I do think that all newcomers should really read the guidelines, the tos, the rules and the questions and answers as it will save them time and money.




• Australia
9 Feb 10
I must admit, when I was a newcomer, I felt like I was lost in uncharted territories. I'm thankful for people who welcomed newcomers and didn't make me feel like a little green man...er...woman!

It's just funny that lately, there are discussions I wanted to participate in but it feels like I just don't seem to belong. Or maybe, I'll learn the trade if I gave myself more time.