SmartBro's Newest SurfTV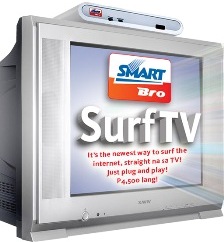 Philippines
March 2, 2010 2:35am CST
Recently smartbro has released its ever first ( it think this is the first here in the philippines) prepaid product SurfTV. If you would want to surf the net and you don't have a computer, then maybe this is a solution for some of us who can't afford to buy a computer yet still wants the pleasure of surfing the internet. Will it click? Would other competing companies of smart do the same? your replies would be appreciated :D happy mylotting everyone :D
4 responses


• Philippines
3 Mar 10
I think it's a SMART move from SMART :)) They just keep on improving and improving :D
@
agv - I think it's prepaid. The P4thou initial payment is for the gadget I don't know If they'll include a mouse and keyboard.. xD Still it's a one big step for smart :)

• Philippines
2 Mar 10
I guess the gadget was really great, its just that the rate is 10 per 30 minutes... I wish they will be a an unlimited plan.

• Philippines
2 Mar 10
its a brilliant step for smartbro, have you tried the gadget, what bothers me is the speed of smart bro, low signal for smart would mean slow surfing.

• Philippines
3 Mar 10
hi mrfdg, haven't tried it yet. I saw at smartbro's site that it costs around P4,500. That's what bothers me as well, the gadget I think is almost as big as a DVD player. Maybe the surfing speed still depends on the location? My bro's and sis' broadband at home is smartbro (the 999 one) the speed is still unpredictable.

• Philippines
3 Mar 10
No I don't like the idea of surfing the net using your own TV. Imagine facing near the TV while surfing the net I bet you drain your eyes in the long run it wasn't designed to be like that unless of course you have lcd TV but I doubt it also.And I have some questions what will be the resolution of it's display will be im sure it is not pleasing on your eyes when you see it in actual.