Does your cat sleep under the covers?

United States
March 4, 2010 1:23pm CST
My cat lion loves to sleep under my blanket. It is so cute and funny to see. He will charge at the covers like a mouse is under it. Then he will ball up and go to sleep. But,what I have noticed is he only does this in the day time. At night he will sleep on my bed at the foot and sleep all night. I think he likes darkness.
11 responses

• Slovenia
4 Mar 10
My cat Tigi lies on her back and covers her eyes with paw during day because she also likes darkness. Sometimes she also sleeps under the blanket but usually not at night. i think because you can kick her while you sleep and she can't jump away when she sleeps two. She also tends to jump on bed and walk around when i'm changing the sheets and that's pretty funny.

• United States
4 Mar 10
Thats cute my cat covers his eyes as well. I think they are just so smart I wish they could talk to us.

• Australia
5 Mar 10
I love the name Lion you have for your cat. One of our cats, Kiwi loves to sleep under the blankets with my daughter. In winter she demands to get right under and sleep half way down the bed, under the blanket and quilt. My other cat, Scamper, is a bit funny about it. She sometimes wants to explore under the blanket, ut will never stay there. I think she is a bit scared. Once,. she got under the blanket, crawled to the bottom, then got anggry as she couldnt find her way out.

• United States
5 Mar 10
I can imagine that happening. Of my three, Creamery would be the one who would get disturbed by being stuck at the foot of the bed. He is pretty "blonde" though and would be confused. He is just never angry.

• Shingle Springs, California
4 Mar 10
I had one cat who loved to get under the covers and cuddle with me, but none of my cats since have done that.

• United States
10 Mar 10
My cat loves to sleep under the covers!! He snuggles up next to me, or he sleeps alone under them. He doesn't care. haha.. he just loves being under them. :)

• United States
10 Mar 10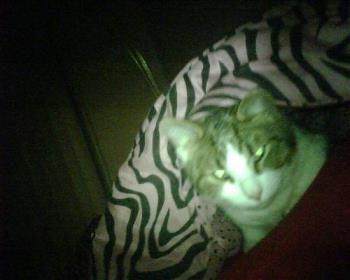 Here is a photo. It wouldn't upload before...

•
4 Mar 10
Moomin sleeps anywhere he pleases, after all, it's his house and I am nothing but the servant LOL. He has his own bed, but he also sleeps on the sofa, on the end of the bed, under my velvet throw, on the table, anywhere he feels comfortable.

• United States
4 Mar 10
LOL My cat sleeps under my laundry line when my laundry is hanging to dry. I just don't know what it is about this.


• United States
4 Mar 10
I have to say I had a few cats at one time. They were adorable to live with. I have one cat now and want another one. I just can't afford the food and litter. I like how they act with one another. One is just lonely to me.

• United States
7 Mar 10
Cornbread has never slept under the covers that I know of. He does, however, tend to find dark places in the house to hang out in during the day. He likes to spend time in our laundry room (I don't turn on the light in there unless I am doing laundry) or he will spend a lot of time in the back of the pantry. These are the two darkest places in the house during the day. I tend to think that the cats just really like to be in dark places.


• United States
5 Mar 10
I do not have a cat that likes to be under the covers. Princess likes to sleep on the foot of our bed. Tiger and Creamery like to sleep everywhere. Tiger prefers to be right near my computer while I am online.

• Daytona Beach, Florida
4 Mar 10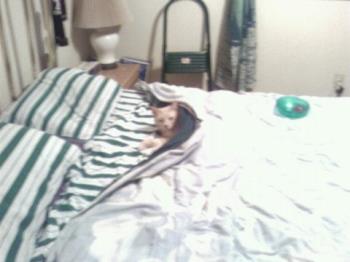 My cat precious will get into his moods where he'll get under the covers. Its so cute when he does it. He wants to be on the covers right now though or under the bed. But, it scares me sometimes when he gets under the covers. And, I think he does it for the warmth.

• Malaysia
4 Mar 10
my cat sleep on my bed. when i see it looks like cold. i share my blanket with it. it won't last long. it will wake up and go out of it