Does your pet have unusual friends?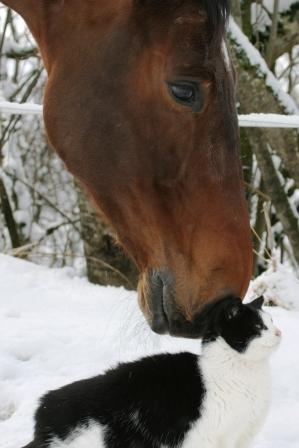 Norway
March 19, 2010 8:16am CST
One of the former stable cats used to "talk" to some of the horses in the stable, if none of the humans wanted to talk to him he'd try the horses. He really liked talking to them, he'd jump up so he could rub against their noses through the metal grids. Do you have/know any animals with unusual friends? And what kind?
2 responses

•
19 Mar 10
i had a rabbit when i was a child who made friends with a semi-stray tomcat. this cat had been known to kill other rabbits but these two got along fine. the rabbit in question was a tough rabbit. my rats once tried to make friends with a cat and got all excited when the cat came over to 'look' at them. they were in their cage though and there was no way they were going to allowed out to play with a cat. especially one with a gleam in her eyes like this one had.

• Norway
19 Mar 10
I've always thought rabbits were just fluffy little things eating carrots, but one of the girls in the stable left hers there one summer when they went on holiday. She didn't really make sure anyone looked after it, it survived in some way anyway, but the little thingy was fierce! It tried to attack big dogs (from within its cage, but still, a flat coated retriever is quite much bigger than a rabbit). I don't think it had any friends though, it would bite everything that came close.


• Philippines
19 Mar 10
the most unusual friendship i saw with my pets were a dog and a goose. and a cat and a dog. our goose use to always follow this old dog we have and vice versa.. They could always be seen together whether running around or sleeping... the other one, the dog and the cat, well, they play together, sleep together and there was one time i actually saw the cat also taking milk from the dog's mother... haha.. really unusual