Dracula piercing the neck with fangs.Scary or romantic?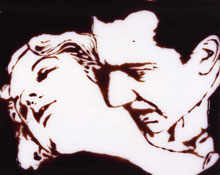 India
November 15, 2006 11:49pm CST
5 responses

• United States
16 Nov 06
There is a chance it could be both. I guess it depends on which dracula. There was this Dracula on Buffy that really had it goin' on. It was not just his looks. It was everything about him. http://vampires-den.iespana.es/dracula-buffy.jpg Here he is "undracula-ed" http://www.whedonsworld.com/files/Pix/Buffy/Guests/Dracula/Dracula04.jpg I'd probably let him bite me. Hey, this sorta relates to my thread on piercings. LOL.

• India
16 Nov 06
ha....ha....for young kida it is scary ....but for us, it is just a movie and we see into other aspects of taht movie like talking on subjects like....has taht scene come out natural or will that movie make it big....is it well directed and all sorts of such stuff...isn't it? don't you think...what about you there....do you get scared...tell me frankly....