A Newbie!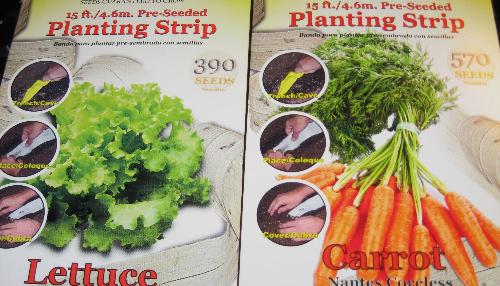 United States
March 22, 2010 5:53pm CST
Well after 5 failed attempts to add a photo I will try this one last time to upload it here. If not I'll send it without the photo and try to add it in a comment. Anyhow, I am trying seed tapes for the first time this year. I have carrots and leaf lettuce tapes. The seeds are so tiny and they never get spaced quite right the regular way so we are trying the tapes this year. There's almost 400 lettuce seeds and 570 carrot seeds. So I'll have plenty. Ever use the seed tapes? Anything you wish to relate about the ease or pitfalls etc here? Please do share your experiences here. P.S. finally it worked. Unreal!!! As always..... HAPPY POSTINGS FROM GRANDPA BOB!!~
4 responses

• Garden Grove, California
23 Mar 10
hi Grandpa Bob i have never used them but I am told they really do work and makes it easier to plant those tiny seeds too. Boy they do make the veggies on the packet look so good,hope they turn out like that for you, probably as you have a great green thumb. he he.




• United States
23 Mar 10
Thanks bunches. I have seeds for carrots as well. The tape are 6 inch carrots and fat. The regular seeds are thin 11 inch carrots. As always..... HAPPY POSTINGS FROM GRANDPA BOB!!~


• United States
24 Mar 10
No I never used seed tapes before. I dont even know what they are, I never heard of them before. But I sure hope you have luck with them

• St. Catharines, Ontario
23 Mar 10
I haven't used seed tapes, but I did once use the flower matts (same sort of thing). They worked so well for me that my cousin and our aunt gave them a try, with poorer results. C'est la vie!