Just finished two midterms!! Boom Behbeh!!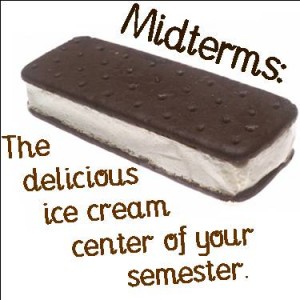 United States
May 4, 2010 8:57pm CST
Don't you just feel ecstatic and happy when you finish something that you've been dreading or studying for? Even if something goes bad, at least you know that it's over. Life moves on, despite the setbacks and hardships of life. I wish I could stay a student forever, forever learning.


3 responses

• India
5 May 10
Yes, I hear you. But you know what? You are and will always be a student forever. We don't need to stay in University to be a student. Life teaches us new things everyday. Not just that, it is up to you, whether you want to learn something new or not, even in terms of skills. I am an IT graduate. But now I am learning new skills, because I have time to myself. It is so exhilarating.

I am learning logo designing, online marketing, French all because I want to.lol I assure you, great things are coming your way! :)

• United States
5 May 10
That is true. We learn something everyday. I hope I learn the right lessons in life without having to sacrifice too much. Usually people learn from making mistakes. I hope that I don't make too many mistakes because mistakes have tended to hurt me drastically. If I could go back and do it all over again, I for sure would. I need to come to a point in my life where I won't regret my day, until then I will continue to advance and do bter the next day until I am satisfied everyday of my life with who I am. That is my ultimate goal. =) Midterms down, time to do my thing.




• United States
5 May 10
I just found out that I did terrible on one of the midterms that I took last Thursday. I still have a long way to go, before I graduate. It's a lot easier said than actually accomplished. Mind over body. Good luck to you.


• United States
5 May 10
same here my friend it was a pain in the but but i pushed through and got it all done and in fact that test was so hard that one of the students in my class actually threw up due to the pressure and all the think she had to do. I was disgusted by it but pushed through and finished it and bam pasted baby (=

• United States
5 May 10
That's good to know that I have a fellow MyLotter that knows what the pressures of midterms are like. They set the tone and show one's efforts through half the semester/quarter. I'm glad that you did not succumb to frail sickliness. Stay strong so that you can pound that midterm!!