Being a male, woul you also take interest in cooking?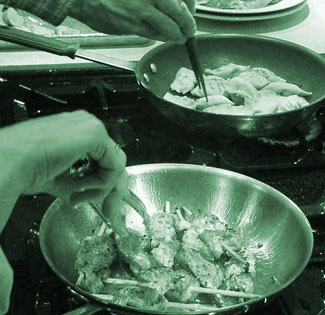 India
July 3, 2010 4:44am CST
Here, in this part of the world its generally women who does the cooking though there are also men who does cook, but in less numbers.In fact i am very much interested in cooking and once in a while i do take time for my favorite hobby and more over if the taste also comes good, then i will be very happy and i feel as if i have achieved something big in life.Do you also love to take part in cooking? have you been prasied for your cooking taste so far? share me your views here
10 responses


• India
7 Jul 10
The minimum knowledge of cooking is needed to everyone in tis world.Most of the times children doesn't take any interest in cooking just because their parents look after cooking part, but as the grow up this will change and they start taking interest when no one is around and the are hungry or else soemtimes, when there is no option and they are hungry then there will be no option left either

• United States
3 Jul 10
not sure where you heard that if a man cooks it makes him less of man. i love to cook and i do most of all the cooking in my house, and i am not less of a man who cooks. yeah let someone say that to my face. i saw mr cook will cook up some manly butt whipping.. all the great chef out in this world are men. i say dont worry about what anyone else say if you cook. go for it. they are just jealous because all they can do is order pizza

• India
7 Jul 10
There are many men around the world who hates cooking ! just ask a few men around and you will find out.I have also read one survey in a magazine which states that majority of men like to work outside and not get involved in cooking.But there are also exemptions like you and me who love cooking.In most pars of the world, women does the cooking at home..isn't it? am i right here?

• United States
7 Jul 10
i love to cook either in the kitchen or out on the grill. i guess most men think its not manly or whatever if they cook. i will also do the dishes, laundry, as well clean the house. but to me i am still a man, i am not pus*y whip. i am good husband who will help around the house


• India
7 Jul 10
If you enjoy what you are doing, then there is no problem as the result will definitely show.Whatever you do in life, you should do it in passion to get the maximum result.There are many people who are good eaters have also turned out to be good cooks later on.Once you get the habit of cooking , you will enjoy it more and more isn't it?

• Philippines
4 Jul 10
At home it's always the woman who does the cooking because in our society it's still considered as a female's responsibility. However, it does not mean that mean can't cook. In my husband and my case for example both of us knows how to cook and I'd say that my husband is actually a better cook but I always end up cooking for us. I know a lot of men who cook very well. In fact, usually in restaurants and even 5 start hotels the chef is a male.

• India
7 Jul 10
I have also noticed that in most of the 5 start hotels, chefs are males and this is surprising as we don't see more number of males in a house getting actively involved in cooking and the opposite when it is working outside.Once you are married, you should share your responsibilities even at cooking and it will be lot of fun then.

• Philippines
3 Jul 10
At home I prefer my own cooking because you get to control the taste. Gender has got nothing to do with cooking, everyone needs to eat and everyone enjoys eating good food. Ratatouille: "Anyone can cook!" - Gusteau

• India
7 Jul 10
Gender doesn't have any role in coking and i agree with that line but it is always easier said than done as we see more and more females in kitchen room tan men! how to you defend this one? why are men backing out of cooking? is it because the are busy in other things or is it their thinking that females are only meant for cooking and not male!

• United States
3 Jul 10
I think everyone should know how to cook to some degree because it is a basic survival skill for humans when you really think about it. I see nothing wrong with men cooking. There are tons of famous male chefs and it's not like there is anything overly feminine about it. And even if there was, it shouldn't matter because as long as the person enjoys it, they should be able to partake in it. I'm male and while I'm not an AMAZING cook, I can cook some pretty nice dishes.

• India
7 Jul 10
There are many people who doesn't even know to cook simple food.Only these days when there is more stress in people, the talk of getting involved in different kinds of things like cooking, gardening etc to keep themselves focused and also just to get relaxed by indulging in different kinds of activities

•
3 Jul 10
Yes, generally women cook, but one of the best cooks in the world are men. I am male and I am interested in cooking :) I always watch when somebody cooks for me and ask how is that done or that - it is fun. In a couple of months I will be living alone and I want to be able to cook for myself, not always eat fastfoods and other unhealthy foods. I really like taking part in cooking, but if it is too comlicated to do I just watch and try it myself :)

• India
7 Jul 10
You are right as i have also noticed that one of the best cooks in the world are male and not women. Unless you have interest in cooking, you cannot just develop this habit of cooking as passion and interest are two main things which keeps things moving here.Most of the males doe stake interest in cooking only during helpless situations and then unknowingly they also develop the cooking habits

• China
3 Jul 10
I have much interest on cooking although i am a male.I consider the cooking as a common action in daily life.On cooking,i can enjoy the progress of cooking.Cook the rice,cook the meat,cook the vegetable,and so on.But it is a trouble to wash the pan and dishes.

• India
7 Jul 10
I developed my cooking interest when i started to go to college as sometimes i was all alone at home with no one around.This was the time i started experimenting new things in life by cooking food for myself and when the taste came out good, i even got praised by family members which was good to keep me going.Now, whenever i am free i do take more interest in showing my cooking skills

• United States
3 Jul 10
i started cooking in high school and im now 60 and still going, my brother cooks, my dad cooked and my mom. my son is an executive chef, i think it just comes with the love of different foods and how to arrange them in a different order and taste to your liking, trying something new and adding a twist to an old favorite, my daughter on the other hand doesnt cook at all, her husband does.

• India
7 Jul 10
My mom used to take care of cooking when i was in school like you and i never even bothered about cooking as it was like a restaurant for me and since i was also in teen age, my mom used to cook whatever i like to eat and that time was real fun with not much to do as i was totally free during vacation times and i was passing my time just by playing and eating a lot

• Greenwood, Mississippi
3 Jul 10
I think of cooking as basically an essential skill. We all need to eat so we should all know how to prepare food. What's more is that our health is directly related to what we eat so fixing the right kind of foods is also extremely important. I usually don't do anything too complex, but most people who have eaten my cooking have enjoyed it -- mainly, though, I cook for myself!

• India
7 Jul 10
This does say that you are a good cook.It's really tempting to cook something special again and again when you get a praise for your cooking as you feel like you are in the top of the world isn't it? i soemtimes do take part in cooking just to divert my daily work as i will also get relaxed by doing new kind of work here