shirt turned into a handbag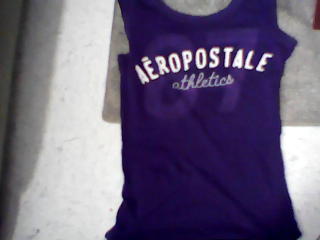 United States
March 20, 2013 1:59am CST
This is really easy to make and I enjoyed it. The only thing the video does not do is sew the raw edge that the sleeve was cut from. I sewed the part the sleeve came from it makes the bag look better. this is a shirt from aeropostale so I kept the logo on it. check youtube to see it done. some people use duct tape and staples. I don't trust my stuff in a staples purse.
3 responses

• United States
20 Mar 13
You are very talented. I have a question, but I am not sure if you know the answer to this. As you know I make bracelets and earrings, but I want to make holders to put them in. I was thinking about asking my sister for my nieces and nephew's old jeans and cutting off the pockets to make little jewelry bags? What do you think?

• United States
20 Mar 13
That would be good and you could also use the sleeves from my shirts if the pouches are small. let me know before I toss them. I can ship them when I get paid.

• United States
20 Mar 13
I could also send you a square or two from my material as well. I think that would be great or those mesh bags sold wholesale on ebay or at crafts stores. I will check my dollar store I think I saw some small pouch like bags.

• United States
20 Mar 13
thanks i will get on youtube to see the jandbags, and show it to my aunt i know she will want to see this she loves to sew and make new things .. im sure when she sees this she will want to do it .. maybe make me one lol .. i will check that out tonight and see what your talking about.. i think the aeropostal bag will be cute my daughter would like that.. good luck and have a great day

• United States
20 Mar 13
They are so cute and easy to make you can make one by hand.

• United States
22 Mar 13
That really is an interesting looking bag. However, I have to say that I don't know how likely that I would be to use a bag like that because I just don't know how durable that it would be. I know that t-shirt material is something that does tend to stretch out really easily. Therefore, I think that is I was upcycling old t-shirts into bags, I would probably line the bags with a piece of coordinating material that is not a stretchy type of material.