My Trip To Niagara Falls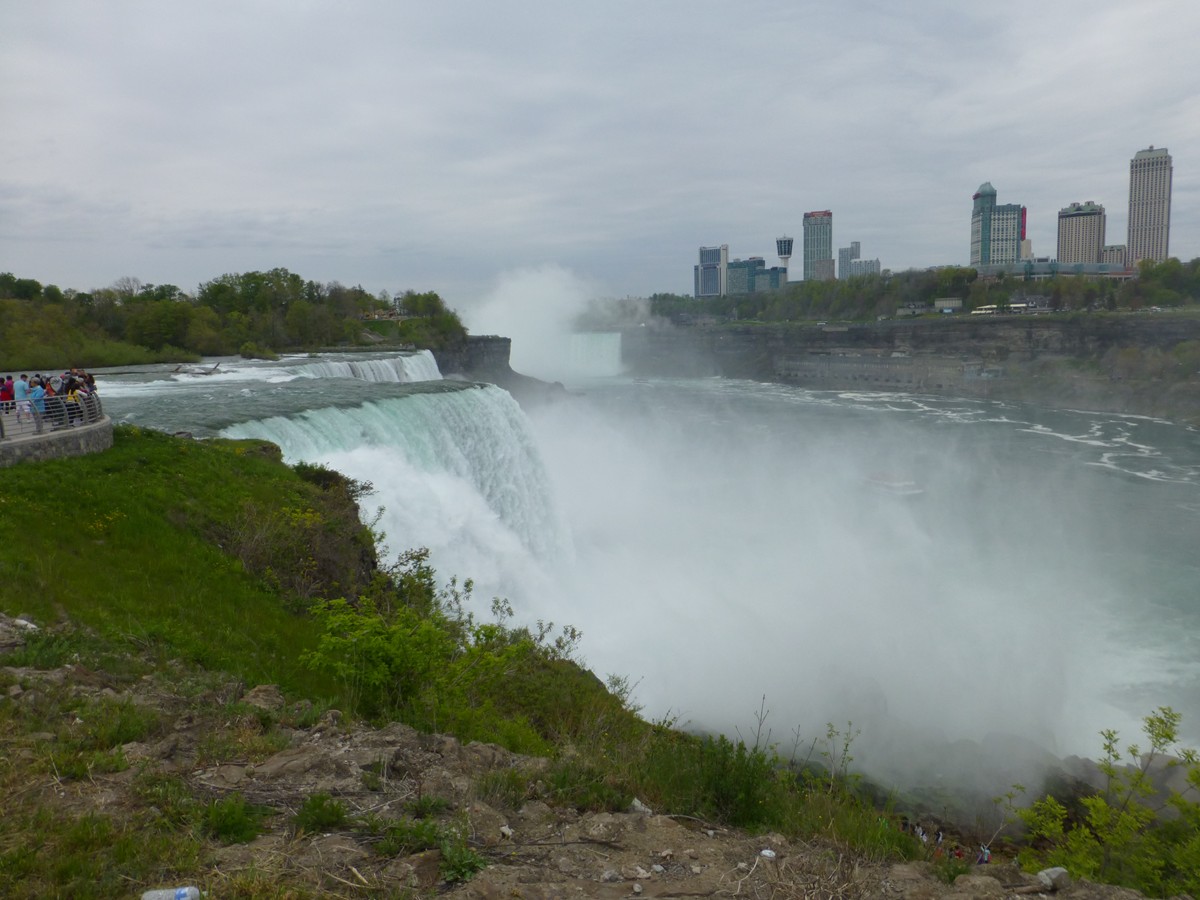 United States
June 2, 2016 8:53am CST
I just came back from a road trip to Niagara Falls and some places in between. Our sons invited us along. The drive wasn't so great, but the destination was so worth it. I used to live in NY, and never managed to go there. To see the Falls is free, but they do charge to go on the Maid of the Mist tour boat. I don't recall the cost, but it was pretty steep. The adjoining park was beautiful with flowers and colorful trees. We walked around five miles that day. It is a worthwhile trip to make.
10 responses

• United States
2 Jun 16
I got to go there one time, with a church youth group who had traveled from Kansas to New York State. It was lovely and I would like to go again. Just breathtaking.

• United States
2 Jun 16
It was pretty cool also being so close to Canada.

• United States
2 Jun 16
I've never been there yet, but it's on my list of places I'd like to go. Great photo!

• United States
2 Jun 16
You won't be disappointed. Thanks

• United States
2 Jun 16
@Debscrochet
My girls and I want to do some traveling. What's the food like up that way? Are the prices okay? Is there anything particular you'd recommend doing or eating while there?

• United States
2 Jun 16
@WendySpickerman
We went to Hard Rock Cafe at Prospect St. Niagara Falls Very expensive! I still have the receipt: 1 Caesar salad- $11.50 1 Hickory Burger w/fries- $15.95 1 Honey Chic Sandwich - $13.50 3 Sodas
@
$3.79 ea Total after tax came to $60.83 Before gratuity which they figure in for you Service was great, food was good, nothing special to justify cost. Place was packed. I would defiantly do some research of places to eat before going next time


• Serbia
2 Jun 16
That sounds great, I would love to see Niagara Falls once. It looks amazing on pics. :)

• United States
2 Jun 16
It's pretty amazing to see


• United States
2 Jun 16
It is beautiful. I must have taken 100 photos

• India
19 Jun 18
Wow,Niagara falls,Nice to know that you visited there,I have never visited Niagara falls. I would like to go some day.

• United States
19 Jun 18
It's defiantly worth the trip


• United States
2 Jun 16
I've never been to Canada, actually never off the East coast.


• United States
2 Jun 16
Yes very pretty. I would love to go in the fall to see all the foliage too.

• Los Angeles, California
2 Jun 16
I have been to Niagara Falls. Didn't do the costly boat ride but can don a raincoat and see the falls from an inside vantage point.

• United States
2 Jun 16
I didn't either. The boat looked like it was jam packed anyway. I did take the elevator down to the base where you could also see the falls and feel the spray. That's awesome. I didn't climb the stairway as there was a lot of people and slippery.

• New Delhi, India
2 Jun 16
I see in images. Looks very beautiful


• United States
2 Jun 16
Yes it is. I can imagine what it must look like in the winter.

• United States
28 Dec 16
I've lived in Central NY my whole life.. about 2 and half hours from the falls.. and never been to the falls until this year. Now I've been 3 times! We went in May for our anniversary, just me and hubby. We spent the night in Buffalo and saw the falls at night and then the next morning. A couple weeks later we went back with the kids for a day trip. Then we went this past Monday because we had to go to Buffalo for something and it wasn't much further out of our way. I haven't seen the park though... and now I've seen at least 2 different people talking about this park. I shall have to check it out on my next visit to the falls!