Pub Sign Study The Nowster Middleton Greater Manchester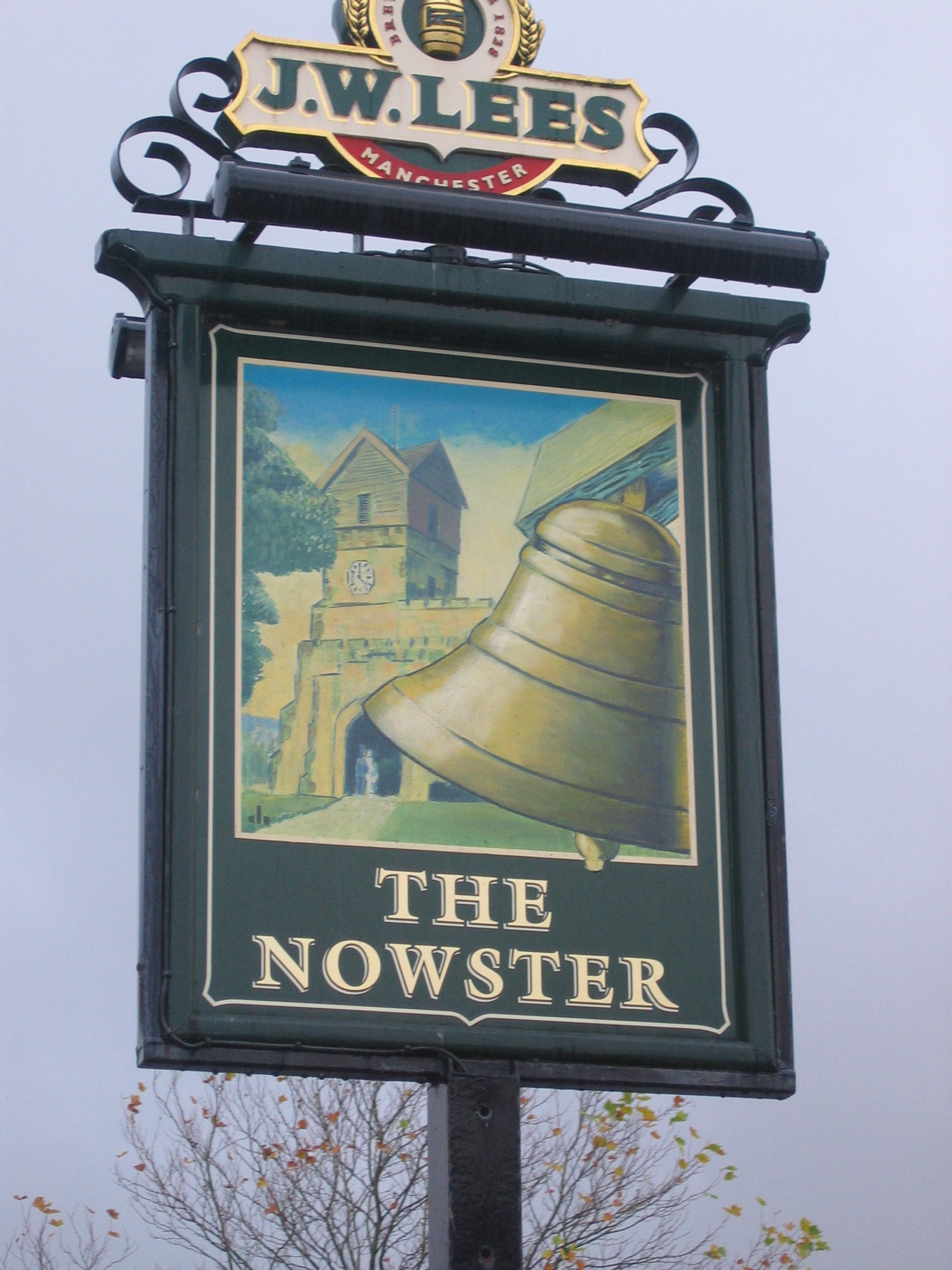 Preston, England
July 1, 2016 11:31am CST
Most church bells announce church services, summoning the faithful to mass, especially on Sundays. The Nowster bell at St. Leonard's Church in Middleton served a very different purpose – ordering a curfew on the town between 1812 and 1939, running from 10pm each night to dawn the next day. The bell rang at 9.50 pm to give the towns folk time to clear the streets. It was deemed by the rather puritanical authorities that no one had legitimate reason to be outdoors late at night. The name, Nowster seems to derive from 'now stir' as in be getting yourself home now. It is a rather sinister authoritarian symbol to use for a post-war pub where drinkers might well have enjoyed themselves long after the old curfew start time. St Leonard's church is steeped in history. It predates the Norman Conquest and was rebuilt several times especially in 1412 and 1524. It has strong associations with the Assheton family, who were the feudal lords of Middleton. Sir Richard Assheton, a deeply devout Christian, prayed in the church with his family before marching to successful battle at Flodden in 1513. Later her commemorated his received prayer in a stained glass window in the church and this is now recognized as the earliest surviving war memorial in the World. The Middleton Archer pub sign, studied by me in another feature also has strong associations with this church and the Assheton family. The sign depicts the bell outside the church, looking as if it is being peeled in broad sunny pre-curfew daylight. The modern pub, on a run-down housing estate probably only ever heard a last orders bell from the bar and sadly that bell has rung for the last time as the pub has closed down. Arthur Chappell
5 responses

• Centralia, Missouri
2 Jul 16
what time was it safe to be out in the streets again?

• Preston, England
2 Jul 16

• Centralia, Missouri
2 Jul 16
@arthurchappell
well I broke that this AM, and most days, I am out before 530

• Preston, England
3 Jul 16
@Jessicalynnt
I usually get up about 6.30 am even on days with no appointments - it is about the time I need to get up for the new job too


• Rockingham, Australia
3 Jul 16
I can imagine trying to enforce a curfew of 10.00pm on people nowadays.

• Preston, England
3 Jul 16
@JudyEv
unlikely any of us would pay attention - if anything we would go out more in defiance of it

• Denver, Colorado
1 Jul 16
That was interesting. Don't know if I've ever heard of a town curfew or not. I would assume that they might have been quite common?

• Preston, England
2 Jul 16
@teamfreak16
post medieval times most towns just kept them going from tradition but Middleton seemed to re-enforce their use though the authorities were probably selective about who they let stay out or punished for roaming and loitering after curfew

• India
1 Jul 16
"Ask not for whom the bell tolls"....

• Preston, England
1 Jul 16

• Los Angeles, California
1 Jul 16
The image is remindful of California missions.

• Preston, England
1 Jul 16