5 English Words That Begin With "UG" … "GU"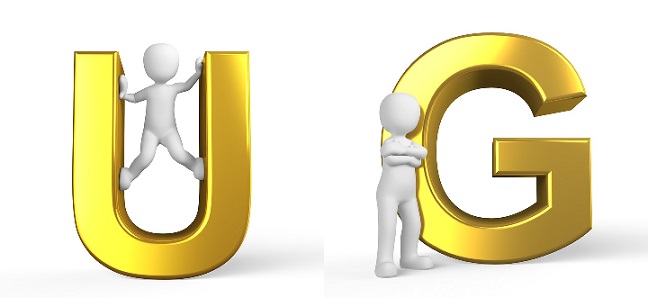 Austin, Texas
July 27, 2016 1:45pm CST
Previous post:
5 English Words That Begin With "OF" … "OF"
This was tricky. The "GU" words were easy enough. But finding "UG" I did not already know was next to impossible. Doing the "GU" words first.
guano
– deposits from droppings of sea birds, valuable as fertilizer, rich in nitrogen and phosphates; found especially on islands off the coast of Peru
guff
– empty talk, either foolish or with intent to deceive
gunwale
– bulwarks (defensive wall or ramparts) supporting a ship's guns
(Many American citizens sing the National Anthem. Wonder how many know what the "ramparts" are. I didn't!)
gusset
- a triangular piece of cloth inserted so as to widen or strengthen a garment; a reinforcing device
gustatory
– pertaining to the act of tasting or sense of taste * * * Could not find a word beginning with "UG" that I did not already know, so I'm concluding my series with an expression that a friend and fellow co-worker taught me. He cautioned me not to behave in this manner if I ever traveled outside of the United States.
ugly American
– an American abroad who does not appreciate the culture of the natives. The label was lifted from the title of a book jointly authored by
Eugene Burdick
(1918 – 1965) and
William Lederer
(1912 – 2009), "
The Ugly American
". Interesting link:
"Still 'Ugly' After All These Years | Sunday Book Review | New York Times
nytimes.com/2009/07/12/books/review/Meyer-t.html Hope you liked this vocabulary word series. I am so ready for my next Scrabble game!

3 responses

• United States
27 Jul 16
Helpful to me too since I play the word game Bookworm online. It is the u that always gives me trouble!

• Austin, Texas
28 Jul 16
Bookmarked the Bookworm site. May check it later. I kind of like playing word games online.


• United States
29 Jul 16
@cmoneyspinner
Yes, it is fun. I create words that I never knew were words. I should look up the definitions of all never-knew-they-were words created. Well, maybe I will look them up, but that is unlikely.

• Green Bay, Wisconsin
28 Jul 16
All very interesting words. Yes, I know what a rampart is.

•
28 Jul 16
I do! I love learning new words everyday.