My son's cleft lip, and the smile I sometimes miss.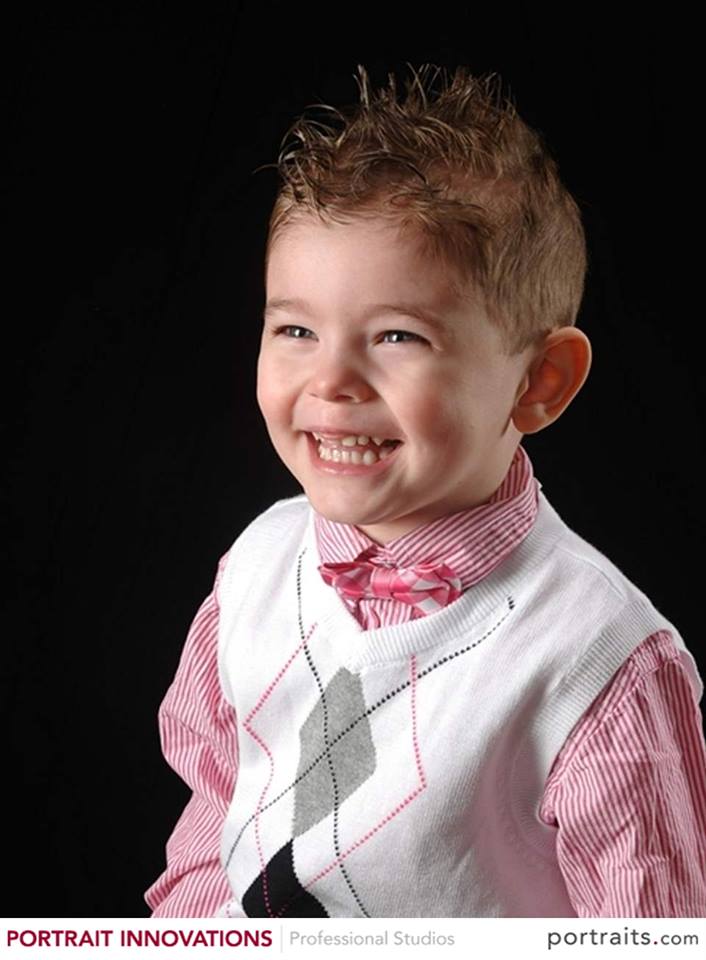 United States
September 20, 2016 6:33pm CST
I remember the day I gave birth to my son like it was yesterday, and I remember just thinking how perfect he looked, yes he had a cleft lip, but he was absolutely perfect in my eyes. Of course I didn't expect his lip to be cleft, but I honestly never thought much about it, I was never ashamed. I just saw him, and I still see him. I think the majority of what went through my mind was "He's going to have to have surgery" and that thought scared me. The idea of my baby not knowing what was going on, and being scared, being helpless...that scared me. I didn't really get to just figure out how I was going to be a mom, I had to figure out how I was going to be a cleft mom. I had to hold his lip so I could feed him his bottle, I had to have him sleeping up just right. Personally I was pretty fortunate, my son needed one surgery, he didn't have a cleft palate, just the lip, he had what is referred to as an incomplete unilateral cleft lip, and it was fixed with one surgery, and he still goes back once a year for a check up to make sure his lip is stretching the way it should. Looking back I really wish people would have stopped reassuring that once he had surgery he would look "normal" as if to say he wasn't wonderful the way he was. They would say things like "I bet you'll be happy once he gets that fixed" which I would usually ignore, but by saying "fixed" that was implying he was broken, and he most certainly was not. Yes I was happy he had the surgery once it was over, but it was because I know how cruel this world can be to people they view as different, but the truth is we're all different. We have different looks, beliefs, values, personalities, and a plethora of other differences. We're meant to be different. I never once felt ashamed of my son. To me he always has and always will be beautiful. Most people would never have guessed my son was born with a cleft lip, because the surgery was that successful, and he just has a small scar on his lip. Most people really don't ask about it, they just figure he fell or something, but to me it represents him. How far we've come, how far he has come. It's part of him. When I look back at his baby pictures before his surgery I see that wide smile, and part of me misses it. I remember the night before his surgery I cried, part of it was because I hated the thought of my baby having to have surgery, and part of me was sad to see that smile I had grown so accustomed to go away. It was a beautiful smile, it was HIS smile. It was the only smile I had known at the time, but I learned to love his new smile just as much. Both smiles are HIS smiles. My son has always had several different smiles. There's the shy smile, the "I'm humoring you" smile, the larger than life smile that I love the most, which is when he is ecstatic. He has a few others too. Everyone that has met my son always tells me they love his smile and his eyes. My son's smile is just him. He's a happy smiley boy, and he always has been, sure his smile is different now than what it was, but it's still a big part of him, and it's still one of the things I love most about him. Just because others may not have found his wide pre surgery smile as beautiful as I did, doesn't make it any less beautiful. They just didn't know my son as well as I did and do. They couldn't appreciate him the way I did and still do. They didn't know that that smile was the key to who he was/is. If you ever see a cleft baby don't tell the parents "Oh, he'll look normal once he has a surgery" or "I bet you'll never notice she had that cleft lip", because those are not encouraging things to say, what a lot of people don't understand is that we love those wide smiles. Just because you don't see the beauty in it doesn't mean we don't. My son has always been beautiful, and he has always had a ton of compliments even before his surgery, whether these were people trying to be nice or they were actually sincere isn't something that I know, but everyone loved on my son. One woman that took care of my mom after she had a surgery just loved him, she would hold him and tell him that his lip gave him more personality, and that she'd be sad to see it go. She was by far one of my favorite people. My son has a long list of people that love him, because of who he is. I'd like to believe those that complimented him before his surgery saw what I saw. His inner beauty shining through and combining with his outer beauty. After my son's surgery, the first thing he did was try to smile, and it hurt me to see him in pain, he really wanted to smile, and couldn't. He barely cried, the nurses all loved him and would tell me they wished they could take him home. He is a fighter, and he is tough. I guess you have to be tough to have something considered "different" and be able to get by in this world. I look back at those old pictures and I smile for who he was then and who he is now, and how beautiful he has always been. His smile makes me smile. He has a way of always making me feel better. Say what you want about children with cranial facial differences, but they're always beautiful to someone. For me the hardest part about having a child with a cleft lip, was knowing that some people wouldn't find him as beautiful as me, and would make him feel bad about that. Since he's had his surgery I have yet to hear a rude comment about his looks, and I hope it stays that way. Most people love my son, because of his huge personality and his beautiful eyes and smile, and I'd like to believe even without the surgery people would have still seen him, but part of me knows he would not have been accepted the way he was then. My son had to have his lip fixed, for health reasons, but that doesn't mean I won't miss the very first smile he ever gave me, but I definitely appreciate the smiles he gives me now just as much.
9 responses

• Chile
21 Sep 16
That´s a beautiful picture, Keisha. And also a beautiful post. Thank you for both.


• Chile
21 Sep 16
@sissy15
I remember when my first daughter was born. I thought it was the most beautiful baby in the world.


• United States
21 Sep 16
@marguicha
All mothers should feel that way about their children.

• Canada
21 Sep 16
You are a wonderful mother. That was a beautiful tribute and a valuable lesson.

• Canada
21 Sep 16
@sissy15
when I was pregnant with my fifth child I had some of the strangest comments. We were pleased and excited. People told me how sorry they were. I was asked if I had ever heard of birth control. The rudeness was nonstop. When my youngest was in about grade three, I had a teacher ask me , why we had stopped having children? That one blew me away, when I asked him why he would ask, he told me he wished he had more children like mine in his classroom. That was a great, unexpected complement.

• United States
22 Sep 16
@Morleyhunt
People seem to like to put their noses where they don't belong. If you only have one kid (like me) you constantly get asked when you'll have more, and if you have more than 2 you get asked when you're going to stop. I don't even understand why people care so much. I can get it in some scenarios where someone keeps popping out kids but can't and won't support them. I know a few people like that, but if you're a good parent and you're doing your best to take care of your kids, no one should care.

• Canada
20 Sep 16
What a beautiful little boy with a beautiful smile. Thank you for sharing his story with us. Some people can be so cruel and thoughtless with their remarks.

• Roseburg, Oregon
21 Sep 16
I am glad that your son only had to have one surgery. People can be so cruel.

• United States
21 Sep 16
Thank you, me too, and they can. They said things they thought would help me, but it just made me feel like they thought my kid was already less than perfect, but at the end of the day what matters is what I think, and what he thinks. I have only ever boosted him up, he has gotten quite the ego on him though, now we're working on modesty lol.

• Karachi, Pakistan
21 Sep 16
If i being no one could say and belief the true beauty lies in the heart actions/deeds....besides there is a saying beauty lies in the eye of beholder.....thus, leaves no reason to set a different opinion. A mother would always love a child even when she may claim she hates.....besides your son is love....

• Wausau, Wisconsin
20 Sep 16
He super cute. He will be a chick magnet when he's older lol. He is cute no matter the health issue.

• Garden Grove, California
20 Sep 16
thats a beautiful smile and a womderful post moms should love their children with cleft lips before and after surgery as they all are beautiful

• Boise, Idaho
22 Sep 16
What a cute little guy you have there. People can be so harsh and unfeeling when all they mean to do is reassure you. A mother always sees her child as the most handsome.

• Boise, Idaho
22 Sep 16
@sissy15
....And we know the precious moments where others don't.

• Philippines
21 Sep 16
he is so cute and looks smart and happy. you're a great mom.