The Stupidest Person in America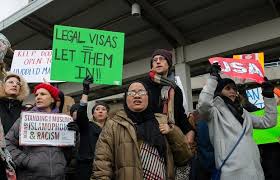 Kingston, Jamaica
February 4, 2017 1:53pm CST
There is a woman who lives in Pennsylvania, who sent for her relatives in Syria. She was a supporter of Donald Trump! He would make America Safer! When her family arrived thy were detained and sent back under the immigration and travel ban instituted by President Donald Trump. I don't live in America and get my News via the BBC. But I knew what Trump was going to do, because he Said So. So how stupid could this woman be?
10 responses


• Walnut Creek, California
5 Feb 17
@tallawah
And a narcissist is wonderful to those who support him. And evil toward those who do not. There's not much middle ground. The psychologists call it "splitting." People are either all good or all bad to a narcissist. There is little or no grey.


• Garden Grove, California
4 Feb 17
no more stupid than the hundreds here whoi voted that arrogant billionaire Trump in as our President shame on all who voted fo this arragabt fool of a man
• Kingston, Jamaica
4 Feb 17
They voted for him. So they can't complain. they ordered escargot, they got snails. What's the prob? He SAid he was going to do it. It is no surprise. I am in jamaica, I knew he was going to do it. She's in America... how did she miss that?

• United Kingdom
4 Feb 17
@tallawah
I'm still waiting for your evidence he was going to ban the countrries. As it took his administration by surprise I'm curious as to your advance information.


• Garden Grove, California
4 Feb 17
yes how about all who voted for Trump as our president shame on them and shame on trump


• United States
8 Feb 17
I think that is one of those things that people like to think would not happen to them. My wife has a buddy who voted Trump mind you the lady's parents both are immigrants. She agrees with the ban but only because she thinks that it would never affect her because her family is not from one of the countries being banned at the moment. Someone pointed that out to her that it could happen to her and well she was angry. Nobody who has immigrated here from another country is safe especially if you are a recent addition or from a country that well isn't exactly playing well together with Trump.

• United States
17 Feb 17
@tallawah
This reminds me of that poem if that's what you'd call it, about the Holocaust, about how someone did nothing when they came for another group then another and another because they hadn't come for that person. We must all be diligent and look out for the marginalized because one day it might be us and who will be left to look out for us? I mean, we also should look out for each other because it's the right thing to do!


• United Kingdom
4 Feb 17
Not stupid as nobody, including you, knew he was going to ban certain countries from entering the US. She was trying to do the best for her family as we all do.

• United Kingdom
4 Feb 17
@tallawah
Washington (CNN)When President Donald Trump declared at the Pentagon Friday he was enacting strict new measures to prevent domestic terror attacks, there were few within his government who knew exactly what he meant. Administration officials weren't immediately sure which countries' citizens would be barred from entering the United States. The Department of Homeland Security was left making a legal analysis on the order after Trump signed it. So how come you knew the specifics of the ban? I'd say you didn't know and so she didn't know. If you disagree please link me to some legitimate news source that notified us of the upcoming ban and the countries that would be banned.
• Kingston, Jamaica
5 Feb 17
@Mike197602
I heard him discuss it in 2015... just do your very own personal search. You'll find it... I think it is on CNN... is that reliable?


• Kingston, Jamaica
12 Mar 17
@Lupita234
Maybe she thought if she licked his toes, he'd make an exception for her



• United States
4 Feb 17
She voted for her family to be kept out of the country, and to be discriminated against if they were allowed in. Hope knowing she might never see them again makes her feel safe!


• United States
4 Feb 17
Hmm my personal opinion is that the stupidest person in America's initials are DT..