Pub Sign - The Highlander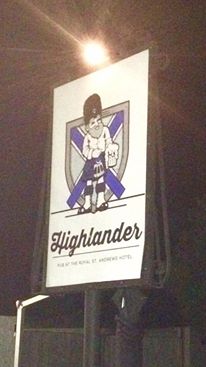 South Africa
May 9, 2017 4:31am CST
Dinner at a quaint Scottish themed pub had me thinking of @arthurchappell all through the evening and on our return to the car, I just had to take a mobile photo of the sign hanging outside the Royal St Andrews Hotel and Spa in Port Alfred, SA. I think this is the first pub sign I have ever actually seen in real. The food was delicious and a wonderful warm atmosphere in the low white ceilings of this Highlander Pub. So Arthur - I have one to my collection now!
5 responses


• Eugene, Oregon
9 May 17
I will have to seek out a pub with a sign on my next trip to Portland, OR. There are many breweries there, but I did not notice any pub signs.


• Los Angeles, California
9 May 17
Arthur won't have that one in his collection!