Calling Off The Summit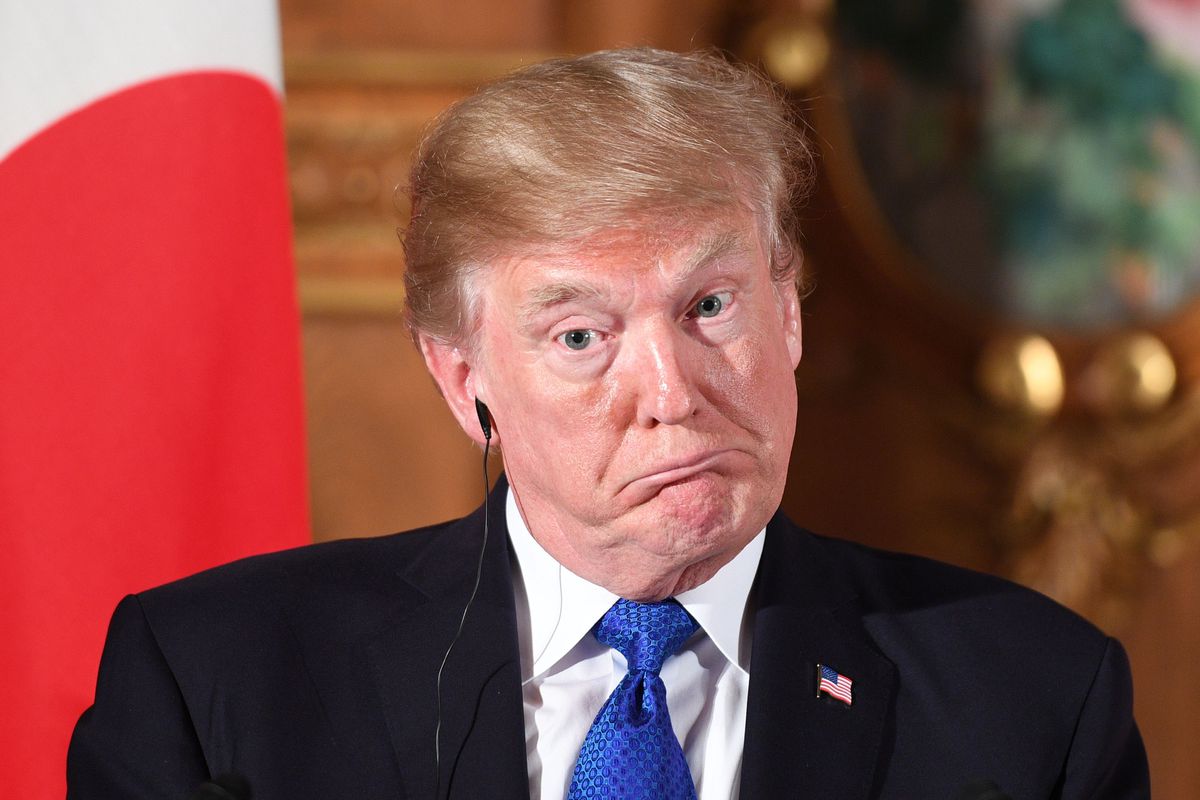 Kingston, Jamaica
May 24, 2018 12:31pm CST
One has to be extra stupid to call the name 'Libya' in any conversation concerning disarmament. For those as stupid as Trump and his team, Libya was considered more of a danger than Russia. That is, until Gaddafi agreed to disarmament. Then he was overthrown and killed and Libya is now in chaos. Of course Trump wouldn't know about Libya, nor would his Advisors, after all they are only in the American Government. So Kim Jung Un, who went to school and can read, and is aware of geo-political events thinks...'Whoa! So they will over throw me if I play nice!" Got to hand it to Trump, he is even stupider than he looks.
8 responses

• United States
24 May 18
I was beginning to think that I was the only one that realized that Trump was dumber than a box of burned out light bulbs! The thing about Trump is he is busily making sure that EVERYONE knows that he is stupider than he looks, well at least the people that are bright enough to realize how dumb he is know that they are right in their assessment of their "fearless leader" and how "un" bright he is. The media is pretty good at letting people know, they make sure they print the pictures that make Trump look stupid, although I haven't seen a picture of him yet where he looks bright.

• Kingston, Jamaica
24 May 18
Just like you, from the second I saw him he looked so stupid, then he talked in this dirty diaper whine and we thought he was a comedian pretending to run for President. We never expected people to vote for him. He knows nothing.



• United States
24 May 18
I'm convinced he's a puppet. I'm worried about who it is that's pulling his strings to move him. :(

•
29 May 18
If that's what you think of Trump, what do you think of Hillary and Obama?

• United States
29 May 18
@tallawah
I'm not sure. I'm pretty sure things would not be so positive for Russia's growth had Clinton become president ( she had majority votes). He really doesn't seem mentally fit for anything.



• United States
13 Jun 18
ROFLMFAO! Clearly he didn't have a clue. Kim played Donald like a fiddle and got everything he wanted and we came away with a big fat NOTHING. Who didn't cringe and nearly vomit listening to him heaping praise on that murderous dictator? According to NK state run media Donald promised to take the sanctions off. Who knows if he actually made that promise or not since the two known liars met with no note-takers to confirm whatever was said. If President Obama, President Clinton, President Bush or if Hillary Clinton had won the electoral vote the same people praising Donald now would be having heart attacks.

• United States
16 Jun 18
@anniepa
First thing we got was no more missiles being fired all over the place..... Another thing we got was 3 men that were being held...Got to come home.... Another thing is that Talks opened up between the North and the South...About ending the War......Another thing we got was a agreement that the north will Completely denuke, Another thing we got was a agreement that our POW'S will be returned, after 65 years that is a big thing... Families will get their loved ones home again to give them a proper burial. Where have you been we all know that the sanctions will be lifted when N. Korea is in complete compliance with the agreement. President Trump also offered them security and Protection, He also offered them Help with Trade, and bringing businesses to their Country.... What did Kim get besides the above agreements...A photo opp..... agreements can be broken at any time if they are we will be right back to where we were before talks started..... President Clinton was the one that was played by N. Korea...Bush and Obama, and Hilary did NOTHING... I would Bet that with in the next few months we are going to see the return of our POW'S, and then after that more talks about how Kim is going to denuke..... President Trump is not going to play with Him like past Presidents did...Trump will walk away and hit him with more sanctions, and take him out if need be..... We will have to wait and watch what happens, because nobody knows right now exactly what will happen.. From what i am seeing is that the ones being played right now are the Trump Haters, by listing to all the fake news stations out their..Just like they did when Trump called kim little rocket man, and said his button was bigger and all the rest..They instilled so much fear in some that they had you believing that Kim was going to nuke us...But once again Trump knew what he was doing and nothing happened we are all still here no nuke was launched.....But what we do have is the chance for Peace on the Korean Peninsula....The world a safer place because N. Korea will have no Nukes.....


• Pittsburgh, Pennsylvania
29 May 18
I decided I am sick and tired of all these liberals and conservatives fighting. I was reading I can't remember where but I am going to live and let live and what it means. I have no idea what the president is doing nor do I care. It is not worth high blood pressure this world has brought to me i will watch comedies or youtube videos that are nonpolitical if i must watch something

• United States
12 Jun 18
I have had to stop watching the news because it has gotten so depressing. I have enough depressing stuff in my life right now without hearing about the President constantly and all the murders and shooting rampages. There should be something done about that first. We need to get our country in order and then turn to the world. I totally agree with you about watching the videos or the old television programs on TV. I get up most mornings feeling down and it's hard to get out of the pit when you're living with someone else because your own home burned down with everything in it. I lost my home, car, possessions, business, and above all my furry babies (9 cats and a dog) to the fire last October. I'm busily filling out the mounds of paperwork to file with the power company that caused the fire. So, even now, I look at any good news with a wary eye. I just pray nightly and in the morning that we don't end up in a war.
• Kingston, Jamaica
12 Jun 18
@BearArtistLady
I knew we weren't. Two fat boys arguing in the cafeteria, then, a plate of food appears, and then sit down and stuff.

• United States
13 Jun 18
@tallawah
Pass the chocolate please!

As I told Bill, my boyfriend, I plan to kick back, watch the Lone Ranger reruns (the 1950's version) and work on making teddy bears. When I make teddy bears I totally relax and shut out the world and all the problems caused by meat heads who want to be famous.


• France
24 May 18
I missed something : when Gadhafi disarmed ??? He was an anti-model of disarmament. He tried during 30 years but he never managed to get a H bomb so telling in 2003 that he was giving up on H bomb researches was exactly like North-Korea telling that they are closing their nuclear test site : the underground test site was already naturally closed by a part of the mountain that felt on it during its last use

. Besides they do not need tests anymore as their bomb is operational.



• Northampton, England
28 May 18