Tongue in cheek !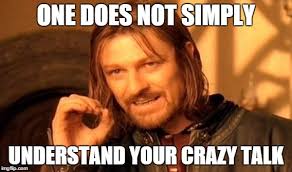 United Kingdom
May 5, 2019 3:06pm CST
So over the last two days I have written two posts about the nuances of our English language and its use there of. So we have identified that there is British English, American English and I dare say Australian English and New Zealand English. English is taught in many countries around the world and depending on what syllabus you are taught will influence the way that you write, speak and sound. I know in the Phillipines they speak with an American twang. In Russia it could be American or British twag. So there are clear differences with different words used to describe certain things. Neither should we take offence at these differences. as we should take into consideration our differences. although we may be reading from the same page they can have different connotations. I mentioned yesterday I would give some personal examples of how we talk tongue in cheek.with an undertone of sarcasm so the following examples I have used with my family. Well that is part of our humour we tend to be funny by using subtle irony or sarcasm. 1. For example my wife might ask me where I have been and I reply to the bank. She might ask what for. I will reply to buy petrol or buy a book! 2 Another time my daughter asked me what shift are you on tomorrow. I replied 9-5 she asked what time do you finish? I looked at her in disbelief and said I see you inherited your mother's intelligence! Later that evening my wife asked what shift I was on the next day. I replied 9-5 she asked what time will you finish! I looked at my daughter shrugged my shoulders and just said well that's the proof need I say more! We both fell about laughing leaving my wife even more bewildered than she normally is. 3. We were attending an uncle's funeral I drove to the crematorium and met my family there. My brothers and sister piled into my car saying they were getting away from dad because he was so morose. He then got into my car saying I guess the next time we are here it will be for mine. I looked at him and told him hang on I will go and ask the vicar if he could do you today. It will be time saving and cheaper for us. I will see if I can get a buy one get one free. While my sister and brothers were mortified my father laughed his head off which put an end to his self-pitying. 4. The last example I will give was when my eldest brother was complaining about my sister. He was getting quite irate and then he said mum and dad would be turning in their graves. I looked at him puzzled and said well that would be a miracle considering they were cremated. My younger brother choked and ran out of the room laughing. I got a frosty glare from my wife and my brother was struck speechless. So you can see some of our humour may be a little bit off the mark and probably quite shocking and yet other times it would just be an undertone of something else. How it is interpreted by others is entirely up to them. You might have noted that @Gillygirl and I have exchanged some banter together over the last few posts. It is all in good fun however some readers were not quite sure what we meant. Trust me when I say this it was all done in good faith and in good spirit! Actually 40% proof gin to be exact but not to worry she is now seeking prfessional help! I hope you have enjoyed these couple of days and feel that you have been involved too. All who have joined in have been pretty good fellows and I thank you for the entertainment value of the posts.
10 responses

• Norway
5 May
I love number 3 and 4! And I'm not around enough to have seen any banter or any schocked audience. A pity, I would have brought pop-corn. I could also have brought something better spirit than 40 % gin, I've got some stuff a chemist friend of mine left ...

• United Kingdom
5 May
Hahaha you would have definitly needed that to help you sleep after reading it all! I love Absolute!

• Norway
5 May
@garymarsh6
I suppose that two Brits behaving perfectly nice and polite to eachother would worrying. I would assume they'd be planning murder.


• United States
5 May
yes he does have a good sense of humor there.Thank you for the interesting article.

• United Kingdom
5 May
No point in going through life miserable and boring isn't that right. Life is for living and having fun. We only get one chance of it.

• United States
5 May
@garymarsh6
Maybe a second one if you behave





• Thomasville, Georgia
5 May
Welp, your English sounds like my English. Sarcasm is a way of life in my home, lol.

• Sutton, England
5 May

Partner up with a legend! POKÉMON #DetectivePikachu hits cinemas May 10. The world of Pokémon comes to life! The first-ever live-action Pokémon adventure, "P...

• Sutton, England
5 May
@garymarsh6
I put the wrong video up. Hubby was complaining about the noise. Oh my!

• Sutton, England
5 May
@garymarsh6
Just to assault the ears. This was the one I was sending.

Harry Enfield And Chums' Scouse Alphabet

• El Paso, Texas
5 May
Some of the types of humor you mentioned reminded me of my dad. He had what we call a poker face, he could tell a joke with a straight face but would always tell me that I made him laugh more than anyone else because I utterly believed everything he'd say.

• United Kingdom
6 May
My brother is an expert and has me creased up. He is so bad

• El Paso, Texas
6 May
'creased up"
that's a new one for me, I suppose it means he makes you laugh
@garymarsh6
?

• United States
5 May
Talking tongue-in-cheek is common practice around here. We do have a good time with it all.

• United Kingdom
5 May
I know it is great fun Deborah especially when people really do not cotton on you are being sarcastic!

• United States
5 May


• United Kingdom
6 May
I like to think you have a great sense of humour and a passion to helping others!

• Bunbury, Australia
6 May
We are always slinging off at each other and sometimes people look at us with horror but luckily we know each other well and don't take offence. We have to try to be first off the block with some of our jokes. He usually managed to get in first saying that he always takes his sleeping bag when he goes away for the night. Of course, he is referring to me. I will say I try to keep Vince in his place but he won't stay in the toilet. When I get out of the shower, I often say 'I feel like a new man (instead of a new woman)'. I've enjoyed these posts about the differences in our ways of speaking.