My "Cartoon" Cat!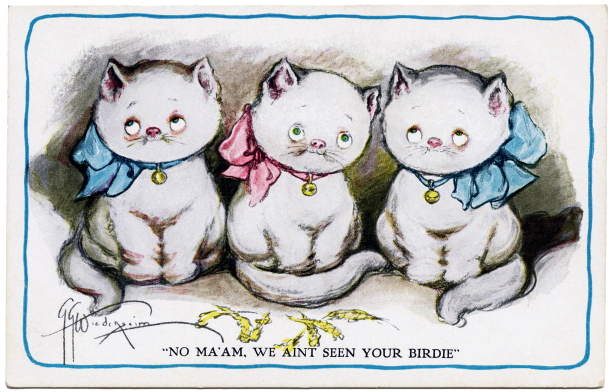 Saco, Maine
May 14, 2019 9:56am CST
My cat, Muffin, is hiding under the bed right now because she knows I am angry with her. For several weeks now, I've been nurturing three plant seedlings on the kitchen counter. She didn't seem interested in them then, not until I decided to transplant them to a bigger pot, which I did last night. Knowing how she likes digging in the dirt, I covered all the soil with plastic wrap, and left just the tops of the plants exposed. I never gave it another thought until I got up this morning and noticed that the very tips of the plants had been chewed off. I was even less impressed by that point, so I decided to cover the plants with plastic wrap, too. I stuck some plastic knives in the soil so the plastic wouldn't weigh the seedlings down and thought that would do the trick. But when I got back from running an errand, she had gotten into it again as the plastic had been flattened down along with the plants! I've recovered the whole thing again and will put the plants in the bathroom when I go back out later. Another alternative would be to take the pot over to the community room and leave it there until it's ready to put outside. The problem is that we've been having some unusually cold wet weather here. This morning, it was just 34 F (1.11 C) when I got up and raining hard. So there was no way I could put that pot outside yet. I remember as a kid watching cartoons in which naughty cats were always being chased by a woman swinging a broom. I hate to say this, but Muffin came really close this morning to becoming a "cartoon cat!" (Public Domain Image)
6 responses

• Los Angeles, California
14 May

• United States
14 May
They can try your patience sometimes. Mine has almost fully demolished a wicker hamper I had in the bathroom. He has disassembled it piece by piece!

• Saco, Maine
14 May
It is astounding the damage they can do over time. I've learned what to leave around my cat, and what not to. Sometimes I have to learn it the hard way, like this time!


• United States
14 May
Oh dear, Muffin really is in trouble. The bathroom sounds like a good spot for your plants.

• Saco, Maine
15 May
It's a temporary fix, as I can't leave it in there all the time. It's too dark. It's back on the table now, and I'll put a dishcloth over it again when I leave later.

• United States
14 May
I guess Muffin thought she found a new toy to play with. Hopefully you won't be too anger with Muffin. With our girls Ginger is more mischievous than Buttons.

• Saco, Maine
14 May
Na. I'm over it. She's an indoor cat, so she's curious about things other cats might not be.

• United States
15 May
@Raelove
I knew you wouldn't hold a grudge. Our girls are indoor only too


• Saco, Maine
15 May
She never bothered them when there were still on the windowsill, which is just as accessible to her. But how knows how cats think? Not like they're gonna tell us!