TV Theme Songs That Explain The Show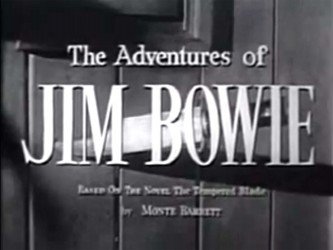 United States
June 12, 2019 9:04am CST
Today's tv theme song that describes the show stays in the early years of a young America. Like yesterday's theme song, this one was also sung by The Ken Darby Singers. The show is The Adventures of Jim Bowie. The show aired from 1956 to 1958 and starred Scott Forbes as Jim Bowie. It was set during the settling of the Louisana purchase in the 1830's that Jim Bowie would have a special knife made to help protect himself from the wild animals he encountered in his travels. In real life Jim Bowie would die at the battle of the Alamo along with William Travis and Davy Crockett.

With The Sandpipers, Mitch Miller And Orchestra. From the Golden LP Hooray For Cowboys, released circa 1964. Originally from the Golden EP, released in 1957.
4 responses


• United States
12 Jun
It is a really good show, a lot of our early history is weaved throughout the episodes. Mike and I enjoy it.

• United States
12 Jun
@Bensen32
It is on the roku channel on our roku device. Don't have Netflix or Hulu so don't know about them.


• United States
12 Jun
That does not sound familiar to me at all.

• United States
12 Jun
I'm sort of familiar with this show

• United States
12 Jun
Robert Klein used to do a routine in his stand-up where he'd discuss going into a hotel and turning on the TV, finding a show he'd never seen before. "But, luckily, the theme song explains
everything!"
)

(Then he'd sing, "Sixty minutes, that's what we have...."

)