Busy Morning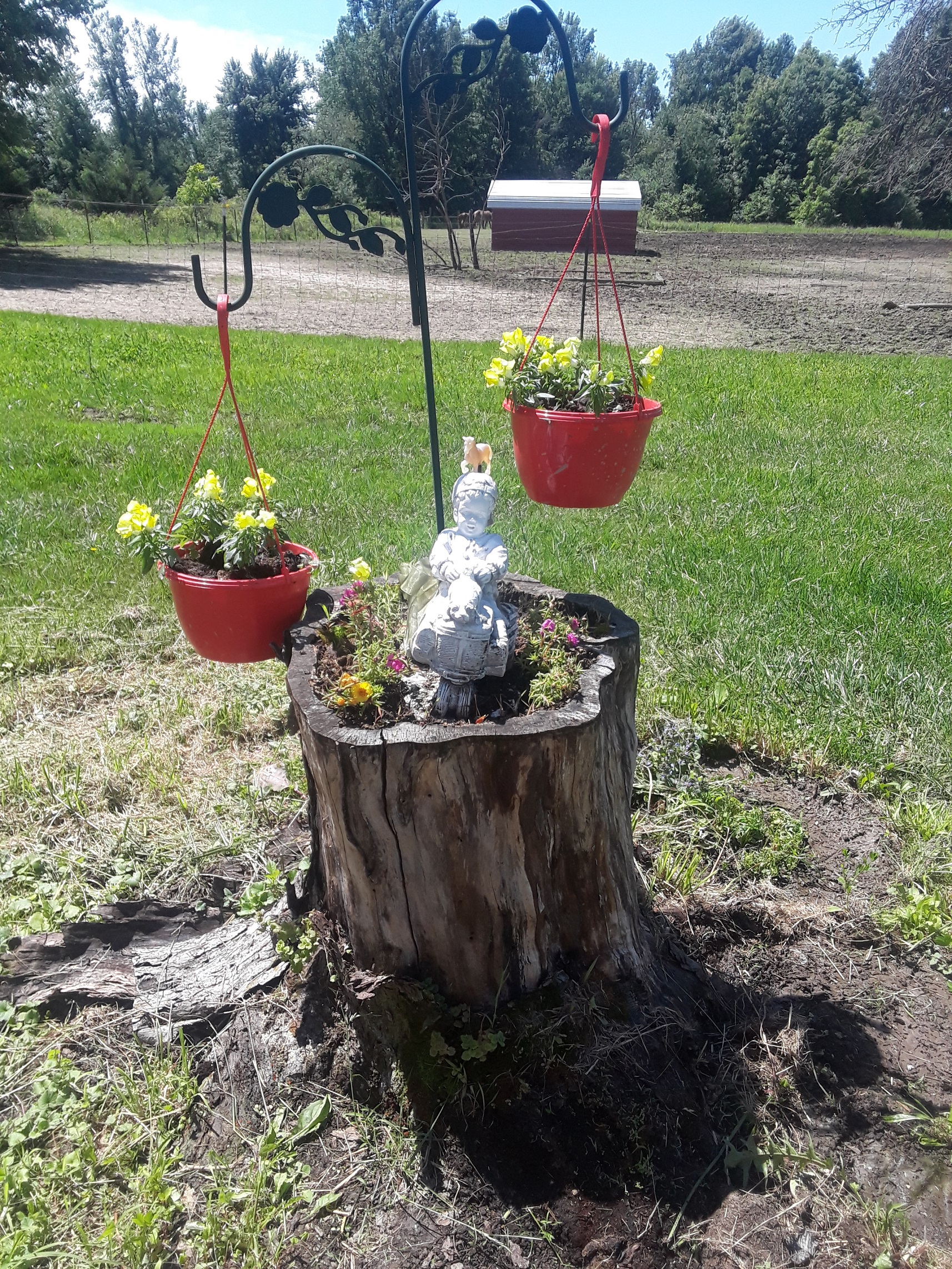 Marion, Ohio
June 12, 2019 11:24am CST
The picture is just one thing I got finished this morning so far. The baskets have yellow snap dragons in them and the stump is planted with moss rose. I had to fill the stump up some more as the dirt in it had settled down. I have hauled 5 buckets of dirt so far and used all of it. I filled two big planters with snap dragons and sat them on the back porch. After I had ran the weed eater around it. I also trimmed around where my dinosaur planter sets and put snap dragons in it. I ran another battery down trimming the back and side of the house. I have stuff I need to move from there from the old greenhouse frame. Then hubby will be able to mow closer again. I wanted a sit down break so thought it would be nice to catch up and visit here for a little bit. Hope you are having a good day too.
6 responses

• Anniston, Alabama
12 Jun
Love snap dragons! This is really pretty Eva, very creative.

• Marion, Ohio
12 Jun
A lot of people seem to love them. I was just able to get them without spending at least 10 dollars a flat. Thanks. I cant wait for them to grow and fill in more.


• Marion, Ohio
13 Jun
It happens. Hope it was a good day.

• United States
13 Jun
@wolfgirl569
Cable, dentist, shopping with friends, and a visit from my son. No time for myLot, and now I am going to bed. I am EXHAUSTED!!!!


• Marion, Ohio
13 Jun
@DianneN
Sounds like you should be with all of the running.

• United States
12 Jun
Seems like everyone is busy today. I am very happy with all that I got done today. I love your flowers, they look so lovely.

• Marion, Ohio
12 Jun
It is dry here so I am getting things done. Thanks. I think we will see more gardening posts from you next year.

• United States
13 Jun


• United States
12 Jun
Very pretty, Eva. Try not to overdo. There's some rain coming later.

• Marion, Ohio
12 Jun
Thanks. I seen the forecast.