Remember The 4-H Club?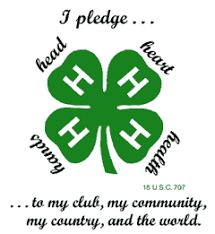 Virginia Beach, Virginia
July 12, 2019 10:54am CST
Do you remember the 4_H Club if school? Did you ever participate in the program? I did, and it was one of the most rewarding experiences of my childhood. When I was 10-11 a deal was struck with a neighbor who had a small pig farm. (Of course there were a lot of large pigs too.) In exchange for after school and summer chores I was given a newborn piglet. This was a white with black spots Poland China hog that my little sister named "Panda". That was when I learned how remarkably intelligent these animals are. Panda was an affectionate sweetheart and followed me everywhere just like a puppy. (Except in the house. Mama didn't play that.) We even taught him to do silly tricks and he seemed to love that. That little piglet grew into a prize-winning hog and we were so proud of him. Panda was so special to us that we couldn't send him to the meat packers to be slaughtered. We kept him with us for two more years eating only one ham at a time.
8 responses




• Los Angeles, California
12 Jul


• Belews Creek, North Carolina
12 Jul
I was involved in 4-H briefly, no animals though. I did a sewing unit and a bread baking unit before it was decided that the Saturday events were too major a conflict with my parent's views on Sabbath keeping. It sounds like you got some real culinary enjoyment out of Panda over those last two years (for us pigs were the epitome of unclean. I would not have been able to eat so much as a bacon bit).

• Bunbury, Australia
13 Jul
The Australian equivalent was Junior Farmers, later named Rural Youth. Panda sounds lovely. I know pigs make great pets.

• Marion, Ohio
12 Jul

They can be lots of fun. My uncle did have a house pig at one time. Said it was house trained better than the dogs and kids.

• United States
12 Jul
I haven't know idea what club that is