Time for sleep, surrounded by flowers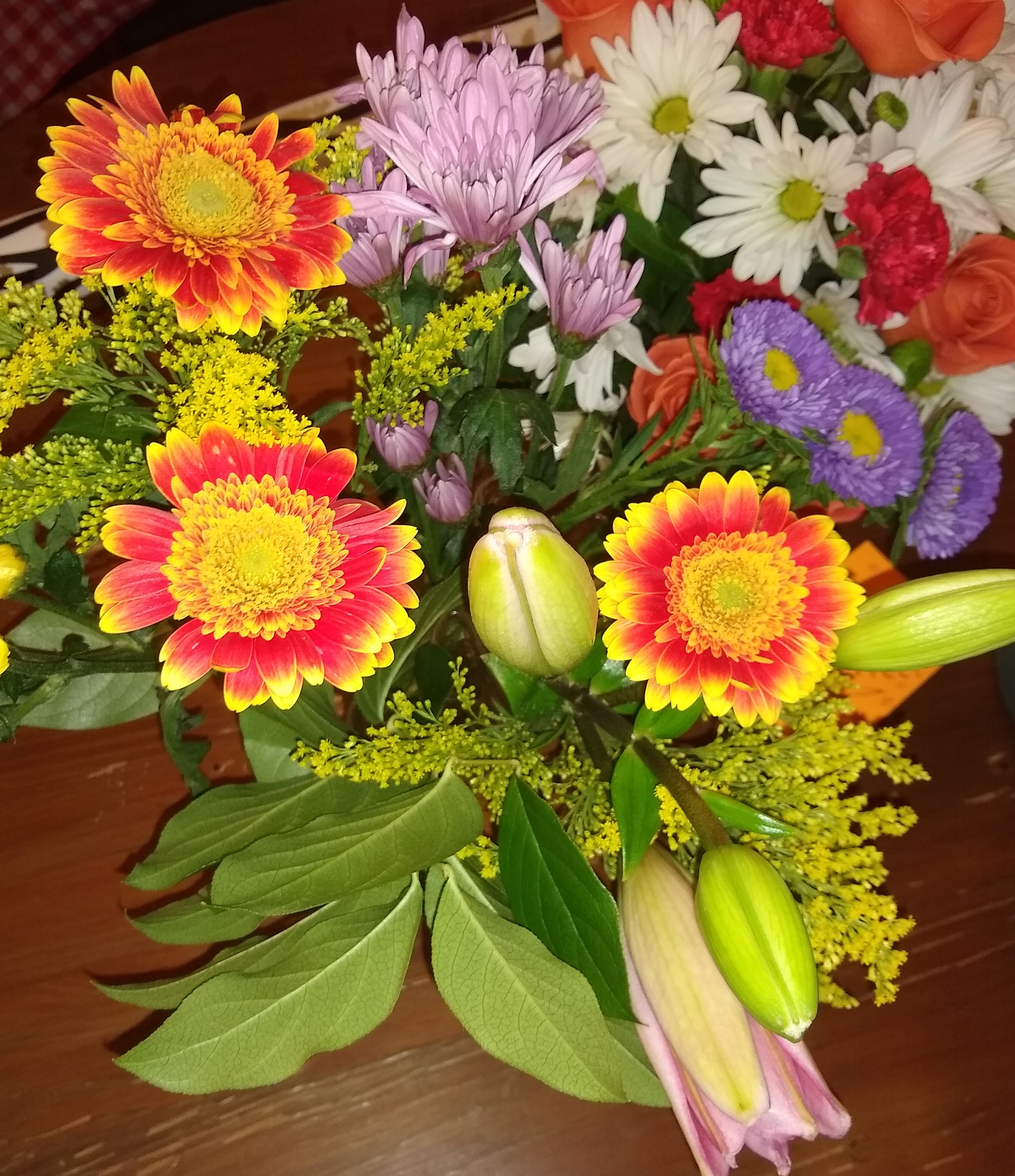 United States
August 13, 2019 12:03am CST
It's nearly 10 p.m., and I think I'm going to hit the hay in a few minutes. Tonight I went to one of my local Mexican restaurants and had a Mexican-style shrimp cocktail for dinner. Not only was it delicious, it gave me a chance to practice a little bit of my Spanish with my waiter, Felix. We had a bit of conversation, and I would say that I probably spoke to him in Spanish 40% of the time. I'm not perfect, but I am starting to try more. When I came home, I called my friend and we spoke for about 30 minutes. Then I called another friend, and we talked for 30 minutes more. Now, it's time for me to say, "Good night," and head to bed. I wish I could stay up to enjoy these flowers more. But I'm not going to fight it. Off to Dreamland I go... Photo is my own.
9 responses


• United States
13 Aug
I am answering my notifications lying still in bed! I'm not sure if I want to go back to sleep or if I should get up and not be lazy!

• Switzerland
13 Aug
@TheSojourner
I know that I must move up from my chair and go down to check the garden before the mosquitoes become too active.

I feel lazy today.

• United States
13 Aug
@LadyDuck
sometimes I think I should just get myself a part time job.



• United States
13 Aug
Good morning! Thank you for your note! It's nice to wake up to

• Davao, Philippines
13 Aug

• United States
13 Aug
@JustBhem
thank you. I just woke up and have had some breakfast, and now I'm going to go jump in the shower and start my day, even though it's a little bit late. I hope your day goes well.


• Holiday, Florida
13 Aug
Hope you slept well dear. I slept a bit better cause we just got our air fixed. But now for more high electric bills.


• United States
13 Aug
I slept for almost 8 hours, got up for a couple of minutes, went back to bed and slept another two

• Holiday, Florida
14 Aug

• United States
14 Aug
@bunnybon7
I don't usually sleep that well. There are times water I will be up 40 some hours before I can fall asleep and then get 8 hours



• United States
13 Aug
Better than in the past. I got seven hours. I hope your day is starting out well already!

• Marion, Ohio
13 Aug
@TheSojourner
Glad you got that. I only got about 6, but that is normal for me. It has been good.

• Bangalore, India
16 Aug
Those flowers are gorgeous.

Language needs practice. And we get better if we use it more and more.

• United States
21h
Rather than not trying, I will write or speak it where I can, and speak that which I know, and fill in the blank with the English words. I guess that's is what making sense to me, and thankfully no one's making fun of me to my face, at least!

• United States
13 Aug
Hope you had a good night.

• United States
13 Aug
I got about 7 hours of sleep. But I'm still in bed answering notifications! Haha

• Los Angeles, California
13 Aug
Good night Miss Flower Child.

• United States
13 Aug
Thank you, John. Now I'm thinking of every hippie song There Is with words about flowers!

• India
13 Aug
Flowers are the best to show love or care. Good night sweet dreams.

• United States
13 Aug
I certainly have seemed to have been fortunate like that. And this last few months, I've received flowers three times from two different people. I feel very special.

• United States
13 Aug
Thank you. And I'm guessing that it is night time for you now on Tuesday night. I hope you sleep well.