$60 for food in 30 days: Dinner when getting down to the bare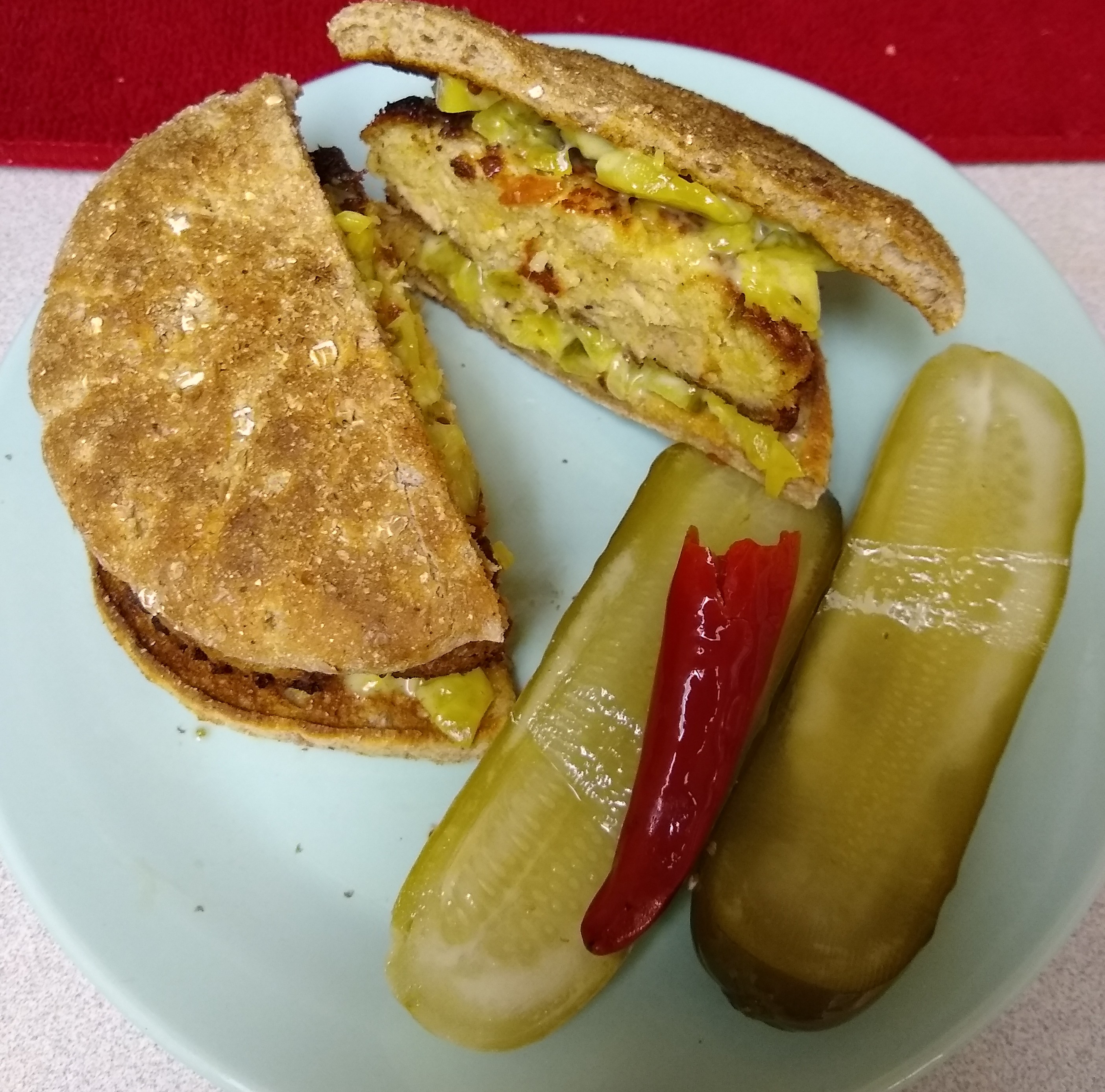 United States
September 10, 2019 11:11pm CST
No! I am not talking about eating when you're naked! I have eight days before I leave on vacation, and I planned on using up what I have, rather than buy other things. I have fewer and fewer things to prepare and eat, and I'm realizing that makes it more difficult to cook. I have made a soup, which I did not eat tonight, but will have for the next couple of days. It is truly a "must go" soup, that I made with a potato, broccoli, leftover pasta and vegetables, and chicken broth. It will not be my favorite thing to eat, but it will certainly feed me several meals. Tonight's dinner was a tuna patty sandwich made with a can of solid white albacore, the remaining panko bread crumbs, one egg, and seafood seasoning. I pan-fried the two patties in a little olive oil and had one on a "Sandwich Thin" whole grain bun. I chopped up the remaining homemade bread and butter pickles and onions, and mixed part of it with a little bit of mayonnaise for a dressing. My "side vegetable" was a NY deli-style dill pickle. My meals will become less creative and working with the bare minimums. I have this soup, and another tuna patty to eat up in my refrigerator. With five more sandwich buns, that will take care of one of them. I also have three chile lime chicken burgers in my freezer. Then there is the salmon filet, lingcod, a smoked salmon filet in my freezer. I will leave the crab and smoked turkey until I get back. Fish and rice will suit me well, when I finish up the other things. I have one celery heart left, so that will make quite a few celery sticks, and I have four more dill pickles. Breakfast is coming down to eating whatever is available. I do have a half of a large container of plain yogurt, one egg, a banana, and some homemade cranberries in the refrigerator. As well, there are about two cups of frozen blueberries. Between these things, and the oats, I will have breakfasts. I can also eat rice and fish. It will be like being back on Guam! (I also have four cans of tuna, some walnuts, almonds, and dried garbanzo beans, if necessary.) If I feel like I need to, I still have $7 left of my $60 for food for 30 days to use for some salad or fruit. We'll see where I am in a few days. Regardless, I won't go hungry! It's been an interesting experiment, especially as one gets down to the bare minimums. But it could be more interesting, I suppose, if I decided to do it in the nude. Maybe that will be for another experiment once I return from vacation. Photo is my own.
7 responses

• Switzerland
11 Sep
Canned tuna comes handy. My mother made spaghetti seasoned with chopped canned tuna, some olive oil, garlic and chopped parsley. I like tuna with avocado and endives sliced. for lunch pasta is always fine for me, there are so many different recipes to season pasta. Dinner is a bit more difficult, but soups time is coming, so a small something else will be enough also for dinner.

• United States
11 Sep
I do something similar with canned tuna. And pasta. Sometimes I will use capers in it, other times I will use tomato. But basically the same thing with olive oil and garlic and herbs and tuna

• Switzerland
11 Sep
@TheSojourner
I liked (without tomatoes), but my husband does not like a lot, I do not prepare two different things, so it's a very long time I do not make it.

• United States
11 Sep
@LadyDuck
since I was in Naples, I make my pasta very Simply Now for the most part. Long gone are the days of having a big pot of sauce. nowadays, I much prefer to cook a few fresh vegetables and while they're still half done toss the pasta in the olive oil and garlic and the vegetables or whatever I decide. One thing I remember was using butternut squash and cooking that and tossing it with the pasta.


• United States
12 Sep
I'm not so big on tuna as I once was. I will eat it with a little light mayo, minced onion, and celery. We have to eat it on toasted whole wheat bread and add some lettuce to it as well. Haven't bought any in so long because of the price. But as I write this comment I remembered it is on sale for $1 a can at Price Chopper. I never shop there and don't want to go in fir just a few cans of tuna!

• United States
12 Sep
I will only eat the solid Albacore. The other stuff is too much like cat food.

• United States
12 Sep
@TheSojourner
that is my favorite. The light crap is just that, crap.

• United States
12 Sep
@ElusiveButterfly
I remember buying when younger the cheapest tuna. It was as if it were grated. For years I couldn't eat tuna again; then, found out about solid white albacore. Worth the difference in price 10x over!! LOL


• Aberdeen, North Carolina
11 Sep
That's pretty smart though. I wish I could do that but my youngest (is 16) is such a picky eater as it is. She'd likely starve herself. Most people would say "she'll eat it if she's hungry." Not this kid. So frustrating

• United States
11 Sep
Thank you for your kind words. I know when you're dealing with people who are picky, that makes it tough, I wasn't allowed to be picky. And with my own daughter, I did the same with raising her as I was raised. So, I guess I was lucky that way. My parents were born in the early 1930s. I can remember eating things that were certainly not my favorite when I was a little girl, and my parents had not yet found their way into a good living. there are some things I ate when I was 4 and 5 and 6 years of age that I wouldn't eat today. I would starve!

• Aberdeen, North Carolina
23h
@TheSojourner
she's stubborn so even if I cook other foods, if she doesn't like them she just won't eat. Being that she already doesn't eat a lot, I find it easier to just cook foods that I know she will eat. You know the expression :they'll eat if they're hungry? I tried that. Darned kid went almost a week with barely eating. Lol She eats a wide variety of food, some that even I won't eat like kale and Brussels sprouts, but she won't eat anything spicy, or seafood other than salmon or shrimp. There's plenty of fruit she won't eat at all. So it is more difficult. She does eat plenty of veggies though because when she was little I didn't allow her to leave the table without eating her veggies.

• United States
21h
@acrogodess
well, I'm sure that if she ever comes up lacking and a vitamin or mineral that causes some sort of problems, she will get to make the decision then what she wants to do with her life.


• United States
11 Sep
The cucumbers are pickled, so I like them a lot. The sandwich, I made the bread and butter pickles with onions, and chopped them up to mix with the mayo. It worked and was delicious. And I have always liked a good deli dill pickle! Thank you for the kind words.

•
11 Sep
@TheSojourner
welcome. yes. it looks very delectable. i suddenly wish i had tuna patty. massive grocery shopping will be done this sunday so i dont have anything to make.

• United States
11 Sep
@Janet357
usually when I make fish patties I'm a lot more elaborate. I had about three-quarters of a cup of Panko bread crumbs, a can of tuna, one egg, and the seafood seasoning that had a little dry onion and other things in it. it worked out quite well and was very tasty, so I guess I really don't need to get all that elaborate if I don't want to. Learning new ways of doing things so that it's good, but simple, is a new way of my thinking about things.

• Moses Lake, Washington
11 Sep
Your soup reminds me of many suppers at my house.

• United States
11 Sep
It won't be the best soup in the world, but hopefully I can choke it down a few times. LOL

• Moses Lake, Washington
11 Sep
@TheSojourner
That soup is often what I sit down to so I hope it does not hurt you terribly.

• United States
11 Sep
@sallypup
I love soups, but this one is probably not one that I would share with others, unless they were starving and said, "okay." LOL

• Japan
11 Sep
About twice a year I do meals using up my emergency food supply that is about to expire.

• United States
11 Sep
It makes sense to me now, since I've been on this mission since April to clear out all my inventory before my vacation. I'll come back to basically a clean slate, with just a couple of things left.

• Marion, Ohio
11 Sep
I am looking forward to hearing that experiment when you do it

It looks like you will make it on the 60 dollars.

• United States
11 Sep
I'll make sure you are the first to know. LOL I will make the $60. It won't be fancy or fun, but life isn't always fun. Sometimes, we do things out of necessity. It's been a lesson, most certainly.