Gave away my HEART today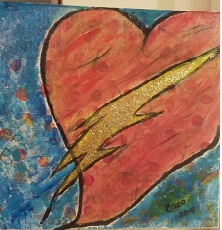 United States
September 11, 2019 1:21am CST
Despite my toe throbbing from my injury the other day, the uncertainty around what the insurance company will do re: my car accident (discussion with photos posted), and the last minute turn-of-events surrounding my second week of my upcoming vacation, I was in a relatively great mood. The phone call from the oncology nurse with the result of the bloodwork helped me to breathe just a lot easier (discussion posted early today). I was also able to get out five packages today in the mail; I sent another out yesterday to my sister in Oklahoma. I like doing things for people, when I can. Many of you know that I have been starting to go through a lot of things and scaling down in several areas of my life. Some things are what I've had that I no longer use. Other things are purchases I've made that have never been used or I intended to give as gifts over the years. It will be my sister's birthday in four days. She got a huge box filled with more Tupperware brand products--Modular Mates, Fridge Mates, and more--and some other household items, brand new and gently used, that I thought she would like. The five boxes that went out today were for some special people: 1. My niece--Tupperware, candle holder, clothes for her two children, yarn, a kitchen rug, a throw pillow, books, and art pens. 2. Friends on military base in England w/new baby--four outfits, and Wonder Woman logo Tupperware items for little Molly. WW is the theme in her bedroom! 3. Friend in New England--something I picked up for her awhile back and never sent for her birthday; other things for a special person in her life. 4. Creative person I know in the mid-Atlantic--some items that can be used for creating her art. 5. Friend from high school--My very first canvas painting. Five years ago, I created my first painting. I posted it on Facebook to share with others, trying to get past my phobia about things I had heard about "having no talent." Quite honestly, it really was very childlike, but Carrie contacted me to find out if I "sell my art." I thought she was joking, but it "spoke to (her)." I decided very recently to gift it to her. I have only one photo of it (not very good), which I will upload here. I've asked her to frame it and take a good quality photo of it that I can print for my portfolio. Sending all of these things out, as well as dropping off donations to the American Cancer Society thrift store (did not make it there today, so will have to do it on Thursday), makes my heart feel good. I like to give of myself and want to share with others. It also reminds me that those who have given to me are much like me. I'm learning to appreciate them and their kindnesses more. Life is not always about owing others anything in return. Sometimes, people give because they want to. But I do believe that when we keep the flow open and free, things come back to us in the most interesting of ways. Tit-for-tat is not needed. Letting the natural ebb and flow of life happen is always best. We can "pay it forward" in the most simple and gentle of ways. Today, I was able to do some of that. It feels good. Getting closer to leaving for vacation, and the countdown to all that I need to do before I leave is exciting. Yes, there are some things of which I am uncertain, but I realize that is just part of life. Adjusting or changing one's plans at the last minute is a bit nerve-wracking, but it all will work out in the end. This I know to be true. Of course, some of the plans are solid. It was set-up and worked out systematically, and now the months have gone through to weeks, and tomorrow will be down to days. I still have much to accomplish before next week, but there is no reason to worry. My friend, Carrie (from high school), reminded me today that "all (I) need for Aruba is a bathing suit, a sarong, and a pair of sandals." My worrying about the only allowable bag for me fitting under the seat in front of me seems a bit silly, when I look at it from that perspective. Nothing is so earth-shaking for me to fret and allow my joy to be stolen by worry. I will have the clothes on my body, and a small bag. Anything else can be purchased, if need be. I picked up one pair of my new glasses yesterday. I am glad to have a new prescription and it has the transitional lenses to offer some protection. I also have three small tubes of 70 SPF sunscreen. I will get three more, which should be fine for the week. I will print out all of my medications list, and then make up my weekly containers, so that I do not have to carry 10 bottles with me. I have my passport ready. So, I am feeling more comfortable. That was my day today. And I have much to do between now and the end of the week, but I will take it all one day at a time. That also puts me in a great mood. There is something life-giving about learning to let go and give away. Photo is my own of my very first painting.
5 responses

• Switzerland
11 Sep
I am so sorry your toe hurts, I hope you will be better before you leave for Aruba. They dress casual there, I would also bring a hat and ONE (MORE THAN ONE) mosquitoes repellent. I covered my legs and arms to go out in the evening, mosquitoes love me. Just a reminder (not many people know): it is illegal to have army/combat type clothing or print.

• United States
11 Sep
I will buy the repellent when I get there. Thank you for that recommendation. I have every plan on only being casual, and I do have a visor type cap that I will pack. I also have a big floppy hat, but I don't care much for it and not sure if I will have the room to pack it. As far as the camouflage print, I do not own any, so no worries there. It is not something of which I was aware, however. It is such a popular print here in the US, in all sorts of colors. I wonder how many are caught having it confiscated at the airport before leaving customs.

• Switzerland
11 Sep
@TheSojourner
I suppose that many had those things confiscated. I remember that our travel agency informed us, even if they were sure it was not something we wore.

I also had a visor type cap that is the best to protect the eyes from the sun.

• United States
11 Sep
@LadyDuck
then it looks like I will be fine. Bathing suits and a sarong. And a pair of flip-flops! And my visor!


• Rupert, Idaho
11 Sep
All I can say is that is all great to hear! Great painting, very nice work :)

• Rupert, Idaho
12 Sep

• United States
11 Sep
I hope your toe starts to feel better and things start to fall in line for you. Love the painting. Of course you will take pictures on your trip and share with us?

• United States
11 Sep
I will try to do so. The toe looks bad, but it's getting better.

•
11 Sep
i love the heart - sorry about your toe

• United States
11 Sep
Thank you, Scott. It's funny how I'm giving away the first things I've ever done. It's like it's making room for the newer Creations like the one I posted the other day.

• India
11 Sep
This is again beautiful painting and this is my broken heart

• United States
11 Sep
It is so interesting to me how art is seen so differently. The reason that I painted what I did was that I told the coach that I wanted to paint a heart, and not a butterfly. She wanted to know why our heart and I told her because people don't see my heart. She asked me, what is it that they see? I responded, they see a bolt of lightning. I want people to know I have a heart.