Free 1 week trial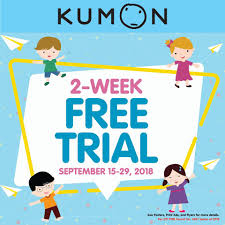 Philippines
September 11, 2019 4:40am CST
I can't afford to franchise a Kumon business but I want to have a tutorial center that focus also on math and reading. Before I was lucky to have 5 students all from private school but they don't stay for long and I encounter problem with attitude. I have regular tutor I tutor everyday for 1 hour but suddenly this September he does not want to have tutor anymore because he is really a slow and lazy student. I have one bright student who only comes during exams. Now I come up with an idea to promote my business and have many know about my services. I will make a tarpaulin ad that says I will be giving them free 1 week trial. I will be offering my service for free for them to see how I actually work and how I am prepared to help their children learn. I call my tutorial study time tutorial services. Hope this promo will help me find a good student. I find bad students who are really difficult to teach

4 responses

• Indonesia
9h
That's good. Keep it up. You'll see the result in the end.

• Philippines
9h
So far it is not effective but I hope some other day I will find students

• Bunbury, Australia
11 Sep
I wish you the very best of luck with your promotion. It's very difficult trying to help kids who aren't really interested in learning.