A cute scene outside our gate Had to click it.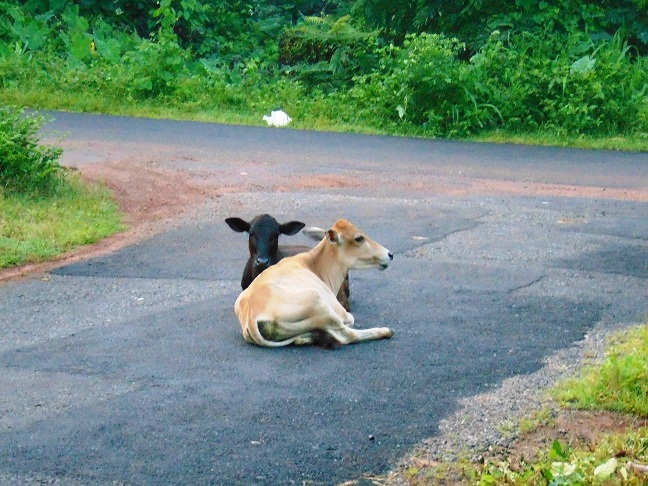 India
September 11, 2019 5:52am CST
There is one house here that rears cows. Their cows roam around but what I saw this morning definitely deserved to be captured in my camera. Two calves were resting near our gate. It was very early in the morning and so I wondered what they were doing there. Our gardener had some work to do near the gate and when he got there they slowly moved away Happy to capture them in my camera.
10 responses

• Bunbury, Australia
11 Sep
Maybe the tarmac is nice and warm so they like sleeping on it.

• India
11 Sep
Wondered why the owners let them spend a night there

• Bunbury, Australia
12 Sep

• India
13 Sep
@JudyEv
They roam around and then get back home. They have a caretaker who sees to all that


• India
11 Sep
No neighbour will harm those animals.

• Philippines
12 Sep

• Venezuela
11 Sep
Beautiful photo friend, cows look cute ..

• India
11 Sep
I just had to capture them in my camera


• India
13 Sep
They seem to not bother about the world around them.

• Switzerland
14 Sep

• United Kingdom
12 Sep
Do you think they were hoping to be fed?

• India
13 Sep
They were just resting there a bit away from our gate and they looked quite relaxed

• Laguna Woods, California
11 Sep
They look nice and relaxed! I hope they move before it gets dark out!

• India
12 Sep
The minute the gardener started working they moved away

• United States
11 Sep
They just seem to be enjoying nature.

• El Paso, Texas
11 Sep
Wonderful capture. I rarely get to see calves.


• India
11 Sep
There is just one house here that has cows and these are inside roads dividing properties. We tolerate them and are kind to them.