Rotten Jill Dog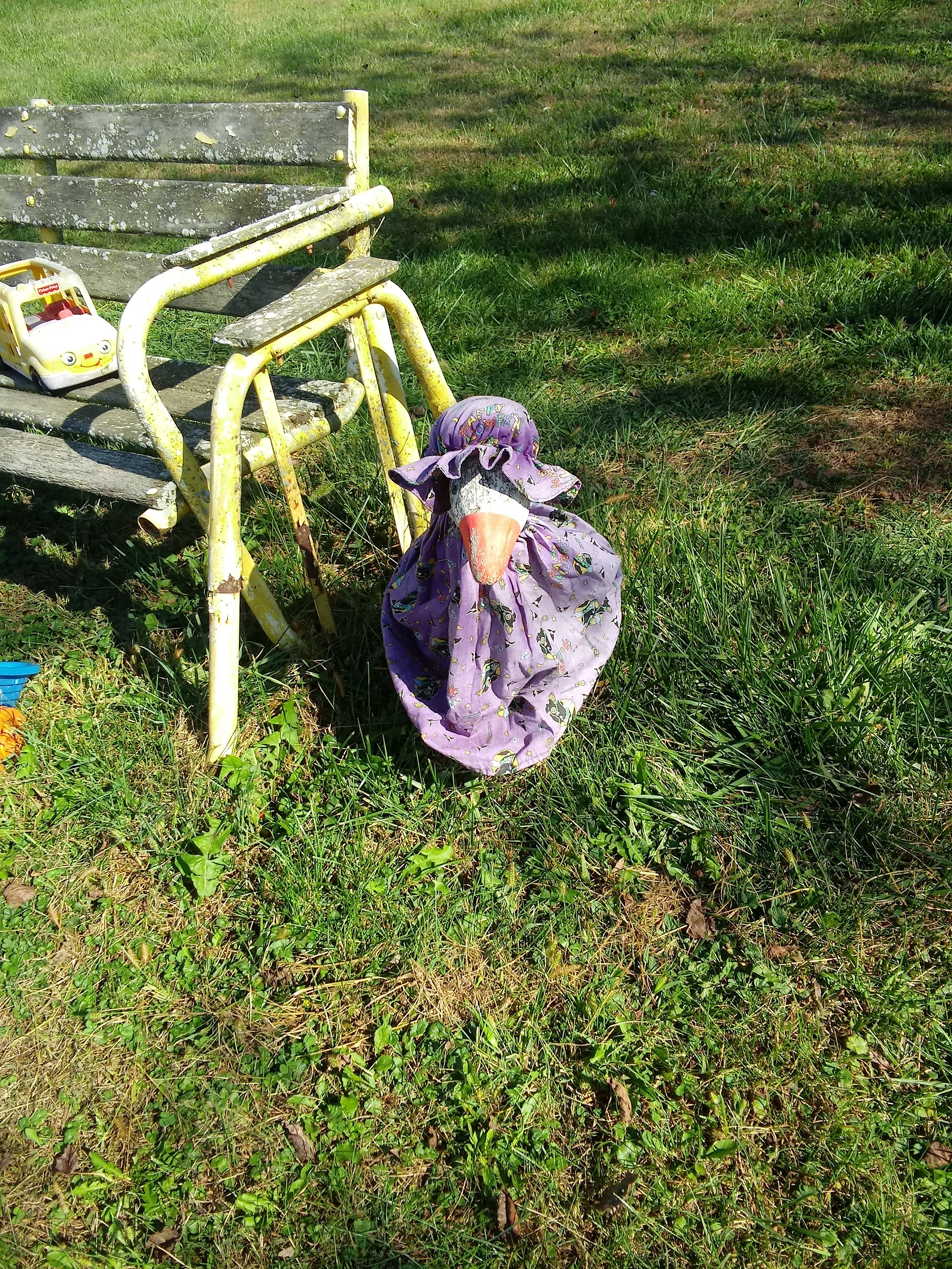 Marion, Ohio
October 9, 2019 7:02pm CST
She would not let me nap. She wanted to give wet doggy kisses. YUCK!!! But I did get her to settle down and let me relax for a little bit. Hubby got home while I was doing that. While he worked on somethings in the garage I got 2 of my daisies planted. I cant decide if I want the third one in the same row or somewhere else. As long as I keep it watered I can take a few days to decide. While I was out back working Miss Goose here asked me where her Halloween outfit was. So I got it for her. She then started hissing at me for not getting that glider repainted this year. I told her it stayed to wet this spring and then I got busy with other stuff. Hopefully next year before she starts biting me. I will be keeping my spin scrubber for the rust stains in the tub. It does a faster job than the steamer does on it. But I cleaned a lot of the rest of the bathroom while I was in there. The rest was very easy to do with it. I fixed meatballs for dinner. I had put on chicken but it was not done in time. So tomorrow we will have shredded chicken to eat. I had put too much chicken in the slow cooker so I could freeze some for easy meals later. I do still need to shred and bag it up. It is cooling now. Grocery shopping tomorrow will be an easy day after what I did today. Hope you had a good one too.
7 responses

• Anniston, Alabama
10 Oct
I made dinner with what I had canned, the tin can foods and freezer cooked and waiting.

• Marion, Ohio
10 Oct
I thought about pulling potatoes and green beans out and cooking some stew beef then having a fast vegetable soup. But hubby mentioned how I made sloppy joes a couple of nights ago using spaghetti sauce. I didnt want the exact same thing so I added some sauce into the meat for the meatballs.

• Anniston, Alabama
10 Oct
@wolfgirl569
Its getting hard and harder to get Tony to eat.

• Marion, Ohio
10 Oct
@andriaperry
Will he drink boost or ensure for you? That is full of everything a body needs. He needs something.


• Marion, Ohio
10 Oct
Not her wet slobbery ones lol Thanks

• Switzerland
10 Oct
@wolfgirl569


I have no difficulties believing you.

• Peoria, Arizona
10 Oct
I love doggy smooches! Even when having to wake up at 5am to get ready for church and in comes 10 dogs to wake me up, I couldn't be mad haha

• Marion, Ohio
10 Oct
I hate the real wet ones and that is what Jill gives. She especially loves to get a drink first. Then you have it running off you where ever she slurped.

• Peoria, Arizona
11 Oct
@wolfgirl569
I think it is funny. Even though I do get hives from wet dog kisses, but it is worth it.

• United States
10 Oct
aw, ms. goose looks so cute! thankfully the pups here aint 'nto that givin' kisses schtuff. momma bought her one 'f those spinner thingies but says she can't use 't. too diff'cult fer her arthritic hands? i dunno...they're prone to gettin' all sorts 'f schtuff that turns out useless fer 'em (her'n the aunt).

• Marion, Ohio
10 Oct
Thanks. The dobermans are bad about wanting to give luv in anyway they can. My mom had one but didnt use it much either. I have mine and hers now. I like it with the foam cleaners.

• United States
10 Oct
A Jill is just showing you that she loves you. Miss Goose certainly looks spiffy! Sounds like you got a lot done. Have a good Thursday.

• Marion, Ohio
10 Oct
I can do without those lovins. Thanks, I think Miss Goose is happy now.

• Los Angeles, California
10 Oct
You may be freezing some more chicken.