The beauty of Bromo Mountain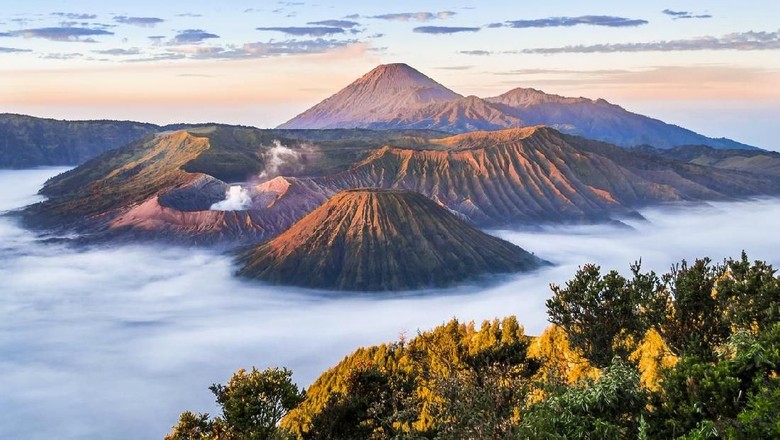 June 30, 2020 11:14am CST
Have you ever heard of Mount Bromo? Bromo Mountain is an active mountain in East Java, Indonesia. This mountain has an altitude of 2,329 meters above sea level. On Mount Bromo you can see the stunning beauty of the sunrise known as the Golden Sunrise. The beauty you can enjoy easily on a slope called the peak of Pananjakan. In addition to the view of the sunrise and the vast expanse of sand, the purpose of tourists visiting Bromo is to want to see the Bromo crater, this crater is an attraction because it does not stop puffing smoke that looks interesting and exotic.So that is a brief overview of Mount Bromo. I last went to Bromo in 2012. I went with my family. That day we left at 12 pm. We arrived Bromo at 3 in the morning. Before heading to the top, we boarded the jeep to get to Bromo. We headed for the peak of Pananjakan. And Woah, the sunrise was beautiful. We took a photo. After that we headed to the crater. From the parking lot to the crater we walked :D it takes about 45 minutes to go to the crater when walked.
9 responses

• Tangerang, Indonesia
1 Jul
@shoufi
welcome to myLot. I was born in Malang, not really far from this mountain. Yet, i am not bored to visit this place. One of the most beautiful view in the world.

• Tangerang, Indonesia
8 Jul
@nawala123
Yes I was born in Malang. It's very cold when i was young, but not anymore these days..


• Indonesia
30 Jun
I've visited that place, such a beautiful view and so fresh. I hope I can visit to Bromo again!

• Indonesia
8 Jul

• Indonesia
8 Jul
@fahmita_
i ever been in malang/kota batu. hopefully one day



• Bekasi, Indonesia
8 Jul
My house is very near to beach about 2 km

•
30 Jun
Sounds like fun!

Hello, and welcome to myLot. The first thing you should do when you get a chance is to follow the link I have provided to read the site FAQ and Guideline pages so you can become familiar with what is and is not allowed here. I hope you enjoy your stay.


Have questions about myLot? Help is here!

• Indonesia
30 Jun
Not yet but i know it. Welcome to mylot my Indonesian fellow


• New Delhi, India
30 Jun
From your experience there, at Bromo mountains, I would love to go there too. Thanks alot for sharing such wonderful information about it. The mountains already looking so beautiful from this picture itself.

• Bekasi, Indonesia
8 Jul
I had been to bromo about 1 years ago with my student. I enjoy many scenery at there. And a good air, ver cool too