Just finished watching season 5 of Luther

United States
September 16, 2020 4:29pm CST
I checked out "Luther 5" from my library. It was a BBC 4-episode season, starting Idris Elba as John Luther, and co-starring Ruth Wilson as Alice Morgan. I LOVE this show. If you enjoy psychological dramas, this series is one that I would highly recommend. Complex characters and storylines, taking place in London, it has kept me on the edge of my seat each season, but this last four episodes, especially.
9 responses

• United States
17 Sep

• Philippines
17 Sep

• United States
17 Sep
@rakski
I hope you will like it. The first season came out in 2010.


• Agra, India
17 Sep
Wow...it appears to enjoyed watching it to the fullest

• United States
17 Sep
I did. I'm starting another season of another show I found called, "The Affair." I think I'm on the 4th season of that. It has been awhile since I've seen it, so I might have already watched it. But I have the 5th season on hold when it comes available at the library.

• Agra, India
17 Sep
@TheSojourner
ohk..I stay away from web series because then I end up binge watching them

• United States
17 Sep
@amitkokiladitya
I do the same. Thankfully, I only have Honey and she sleeps a lot. I can sleep around her potty breaks. LOL


• United States
17 Sep
Thanks for the recommendation. What is the premise of the show?

• United States
18 Sep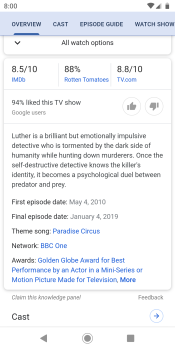 Rather than try to explain it, forgive me the screenshot.

• United Kingdom
17 Sep
I have not seen this programme but l can highly recommend another series made by the BBC if you can get it It is called 'Eve'.. I came in at the end of series 2 so did a mammoth catch up session. It is absolutely an amazing series which has now concluded sadly. They used to release new episodes on a Monday morning which were shown later in the week. I would sit and wait for 07:00 each Monday it is that compulsive viewing. The main character looks quite peculiar in a pretty kind of way! You will understand what l mean when you see her! I hope you enjoy it.

• United States
17 Sep
I will look for it through my library system. Thank you for the recommendation.


• United States
17 Sep
I really like British crime shows, and this one is especially complicated between the investigator, played by Elba, and the psychopath, played by wilson.. sometimes, it's hard to tell the two of them apart.

• Roseburg, Oregon
17 Sep
I am glad you are enjoying Luther 5.



• United States
16 Sep
When I read that Idris Elba was in it, several years ago, that's when I became interested in it. I am very fond of the series because of where it takes place in London and I think that the direction and the writers are just fabulous.


• United States
16 Sep
I love psychological drama, especially when it's police themed.


• United States
16 Sep
It took me several episodes to get hooked.