A Little History. The FBI, Elections Food For Thought.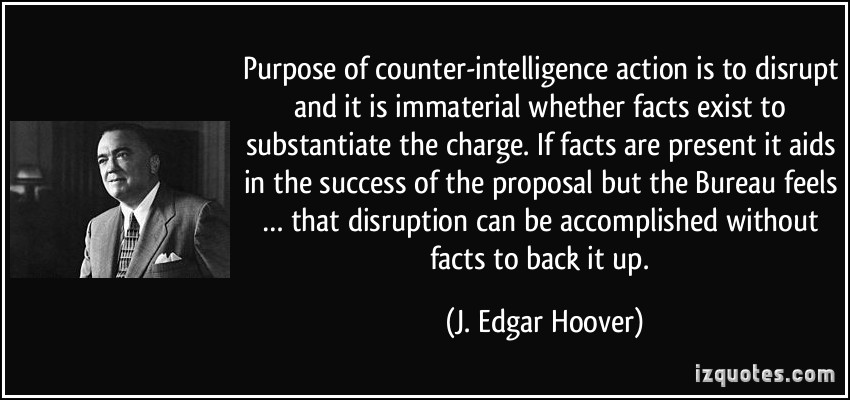 United States
November 21, 2020 7:11pm CST
Over the past few decades it seems there is a forgetfulness or lack of awareness when it comes to the FBI. As I listened to people openly talking of making lists to punish Trump voters/ supporters and reflected on those early days where the FBI was claimed to be non-partisan but also did things that might be considered unthinkable until some began speaking of doing exactly what was done in the time before the FBI was called the FBI and continued for many years. For those who did not know it was founded by J Edgar Hoover after WWI and he led it until the 1970's It started as a supposed independent organization led by an independent and morphed into what we now call the FBI. Born on July 26, 1908 as an agency of the Department of Justice under Attorney General Charles Bonapart, it was initially to investigate federal crimes and a year later given the name Bureau of Investigation. It was mostly to investigate federal crimes and had no real independence from the Justice Department until 1935 when it was officially renamed Federal Bureau of Investigation (FBI). As it grew from a few agents investigating criminals that evaded prosecution by crossing state lines to a large organization Congress started to voice concerns that its growing authority could lead to abuse of power. It began to move in that direction as it was given responsibilities that included investigating draft resisters, violators of the Espionage Act of 1917, and immigrants suspected of radicalism. It started to focus on Communist sympathizers which was so loosely defined that it would in later years be used to "Black List" people for political connections, even if it was not true. The first official director, J. Edgar Hoover, a lawyer and former librarian, came into the picture in 1917 as a special agent and rose up the ranks in 2 years. He was the instigator of a file system that created a list of 'radicals' starting during the first 'Red Scare'. This system included every suspect leader, organization and Publication deemed a threat. By 1921 it included 450,000 files and over 10,000 people were rounded up and arrested as suspected communists. Most were questioned and released which resulted in the criticism of the Attorney General for abuse of power. Hoover came out unscathed and was appointed the first (acting) Director of the FBI on May 10, 1924 and quickly approved by Congress as Director. He remained in this position until his death on May 2, 1972 just as the Watergate Scandal was breaking. In the investigation it was found that the FBI was helping in the cover up and protection of President Nixon. While this may have been the most notable recent event it is not the only one. Regardless of the present election outcome the FBI has had several leaders over the years in the mold of J Edgar Hoover. Some noted points related to the FBI and its history that has created some level of skepticism for some of the work it has done include: 1. Red Scare after WWI: As a result the FBI had their first "list" of people who could be seditionist by being Communist or disruptive in the view of the Leadership (J Edgar Hoover). 2. Red Scare after WWII: At this time the list was amplified and it continues in one form or another to this day. Some people that were affected and monitored by the FBI: 1. Hollywood Celebrities. 2. Directors and others in the movie production industry. 3. If you were considered a problem you could have been a target. 4. Martin Luther King Jr. and those who protested for equal rights in the 60's were targets. 5. Anyone who would upset the power of the FBI would be a target. Be aware that while people today don't seem to think it is possible it was part of the original purpose of J Edgar hoover. One of the people that he helped keep from being in the FBI is a fellow by the Name of Elliot Ness. That said anything is possible and consider reading about the FBI further at the ink below.

On July 26, 1908, the Federal Bureau of Investigation (FBI) is born when U.S. Attorney General Charles Bonaparte orders a group of newly hired federal
4 responses

• Singapore
22 Nov
I do not care or mind if the FBI actually monitor me. they would be bored by my activities through.

• United States
22 Nov
@id_peace
It is more likely that they will be looking to o things as AOC has declared a desire to do. The hate of some has them blindly going along with it. I am not concerned with being monitored but am aware of cases where the lives of innocent people who would be "Boring" have been ruined simply because they were easy pawns to sow division and reap control of a population.

•
26 Nov
The integrity of the FBI has been tarnished and have lost integrity. I wasn't aware of it. Only since 2015.

• United States
26 Nov
@everwonderwhy
The first director worked with a concept of 'Enemies Lists'. People do not know that the line workers are less of a problem than the director. Before the FBI was even in existence Hoover was considered an independent but in reality it was about controlling who was in office.

• United States
22 Nov
People who do not study history miss out on many things.

• United States
22 Nov
@GardenGerty
It is my thought that we have been going down this path for about 20 years. 9/11 opened up a new era in this. People have missed the fact pattern that happened 4 years ago and has continued for the time President Trump has been in office. The pattern is very familiar to several other situations over the years. As technology has advanced so has the ability to use it to control events. Sadly many do not see what has been a clear pattern of documented events. We do need to wake up or we are likely to repeat history. Things were created to affect innocent people. I do not care if they know everything about me but I do not want a case built on mysterious documents created to silence me or anyone else. AOC and others talking of lists to keep people from working or making some purchases is a dangerous path but not unheard of in the USA.

• Louisville, Kentucky
22 Nov
I watched a documentary on Whitey Bulger, the Boston mobster, and the FBI
helped him
run his rackets (an FBI agent whacked a guy for him!)! Of course, I have a clearance thanks to my Navy time, so the FBI knew I was gonna say that.