States In Order Of Joining The Union # 42 Washington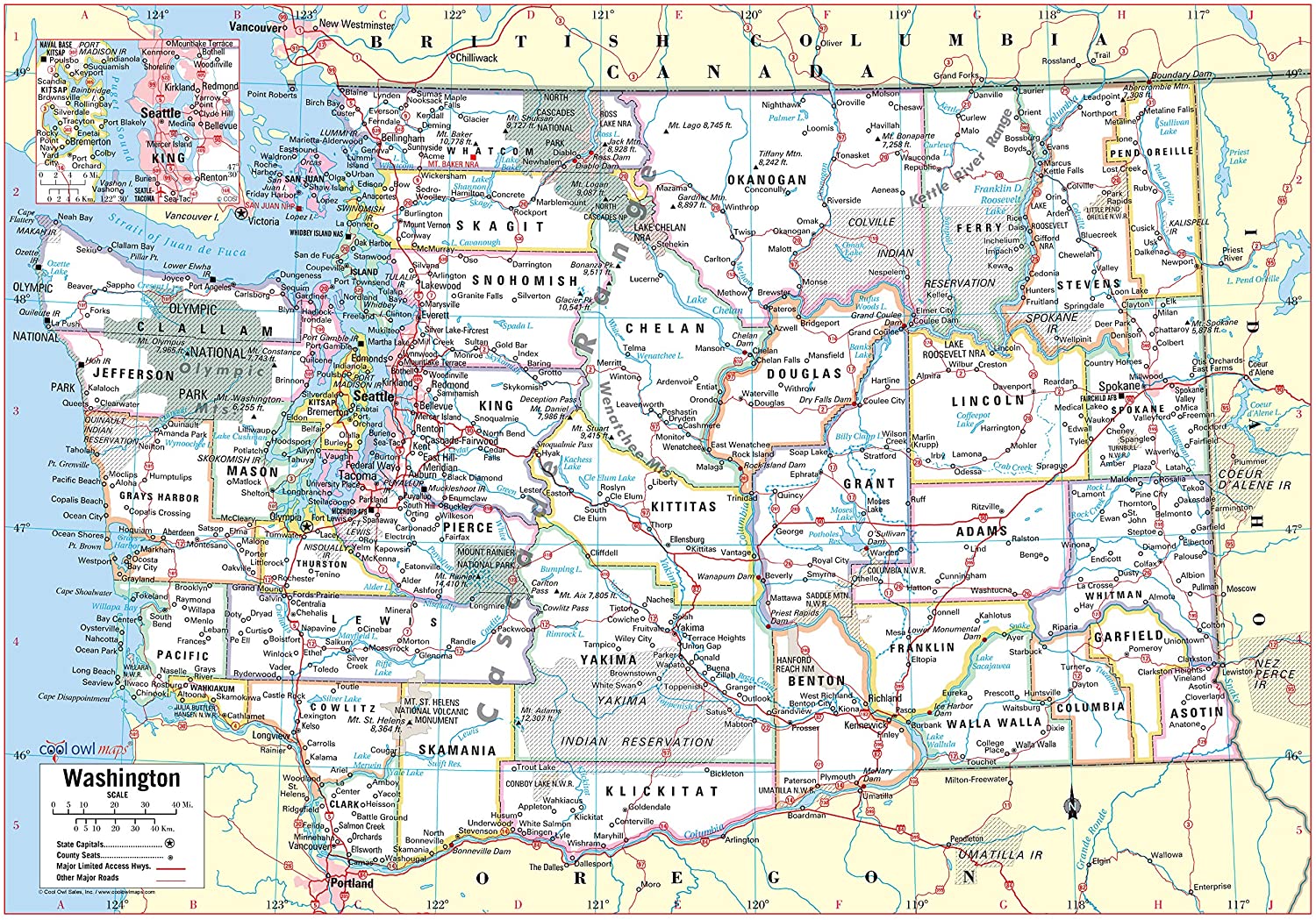 United States
April 5, 2021 9:43am CST
Washington became a state on November 11, 1889. The capital is Olympia. The state nick name is the Evergreen state. The name came from pioneer C.T. Conover who named it for the states abundance of evergreen forests. Though many know this as its nick name the state legislature has never voted to make it the official state nick name. The state measures 239 miles north to south and 370 east to west. The state borders include Idaho, Oregon and British Columbia, Canada. The Chinook, Nisqually, Quinault, and Puyallup Indian tribes lived in this region of the country. In 1775 Spanish explorer Bruno Heceta became the first European explorer to the territory. From 1792-1794 American Captain Robert Gray and Captain George Vancouver explored the territory for Britain. During his exploration Captain Vancouver is credited with the discovery of the Puget Sound. 1805-1806 US explorers Lewis and Clarke explored the Columbia River region and the Pacific Ocean for President Thomas Jefferson. Early in the 1840 both US and British settlers almost began a war to see who truly owned the territory however the Oregon Treaty of 1846 would set the land boundary along the 49th parallel and war was averted. New Market became the first settlement in 1846. Today it is called Tumwater. Washington is the country's leader in producing apples, pears, red raspberries, spearmint oil, and sweet cherries. Other industries in the state include lumber, shipping, fishing, salmon canning and mining. 1974 in Spokane the world's fair was held making it the smallest city in size to hold the fair. Washington is the only state in the US to be named for a President. Washington state has more glaciers than any other state. Washington state's capitol building was the last state capitol building to be built with a rotunda. The highest point in Washington is Mount Rainier. It was named after Peter Rainier, a British soldier who fought against the Americans in the Revolutionary War. In Olympia the world's first soft serve ice cream machine was located in a Dairy Queen. Puget Sound's many islands are served by the largest ferry fleet in the US. During the Great Depression, a series of hydroelectric dams were constructed along the Columbia river as part of a project to increase the production of electricity. In 1941 the Grand Coulee Dam was completed making it the largest dam in the US. Washington is home to four of the five longest floating bridges in the world: the Evergreen Point Floating Bridge, Lacey V. Murrow Memorial Bridge and Homer M. Hadley Bridge over Lake Washington, and the Hood Canal Bridge connecting the Olympic and Kitsap Peninsulas. March 16, 1980 a series of small earthquakes near Mount Saint Helen's began. May 18, 1980 a 5+ magnitude earthquake struck becoming the deadliest and most economically destructive volcanic event in US history. 57 people died, 100's of homes, 47 bridges, miles of railroad and roadways were completely destroyed. I haven't been to this part of our country yet.
9 responses

• United States
5 Apr
I haven't either but I have been to B.C. And it's gorgeous

• Moses Lake, Washington
5 Apr
@BelleStarr
Sweet Victoria and sweetest Salt Spring island.

• United States
5 Apr

• Moses Lake, Washington
5 Apr
@BelleStarr
It's a great city to explore. Ghost walks there at Halloween are great and the tearooms spoil you. Great second hand stores. On and on.


• United States
5 Apr
To date it's the only state named for a president. You just wait until President Kentucky takes office!

Haven't been there yet, either. My brother was stationed at Whidbey Island and LOVED Washington.

• Moses Lake, Washington
5 Apr
@FourWalls
I am guessing your brother loved the Puget Sound region more than he loved Washington. That is a whole other planet than where I live right now in Washington.

• United States
5 Apr
@sallypup
— this was also 40 years ago.

He was transferred before Mount St. Helens erupted. (I'm glad, because my mother was a worrywart, and Kilauea started erupting while I was stationed in Hawaii. It was bad enough to have both kids in the Navy, but to have both kids near volcanos!!!!!

)

• Moses Lake, Washington
5 Apr
@FourWalls
I remember Mount St. Helens. My Dad lived up north. My hubby and I were in Seattle at the time. He phoned us, all upset and almost hysterical, thinking we were in deep doo doo. I calmed him and told him we were doing fine.


• Moses Lake, Washington
5 Apr
I live in Washington state. There is a huge divide, almost a wall, between the Cascade mountains. Eastern WA is a whole other planet than western WA. There is a little town to the south of Olympia. That is where my other house sits- she was built in the year 1900. I was born up near the Canadian border.

• United States
5 Apr
I would probably prefer western, less people more nature. One day I hope the get there.

• Moses Lake, Washington
6 Apr
@Dena91
It's the other way around: Western WA has tons more people per square inch. I live on the East side where it is sagebrush and much dryer with fiercer winters. I prefer the west side cause of its fir trees and waterways and trails and tasty restaurants.

• United States
6 Apr
@sallypup
Sorry about that. I can live where there are few people and more nature.



• Bunbury, Australia
5 Apr
Goodness, the earthquake did a huge amount of damage.

• United States
5 Apr
Yes the earthquake helped the volcano erupt. I remember seeing all the devastation on television. I couldn't imagine being there to go through it.

• Green Bay, Wisconsin
8 Apr
I'm glad we averted war with Canada. I remember when Mount St. Helen's blew.

• Denver, Colorado
6 Apr
Such a beautiful state. I had wanted to go for a long time.



• Daytona Beach, Florida
6 Apr
Washington is a lovely state, Have been only once visiting one of mom's best friends in Tacoma. I remember the St, Helens incident and it was still on my mind when we went to Washington because it was not too long after that,