Do you sleep in a tent or camper?

United States
November 30, 2006 9:23pm CST
Just purchased a new three room tent with a screen room. Never slept in a camper but after three nights on the ground, HMMMMMM? I wonder?
5 responses

•
1 Dec 06
I think it just depends how long you're going to sleep out for. lasttime I went camping was for 3 nights and the weather wasn't too good. By our last day i was dreaming of climbing into my comfy bed at home. I think a camper would be better if you're going for a week or more, but you can't beat the excitement of that first night in the tent!

• United States
1 Dec 06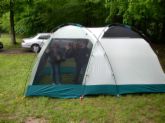 We have a camper with air. We only use it once a year for a big family campout. I did camp in a tent this year for the first time in years. It was okay until it started storming.

• United States
1 Dec 06
Try using an air matress, believe me, it helps out alot. Or you could try a cot to sleep on also.


• United States
7 Dec 06
I'm too old to get down on the floor anymore. So now we camp in a RV.