Pre-Meditated Murder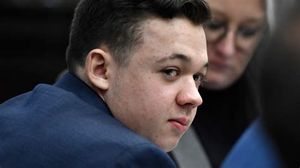 Kingston, Jamaica
November 24, 2021 12:34pm CST
Set the plan, obtain the weapon. Travel to the venue. Locate the victim, get his attention. Then kill him. Not an accident, not unexpected series of events. A planned execution. Of course, if one is a White Anglo-Saxon American the fact a high powered weapon was borrowed, travel to another city is commenced, and provoking response, so as to select targets to murder is acceptable.
5 responses

• United States
24 Nov
Acquitted. What you think or feel is not relevant.

• United States
24 Nov
@tallawah
You sound butt hurt that the right verdict was entered.
• Kingston, Jamaica
25 Nov
@Vikingswest1
Defending your property? Going to a town you don't live, to a business you don't own... defending? Isn't it funny other people were defending their property and didn't shoot anyone?


• United States
25 Nov
What, so Kyle should have just let himself be killed by the thugs who attacked him? I don't think so.

• Wapello, Iowa
25 Nov
He avoided prison but now come the civil suits. He will probably lose them but even if he doesn't, the next ten years of his life will be occupied with constant court appearances. And if he does lose them, his life will be miserable. That's the only consolation we can take from this. And he may do something else really stupid and not get such a sympathetic jury.
• Kingston, Jamaica
26 Nov
@xander6464
They've boosted his ego to the point he thinks he's above the law. Further, with his rabid supporters, he thinks he can do anything.


•
26 Nov
Sorry, your theory of facts is completely wrong. You are basing your argument on suspicions. Thankfully jury's base their verdict's on evidence. They viewed the video evidence of Rittenhouse being chased and threatened to be killed and determined it was self-defense. You just can't make up a scenario based on your emotions concerning race in America. Much of that information you're getting is fueled by a left-wing media trying to create a general impression of racism when it is not. Just my view based on some common-sense examination of the facts of this case and the political agitation going on in the U.S. today.


•
30 Nov
@tallawah
Wrong again. He provoked no one but he was provoked and threatened. It was not premeditated he acted to save his life. And in America one has a legal right to bear arms and protect themselves. If you're going to criticize, get your facts straight. You're totally lacking in knowledge on this topic.
• Kingston, Jamaica
2 Dec
@dgobucks226
I was going to post the actual reports from which I got my information, but realising your I.Q lower than your Massas there's no sense in treating you like a a college graduate when the only time you'd be on campus is to clean the toilet.