What Happened to Good Ol' Comet?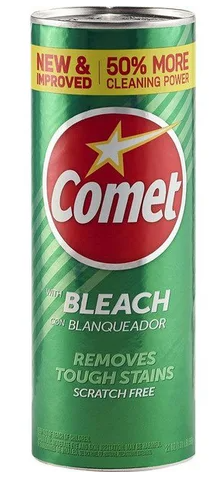 United States
January 27, 2022 8:06am CST
These days when shopping, it is hard to find the products you know and love. I have noticed this about Comet specifically for a couple of years now. It seems a lot of these cleaning products and other things are non existent anymore. Referring to Comet , I love the old product, the green powder I mean. These days it seems you can only get the Comet with bleach and they have totally changed the powder. It does not scrub as well, like it used to. The powder is fine and pretty useless. Even the new kind is hard to get and the price is outrageous now. Has anyone else noticed this about any product you love or even Comet too?
8 responses

• United States
27 Jan
There are a few thing like that, but none spring to mind at the moment. I mentioned it on here before, Blackjack gum no longer has the same pigment in it, it once has and is now grayish..someone probably figured out they could save half a cent a ton or something by removing it. Other things too really..

• United States
27 Jan
Oh my goodness! I loved blackjack gum! I didn't think they made it anymore. I also liked Beeman's and Clove.


• United States
5 Feb
Yes it is a cleaner Jojo but you would not drink it


• United States
27 Jan
I switched to bar keepers powder for scouring a number of years ago and really like it. But it's not as cheap as, it was. But I don't know how much comet is right now.

• United States
27 Jan
Yeah Bar Keepers is good but I still want my old Comet back

• United States
27 Jan
@RebeccasFarm
*laughs* I get it. And I want candy corn to taste like it did back when I was five. I won't touch the crap now. LOL

• Los Angeles, California
27 Jan
Oh my gosh - I forgot all about Comet! My mom used to use that all the time (before that she used Ajax, is that still around?). It happens with Trader Joe food products at times. One day it gets discontinued, they might find another vendor to bring it back, but then it tastes different. So disappointing.

• United States
27 Jan

• Los Angeles, California
28 Jan
@RebeccasFarm
I think so too

.

• United States
27 Jan
I haven't bought Comet in a long time so I didn't even know they changed it. I like Scott toilet paper (2 ply) but I swear they changed it. It just seems very thin and more like single ply than what I remember. Then again it could just be me


• United States
27 Jan
I know what you mean Marilyn..cheapskates

• United States
27 Jan

• Rockingham, Australia
28 Jan
We have had a few products that have disappeared off the shelves.


• Staten Island, New York
27 Jan
I never bought Comet. I used to buy Ajax. These days some stuff we need is hard to find and way overpriced.

The nerve of these people to charge so much.

• United States
28 Jan
Right..so much money it costs now even if you find it