Colorado Crow Homies Waiting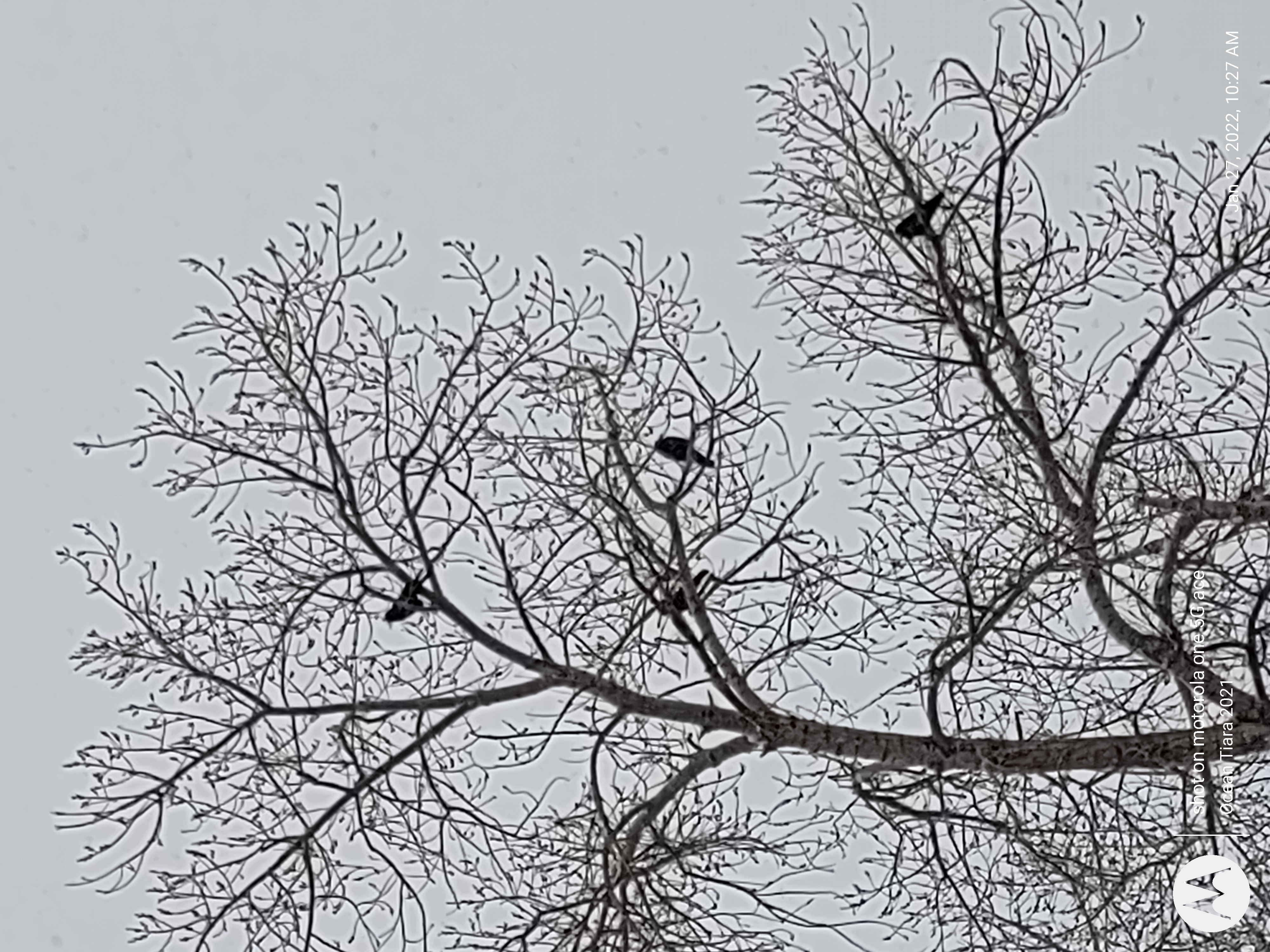 United States
10 responses

• Canada
27 Jan
I don't like crows, they are loud and noisy. When we lived at our old place, we were near a river. The birds would roost in the trees on the riverbank near the city, and when they would take off and fly it would make the sky look black. It was awful. For generations those crows would come and live there. There was a car dealership near by and they had countless issues with paint being ruined as a result of the thousands of crows flying over top, because you know what they are doing when they are flying.

• United States
28 Jan
There must have been clouds of them then Julia..a lot here but not that many. That sounds like a good horror film what you just said.

• Canada
28 Jan
@RebeccasFarm
No, people in that city were lazy and would put their garbage out the night before, often without lids on the cans, and the crows would go into town to rip into the bags and eat, it was gross.

• United States
28 Jan



• United States
28 Jan
Now..that must have been quite a treat Ron..the parakeet


• London, England
28 Jan
@RebeccasFarm
There are colonies of them. I guess escaped or were released and found themselves quite at home. You can hear them in the trees

• United States
28 Jan
@Ronrybs
Yes no not hearing those lot



• United States
27 Jan
They try to outdo some other birds when it comes to scavenging, but sometimes I see them, and they wait their turn


• United States
27 Jan
@RebeccasFarm
Even as large as they are they are not as aggressive as other birds.

• United States
27 Jan
@CarolDM
Right.crows often get a bad rap

• El Paso, Texas
28 Jan
I've never seen a crow where I live but I'm not sure if there are some in other parts of El Paso. I'd get a kick out of them if they'd come here.

• United States
29 Jan
Oh they are so funny and smart

• United States
27 Jan
Hi Kandase..they were waiting that is for sure..they seem to know me now


• Roseburg, Oregon
28 Jan
Yes there are a lot of crows and eagles near the beach.

• United States
28 Jan
Yes, we have a lot here too. I throw extra bird seed on the ground for them so they won't disturb the smaller birds on the feeders. Enjoy your snow.


• Rockingham, Australia
28 Jan
Our crows are probably slightly different to yours. I don't like them but they have become very 'citified' here and frequent supermarket parking areas looking for food scraps in the bins.

• Los Angeles, California
27 Jan
I do think crows are cool. But I grew up with a crow superstition (in my culture), not that I believe it, but it sticks in my mind. We get a lot of crows in our backyard - so unusual because this is the first year they've done that. Our front tree was "shaved" not too long ago, so the crows hanging out there look just like your photo here

.