Outside with the bees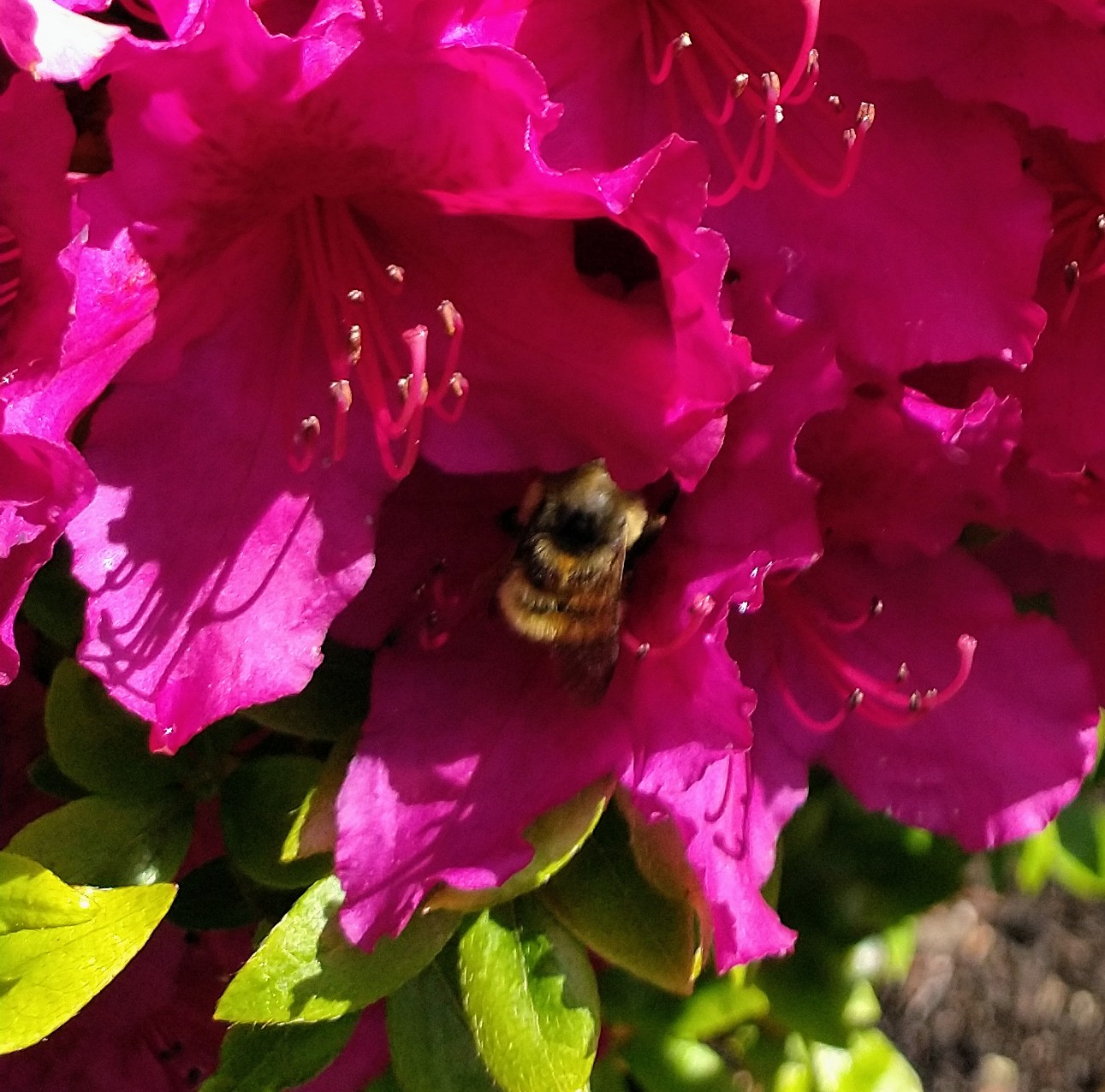 United States
May 10, 2022 5:49pm CST
It's still a little chilly right now, and it's going from sunshine to overcast, back and forth. But, I was able to capture a little bit of a photograph with one of the bumblebees that been gathering nectar from the azalea. I wish it were a better photo, but you should get some idea of what he's like. Photo is my own
10 responses


• United States
11 May
The wasps are horrible. I did put up the trap early this year and I've already captured two, so hopefully they will be the beginnings of those looking for nests. Last year I put mine out early by 2 weeks then what most others do and I only had a handful of wasps in my area.

• Switzerland
11 May
@TheSojourner
- I checked yesterday to be sure they did not build nests, I fear the wasps. The bees are useful, they are not dangerous animals.

• United States
11 May
@LadyDuck
do you have those traps that you can hang from the trees?


• United States
10 May
I hate bees in real life but love them on paper.

• United States
10 May
These great big bumble bees don't sting. They just pollinate. But I know what you mean about the buzzing

• United States
10 May
@TheSojourner
it is the stinging of my hand all the time that got me.

• United States
10 May
@sharon6345
I understand what you mean about regular honey bees, but the bumblebees are not the ones that do that. I'm actually allergic to bee stings and end up having to go into the ER if I'm stung. And wasps or hornets or even worse. I put up the wasp and hornet trap early on and within a couple of days I got two of them right off the bat, so that's a good thing. Those suckers make their mud nests and if you happen in on one of those those can be really horrible.

• Los Angeles, California
14 May

Nature's little beauty at work

.

• United States
11 May
Lovely photo. I wish I could get outside with my camera and take some shots.

• Rockingham, Australia
11 May
We rarely see bumblebees here but I guess we have them. We did see them in England.

• United States
11 May
I"m sure that temperatures can affect these types of things.

• Surat, India
11 May
Beautiful picture. Glad to know. Have a good day. Take care



• United States
11 May
Thank you so much. Enjoy your wednesday!

• Daytona Beach, Florida
11 May
I know what you mean I've attracted my fair share of bugs, too. It's getting that time of year.

• United States
11 May
This was the second one I've seen in the last 3 weeks.

• United States
11 May
Hello, bees!! I love them, and I give them lots of room.

• United States
11 May
Bumble bees don't sting you. Only the honey bees. I love these big old bumblebees. I think they're fun

• Philippines
10 May
I can see the bee clearly.