Except for breakfast, Thursday has been fairly uneventful so far today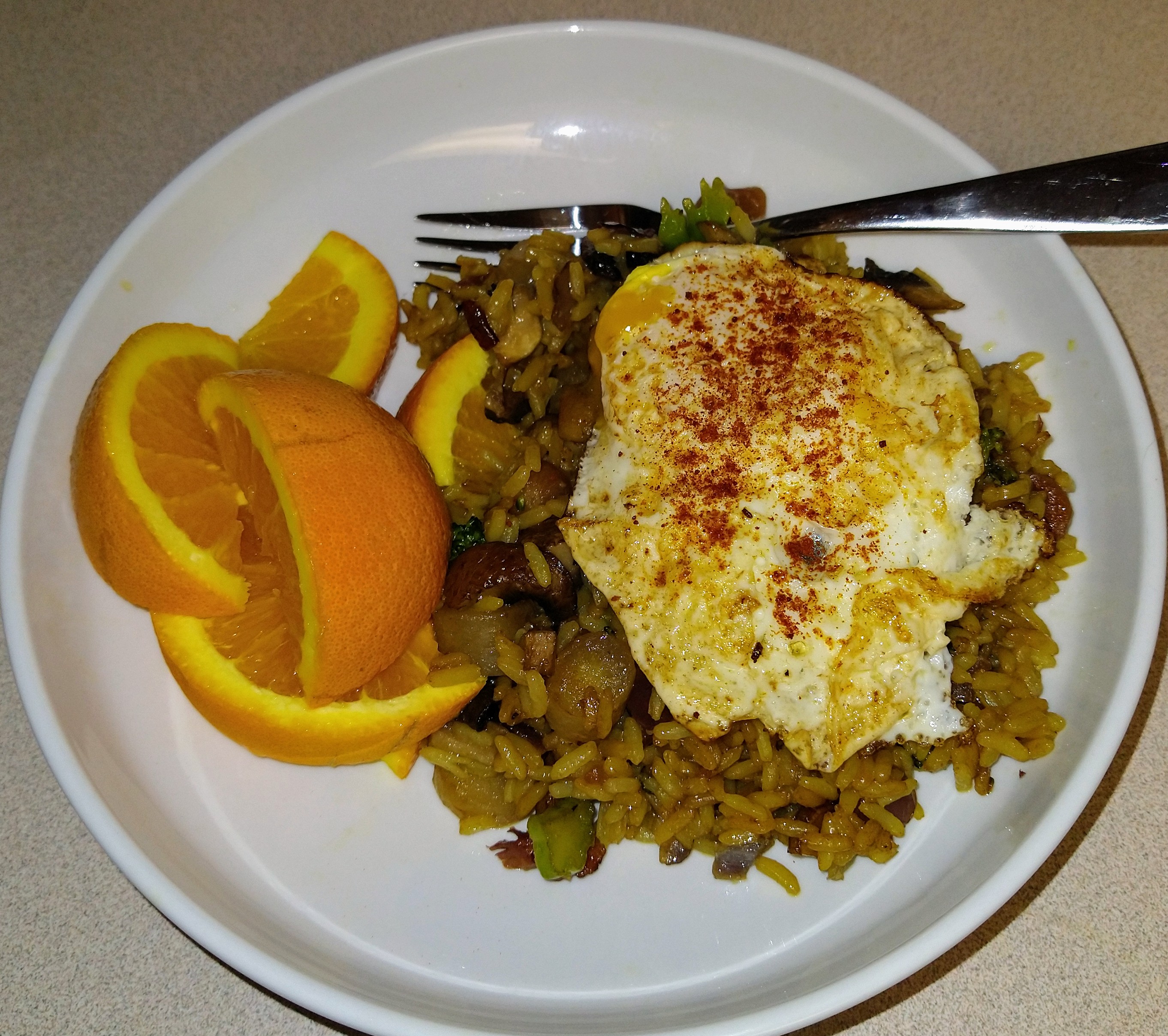 United States
May 12, 2022 5:41pm CST
It's another wet day here in the Pacific Northwest. The temperature is also quite chilly at 46F/7.77C. Cooper and I have gone out for a couple of short walks, but he does not like being out there in the wetness of the day. Nor does he get out and "do his business." We will have to keep going out until he is tired of his boycott of walks in the rain. I have eaten once today, using some leftovers and more to create something a bit different than the original meals. Yellow rice with broccoli, chopped red onion, sliced crimini mushroom, cooked carrots, and coconut amino acids (soy sauce alternative) became fried rice. I topped it with an over-easy egg, and also had a small orange, as well as a mug of coffee. I still need to figure out what I am going to make for dinner, but I have a few hours yet, as it's only 3:30 p.m. What I don't want is to eat leftovers tonight. It looks like the rain is supposed to stop soon, so I am going to get Cooper ready to go out again. I also need to bring up the trash bin from the curb collection this morning. I hope everyone is having a good Thursday. Photo is my own of this morning's breakfast.
8 responses

• Daytona Beach, Florida
12 May
My husband, George and I had a better day today so we can't really complain. Glad your day was boring, we got some rain, too. Though a lot less than I thought. When I told George this afternoon he hadn't known.

• United States
13 May
I hope you have another better day today. I have not even looked outside or at the forecast for today. I don't mind it if it's a little cool, but I hope the rain stays away for today.

• Daytona Beach, Florida
13 May
@TheSojourner
I am hoping so, too. Each day is a little better than the last. I'm loving the cooler weather.

• United States
13 May
@kaylachan
I don't mind cooler, but the winter temps can go away now. LOL Hugs to you.


• Defuniak Springs, Florida
13 May
You think it's annoying for your tiny dog to not want to go out in the rain. It's way annoying for our big boy to refuse to go in the rain lol. I only cooked once today. I just posted about it. We had Arby's for lunch, and it was relatively cheap. I mean not cheap cheap, but pretty cheap. I need to do a declutter and trash day before the next trash day next week. There is so much stuff that we just don't need anymore, or its just takin gup space.

• United States
13 May
I know what you mean about things start to take up space. It's a never-ending job!

• Defuniak Springs, Florida
13 May

• United States
13 May


• Switzerland
13 May
The temperature reached 30º C/ 86 F yesterday, that is totally insane for a month of May. Today is less hot and breezy, a pleasant day. I understand Cooper, I also hate to walk in the rain. I bought an eggplant yesterday, a big one, so I know what I am going to make for dinner, baba ghanoush.

• United States
13 May
I have been so in the mood for eggplant lately, but until I get through the other produce, I am not buying any more. I figure after a week or so, I'll start thinking about escalivada and baba ganoush again!

• Switzerland
14 May
@TheSojourner
- I am checking Aldi flyer for next week, eggplants will be on sale at 50% off. I see an eggplant week. I will also make a "pasta alla Norma", that is very good.

• United States
14 May
@LadyDuck
does that include eggplant? I hope you will share a recipe and a photograph!



• United States
13 May
I'm thinking you're a day late? It's Friday now! LOL

•
14 May
@TheSojourner
Sorry for that confusion my mind was still thinking of Thursday.

• United States
14 May
@Kosgey
I'm not sure where you're located.



• United States
13 May
Cooper said to tell auntie Sonja that he doesn't like it when his mom blames it all on him! LOL

• United States
13 May
I'm sorry your weather is being so stubborn. It's going to be 82 here today. Above average for this time of year. Sending hugs and scratches to Cooper and virtual hugs for you.

• United States
13 May
I would love 60° weather right now. 70° weather would be perfect. 80° weather is starting to push it! LOL

• United States
14 May
@TheSojourner
Sending some warmer weather your way...going against the laws of weather to send it west!

• Los Angeles, California
14 May
Lucky you to get that rain (though Cooper may not agree

). Let me know when you open up your restaurant/cafe

.




• Marion, Ohio
13 May
Hope it warmed up there. We had sun and 80 today. It seemed to take long enough.

• United States
13 May
We have had unseasonably chilly weather. I don't know why it's always feast or famine where weather is concerned! LOL