Frugal Living: Dinner under a Dollar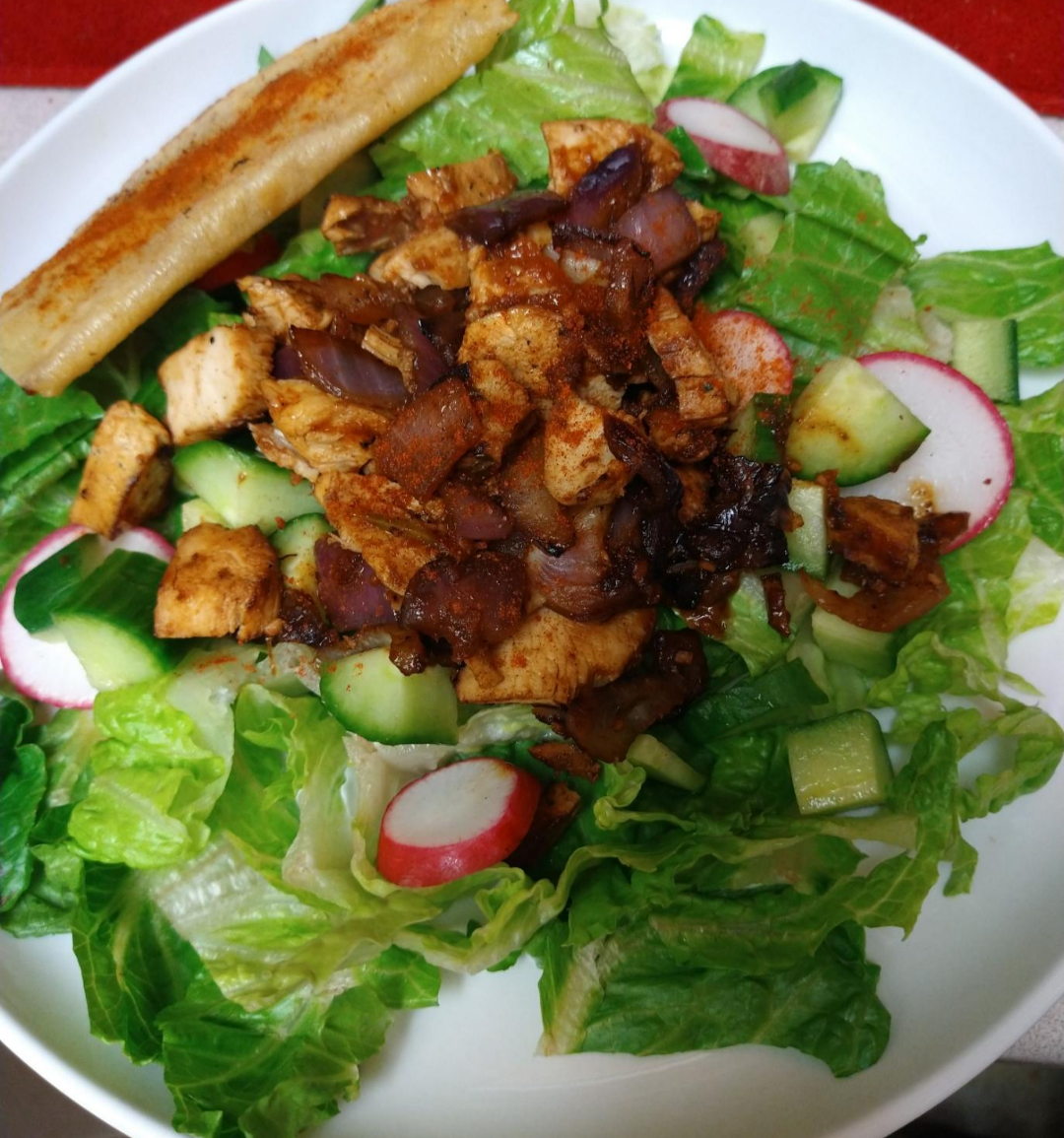 United States
May 13, 2022 6:48pm CST
Tonight I wanted to make sure that I ate fresh, raw vegetables. Salads are perfect for that. They don't have to be too fancy, but can be delicious, healthy, and get well within a budget. And this salad is what I served on my large dinner plate, so it was quite a substantial amount of salad. The Romaine lettuce that I had was purchased on a reduced price table. The cucumber and radishes were at a normal price, as were the onions and tortilla. The chicken was a leftover piece of broiled chicken breast that I kept in the freezer, not to waste. I always have salsa and olive oil on hand. 1/2 Romaine lettuce $0.40 1 large radish $0.05 1/4 cucumber $0.20 1 tsp olive oil $negligible 1/2 cup chicken leftover (from freezer) $Negligible 1/4 cup chopped onion $0.10 1 Tbsp salsa $negligible 1 Corn tortilla $0.06 This was an early dinner, so I'll probably be hungry a little bit later, but I make fix myself a bowl of oatmeal or even Apple to tide me over until in the morning! Photo is my own.
10 responses


• United States
14 May
Simple, fresh, healthy, and inexpensive. Thank you, eva.

• United States
14 May
@SonjaRae
it doesn't always look good. But I try!



• United States
14 May
I'm not sure what Crock-Pot lasagna is. Thank you for the compliment

• Pikeville, North Carolina
14 May
@TheSojourner
K puts all the ingredients for lasagna into the crockpot and lets it simmer for hours.


• Philippines
14 May
The plating is so good. I want to take a bite. You are good.

• United States
14 May
@SonjaRae
if you can't dazzle them with brilliance, you baffle them with bs! LOL


• Los Angeles, California
14 May
You create such a variety with your meals

! What time do you normally eat (just wondering what "early" is to you

).

• United States
15 May
It just depends on how hungry I am. I would say anytime between 4:30 and 6:30. If I go with the earlier, I usually have to eat something about 7:00 or I feel like I'm going to pass out! Tonight I had popcorn

• Los Angeles, California
16 May
@TheSojourner
Ah, got it. With Hubby working til late, we'd often eat around 8/8:30. So people's "normal" dinner time would be super early for us

. But Hubby recently got a new job, so things changed (we eat earlier now which is good) . . . however things will eventually change again when he has to change shifts - then we'll have big time changes here.

• United States
16 May
@much2say
basically, since it's just me most of the time, I eat when I feel like it. Yesterday, that salad, was 10:00 in the morning and was my breakfast! What kind of work does your husband do?


• Defuniak Springs, Florida
14 May
We went to the hot deli at Piggly Wiggly, I will write a post about it in a few minutes.

• United States
14 May
That's a store I have not been to in 100 years. Piggly wiggly.

• Defuniak Springs, Florida
14 May
@TheSojourner
Ours was closed for two years because the kitchen caught on fire. It's only been open for about three months. There deli food was not good tonight.

• United States
14 May


• Switzerland
14 May
Delicious dinner. Very inexpensive also our dinner yesterday evening, breaded fried eggplant. The big eggplant was 80 cents, the egg the breadcrumbs and the sunflower oil used to fry surely less than $1, two portions for less than $ 2.

• United States
14 May
I have to pay about two and a half to three times that for an eggplant. It's definitely a great meal that you made. Sounds delicious!

• Switzerland
15 May
@TheSojourner
The eggplants come from Spain and they are always very cheap here. I tried to plant, but I only had a few and very small, it's not even worth trying again.

• United States
16 May

• Redlands, California
14 May
That's pretty impressive miss lady. So it can be cheaper to eat healthy. I was ready to go kill a chicken, what is funny is its actually cheaper to buy a live chicken that buy chicken from a grocery store. So much for the mass production makes things cheaper. How greedy we have become.

• United States
14 May
Thank you! It really can be cheaper for us to eat healthy, when we think about it. And to kill a chicken, you're not getting all of that extra water that's in them that they're injected with.

• Redlands, California
14 May


• United States
14 May
they can't afford to feed their families, because they refuse to change the way they want to eat.

• United States
14 May
I love salads. I could go for one with all kinds of "stuff" on it.

• United States
14 May
I can too. And I don't need salad dressing on it.

•
14 May
It looks wonderful! I had baked fish, salad, and a small baked sweet potato. I couldn't finish it. But it was good, I will eat the rest tomorrow.