I Received the Gift of Laughter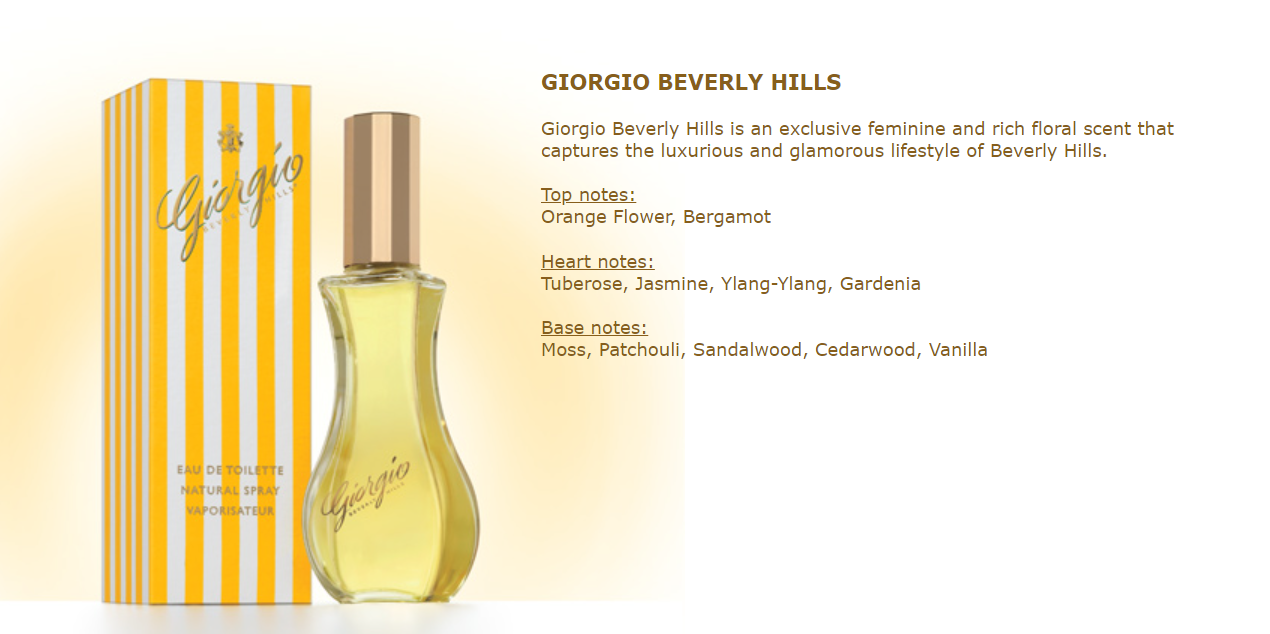 United States
May 14, 2022 7:31am CST
The house of Giorgio snagged me and my aunt, hook line, and sinker when they launched their signature fragrance, Giorgio Beverly Hills, in 1981. And I have been hooked since. Fred Hayman and George Grant founded Giorgio Beverly Hills in 1961 (the name Giogio being synonymous with George). Hayman bought out Grant's share the following year. Then, in 1987, he sold his fragrance business and brand to Avon - yes, THAT Avon, and they, in turn, sold the brand to Proctor and Gramble in 1994. And I am telling you all this because of a funny thing that happened after I bought a new bottle of Giorgio Beverly Hills last month. My roommate (yes, this is another story about him) allegedly owned a women's apparel shop and had a few booths in flea markets back in the 1980s, so he fancies himself a perfume connoisseur. He also believes I don't know good perfume when I see it, let alone smell it. And I think he can go pound sand. Anyway, because he believes I am such a dunce, he bought me Giorgio Red for my birthday, because he believes that is THE Giogio perfume - PERIOD. But, it did not arrive in time, so he showed me his receipt. Yet, I did not need to see it. I believe him. And, he wasn't showing it to me as proof that he got me something anyway. He was trying to cut my Giogio Beverly Hills Down, so I went into my bedroom and sprayed some on. Him: "What did you just put on." Me: "My deodorant and Giorgio - why?" Him: "What Giorgio?" Me: "Giorgio." Him: "That's the name of the company. Which perfume?" Me: "Giorgio. Giorgio Beverly Hills." Him: "(Expletive!) No. That is still the name of the company. What is the (Expletive!) name of the perfume?" Me: "Giorgio. Giorgio Beverly Hills." In frustration, he looks something up, comes back, and says, "that's just their basic house perfume. Just wait until you get Red. You'll see." The man thinks I ain't got no culture, so's I ain't done never heard of no such thing as Giorgio Red. LOL! I've been wearing Giorgio since 1981. Giorgio Red, was introduced by Avon in 1989.
4 responses

• United States
14 May
THis roommate you have sounds like a carbon copy of the other one.

• United States
14 May
This guy is a mess. He is older and has dementia. I will be out of here in a month.

• United States
14 May
@Chellezhere
I bet my roomie could give him a run for his money.

• East Tawas, Michigan
14 May
@Chellezhere
They profess to have a handle on everything, yet they're faking it!


• United States
15 May
He probably showed you the receipt so you could see how much he paid for it. It must be nice to be an expert in all things....not!

• United States
15 May
And, other than the cheap price (that he claimed he paid on May 9th as a Mother's Day sale price), what gave me the biggest chuckle were the words "eau de toilette." Mr. Silliness thinks Giorgio Red is parfum.

• United States
15 May
@Chellezhere
And if Avon put it out, it's probably not the best.

• United States
15 May
@LindaOHio
, Giorgio Red was created by Avon, but it has been owned by Proctor and Gamble since 1994. And, I don't know about you, but (even though I used to work for 1-800-CLAIROL, so I know better), when I think of Proctor and Gamble, perfume is not the first thing that comes to mind. Go to their website, and the first thing you see is a picture of a man shaving. Scroll down, and you see diapers, laundry products, paper towels, facial tissue, toilet paper, feminine care products, razors, hair care products, household cleaners, toothpaste and mouthwash, and health and beauty aids - none of which is parfum. That's not something they share with the general public, and there are many other products that they own that we do not know about, even though we know and use them.


• East Tawas, Michigan
14 May
Avon perfumes are cheaper, I think. I don't believe they carry the more expensive scents.

• United States
14 May
Yes, they do tend to be less expensive. I don't think my roommate is aware that Avon created Giorgio Red and later sold it to Proctor and Gamble. I think he believes Fred Hayman's house of Giorgio created and still owns Red. And, I don't think many other people who buy Red or Giorgio Beverly Hills know they are Proctor and Gamble now.

• East Tawas, Michigan
14 May
@Chellezhere
He is totally unaware of this perfume or where it originally came from. Yet, he wants you to think he's right on track!

• Italy
14 May
We don't wear perfume to please other people, they're personal.

I don't care about the prestige, I just want a scent I like that "sticks" well to my skin. Then my mother believes gifting perfume brings bad luck, and I follow that superstition too.


• United States
14 May
I prefer to buy my own perfume, and I use scents trustworthy people have told me work well on me.