Day 22--Midweek Dinner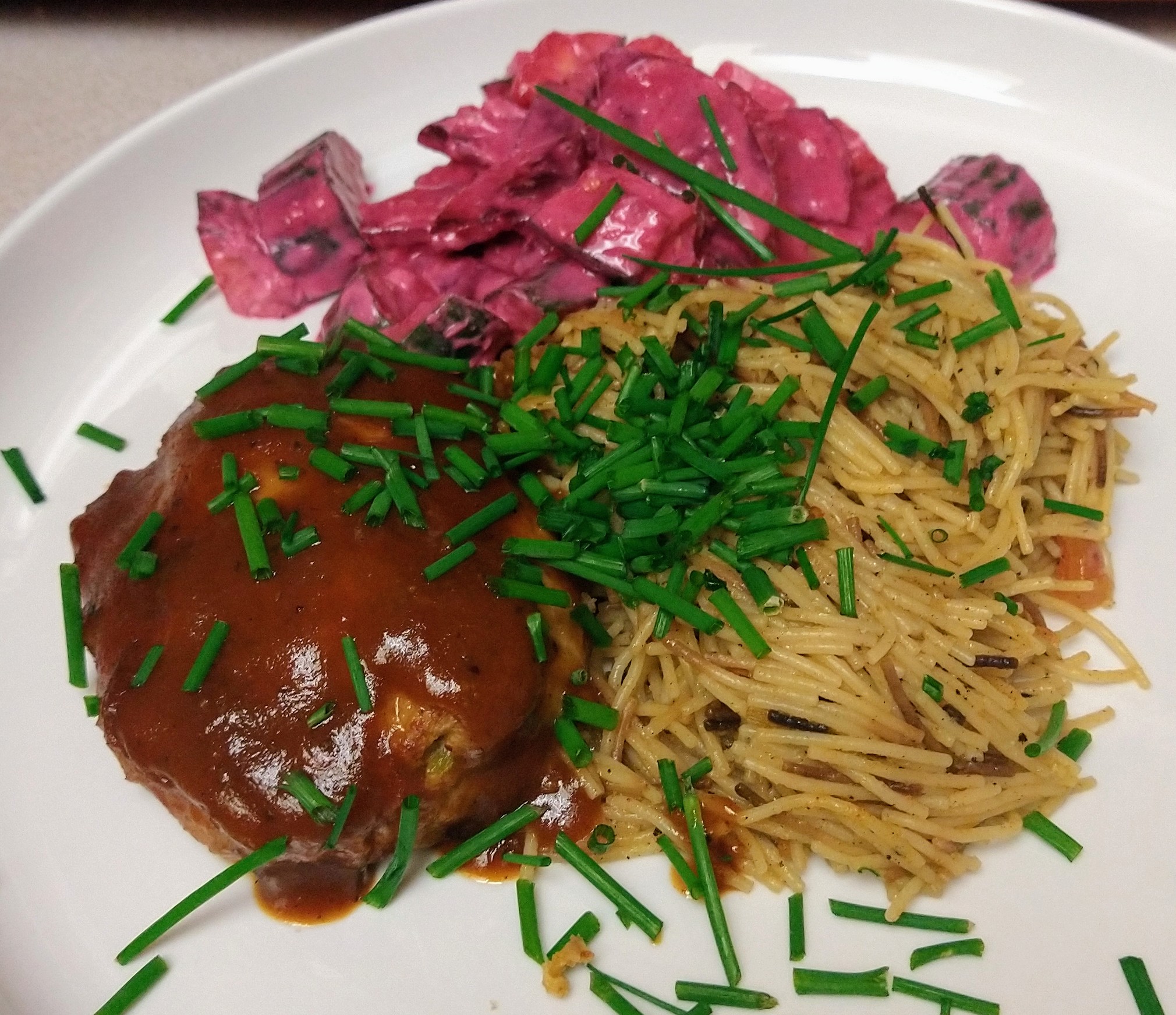 United States
June 23, 2022 12:05am CST
Keeping with the using what I have on hand, I gave RGD some choice as to what we could have, and what to serve as the sides. He chose the turkey meatloaf patties up in the freezer, and an option of being cooked with barbecue sauce, gravy, or plain. For the side dish, I gave him a choice of rice, the fideo pasta as I made last week, or boiled potatoes. For the salad or vegetables, he had a choice of a beetroot, onion, and cucumber salad with a yogurt and horseradish dressing, a salad made with iceberg lettuce and great tomatoes, or a side of cooked brussel sprouts. We ate the turkey meatloaf patties with barbecue sauce, a side of fideo pasta, and the beetroot and cucumber salad. I used chopped chives for a garnish. It was actually quite delicious, and did not take up much time or effort to cook. Again, taking a look at the foods I have in inventory, and looking up a couple of recipes on the internet, and it's easy to pull together something delicious and healthy. photo is my own.
9 responses

• Kenya
23 Jun
Wow even from the picture it looks delicious I believe you did enjoy it so much

• United States
23 Jun
Yes, it was delicious. Thank you.


• United States
23 Jun
I made up the turkey meatloaf patties last week. I think I put my cost in that post. I used two pounds of ground turkey that I bought for I think 8 or 10 dollars, plus an egg, bread crumbs, spices. I maybe 11 patties. So, each of the patties was about a dollar each. Of course, the cost is always going to be determined by how much food is where you live. It may be a lot cheaper or about the same, and then I always will substitute wherever I can. For instance, instead of using bread crumbs, I used the last bit of corn flakes cereal that I crushed up in these meatloaves. The fideo pasta is very inexpensive, but I did not buy it, because I was given several packages of them. They run about $0.35 each. I used one packet, plus the stock that I made last week, which cost me nothing because I use vegetable scraps. I used a couple of spoonfuls of tomato salsa that I had in the refrigerator so I can't really put a cost on that. However, the cost to me for this fideo was relatively nothing tonight. For this salad, I used a half cucumber, which cost me $0.50 for the whole cucumber, so only $0.25 for the cucumber used in the salad.. I used the last of some pickled beets that I made last fall, and I can't tell you how much that would have cost me. I used about two tablespoons of minced red onion, so pennies. I used the last bit of horseradish I had in a jar, and two tablespoons of plain yogurt,; salt and pepper. It gave me three servings, so this was Penny's based on what I spent on things. Sometimes it's really difficult to do cost accounting for some things like this, especially when you're using a spoonful of yogurt. Or a little bit of a whole onion. If I use the whole onion it would be easier to judge, so that's really something you have to kind of judge for yourself when you're making things like this. That all being said, I would say that for what you see on the plate, and making three servings, feeding two of us tonight and leftovers for my lunch tomorrow, I probably spent about $4 for those three servings. Sometimes, I don't know how to put a price/cost on what I already have available.

• Hong Kong
23 Jun
Your meal looks delicious! I sometimes have grilled pork with barbecue sauce. A pretty popular Chinese dish.

• United States
23 Jun
I enjoy barbecue sauce on many different things.

• Roseburg, Oregon
23 Jun
Your meal looks really good.


• United States
23 Jun
It's actually quite nice. I took them straight from the freezer, and put it into the iron skillet with just a tiny bit of water, and steamed it just to thaw, then put the barbecue sauce over the top, and finished off in the countertop at 350F for about 20 minutes to finish heating and to caramelize the top of the sauce.

• Switzerland
24 Jun

• United States
24 Jun
@LadyDuck
I have four other patties up in my freezer. I will have to do this one again. Simple, because it's already pre-done, and tasty because I love barbecue sauce!


• United States
23 Jun
No, more like lucky Coral. Except for me having to push him to make a decision, which he drags his feet on, he eats what I put on the plate. He knows better. LOL

• United States
23 Jun

• Germany
23 Jun
Your meal looks so delicious. Enjoy



• United States
23 Jun
The meatloaf with BBQ sauce sounds deelish.

• United States
23 Jun
Fideo is like angel hair pasta broken up into small pieces. It's something you find in the Mexican stores or in the Mexican section of the place like walmart.