Duck Dynasty Was At My House For Breakfast This Morning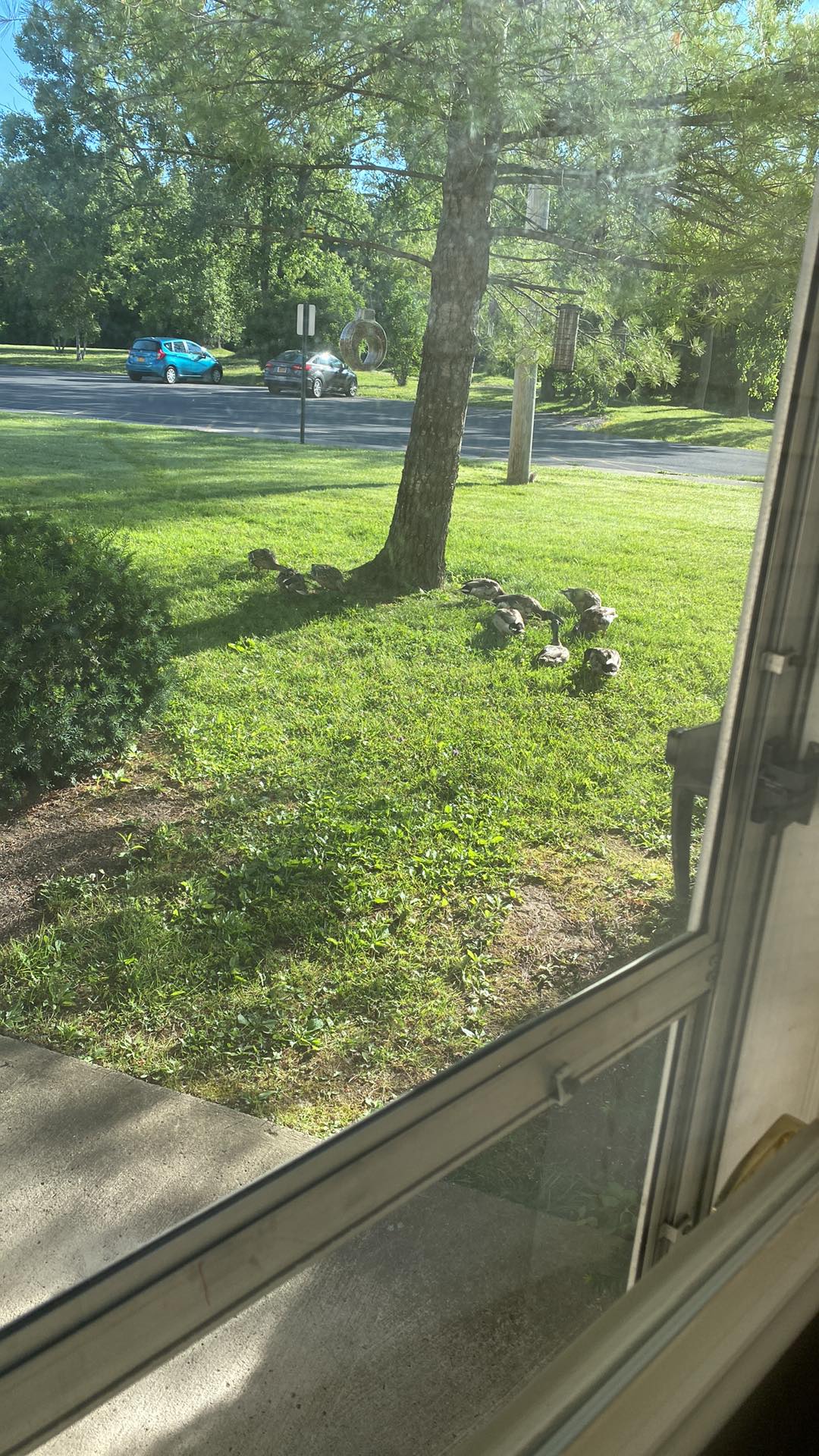 United States
June 29, 2022 7:33am CST
When I woke up this morning, Henry was not sleeping in the bed with me. He was lying on the windowsill. But unlike most mornings, he did not meow and jump down when I put my feet on the floor. Instead, this morning, he cocked his head, remained silent, and stayed on the windowsill. So, I went about the business of my morning without him. But, in time, I was curious as to why he was staying on the windowsill, so I pulled back the curtain a little to look. A tree with two bird feeders that hang from it is in front of my patio. But where there are usually birds, chipmunks, or squirrels, Henry now saw ten mallards (ducks). I have seen one or two out there, and seen ducks eat bird seed many times throughout my fifty-four years. But this is new and exciting for Henry - so much so that he ran to the patio door looking for them when they flew off when the paratransit van (old people bus) came in. I had to snap a picture (this was before the bus arrived) and send it to my cousin. So, I grabbed my iPhone, opened Facebook Messenger, clicked the camera icon, pulled back the curtain, and Henry stood up, meowed, and repeatedly slapped my hand out of the way. He did not want the paparazzi interrupting the duck dynasty while they were feasting on their breakfast. Or maybe he didn't want me to scare the ducks away while he was enjoying some quiet time watching them - either way, I walked into the living room, pulled back (not up) the mini blinds on the patio door, and got the camera shot I intended.
9 responses

• Philippines
29 Jun
that is awesome to see a bunch of ducks in the morning that like they are waiting for food

• United States
29 Jun
They were not waiting for food. There was bird seed on the ground.

• Philippines
29 Jun
@Chellezhere
ohh. well they got there cuz there is food already lol. lucky ducks.

• United States
29 Jun
@DevMrSamEleazar
Yes, they are.





• United States
29 Jun
Yes, despite the tiny parking lot, we have a lovely view. The only thing henry wishes is that the lawn mower guys would go away. He does not like their machines.

• United States
29 Jun
@Chellezhere
That is great. We take our happiness where we can get it. I don't care for the noise either.

• United States
29 Jun
@CarolDM
It beats having those legless slithering things finding their way through the tall grass and into our homes. But I wish they could manufacture quieter lawn equipment to keep that grass cut.



• United States
29 Jun
They may be why ducks stay away.

• London, England
30 Jun
@Chellezhere
Could be that or they don't like the high place I put out the bird food on!

• Marion, Ohio
29 Jun
They look very content there

• United States
29 Jun
They are. I see one or two ducks there a couple of times a week. Today was the first time there have been ten.

• Marion, Ohio
30 Jun

• United States
30 Jun
@wolfgirl569
Yesterday, the feeders were running low. This morning, someone filled them.

• United States
29 Jun
That is very cool. We had two mallards for a year or so. Also had a mallard knock on the front door last year! Seriously!

• United States
29 Jun
Oh, I believe you. I once drove by a chiropractor's office before hours and saw a swan sleeping on his front door stoop. I suspected it might have a crick in its neck. The friend I was with at the time smacked me on the shoulder for that comment. There is a creek that borders the back and sides of our property, and Skaneateles Lake (one of the infamous finger lakes) is nearby.

• United States
29 Jun
@Chellezhere
Then that's why the ducks were there. The mallard was probably looking for bugs when it "knocked" on our door.

• United States
29 Jun

• Germany
29 Jun
That`s a nice photo. Love to see them enjoying their food



• United States
30 Jun
How entertaining for Henry! That is a fun part of a nice morning.

• United States
30 Jun
It sure was for him. But he was so confused when he came out to the patio door to try to find them after they flew away. He couldn't look out the storm door because I hadn't opened the big door yet. The mallards flew away because the paratransit bus came to pick up one of my neighbors.

• Rockingham, Australia
29 Jun
Henry is having a great time watching the big wide world out there.

• United States
29 Jun
He sure is. There was a lot for him to see at our first apartment in New York, but there seems to be much more here. Yet, this area is more humanly populated (and still somewhat rural).