The Monkey and The Cat (Animal Story 30)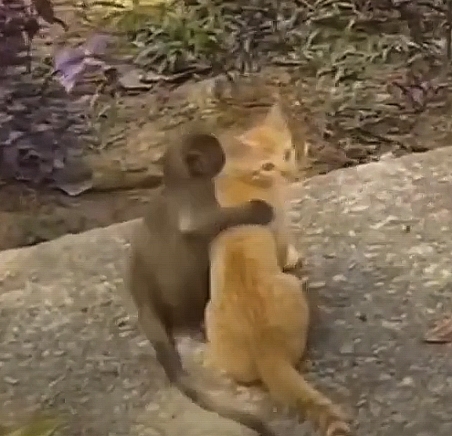 Germany
June 30, 2022 7:20am CST
Have you ever heard of a friendship between a monkey and a cat? Of course, if you live in a part of the world where there are no wild monkeys to be found, you won't be able to answer in the affirmative. Members who live in a country where wild monkeys are common won't find the short video I've attached remarkable in any way. But members like me - who live in a monkey free country - will be touched by it. At least this is what I assume. It shows that members of different species can be friends. They could teach human beings something who can't often be friends even with their own species. ----- The video is on twitter. It has already been watched more than 1 mill. times! === If you're interested in more animal stories, click on the green bar above the title.
https://twitter.com/buitengebieden/status/1535869753729945602?ref_src=twsrc%5Etfw%7Ctwcamp%5Etweetembed%7Ctwterm%5E1535869753729945602%7Ctwgr%5E%7Ctwcon%5Es1_&ref_url=https%3A%2F%2Fwww.tag24.de%2Fthema%2Ftiere%2Ftiergeschichten%2Faffe-trifft-auf-katze-was-
8 responses

• Ireland
30 Jun
@maluse
when I lived in a country with a substantial monkey populations there were no cats to be had. A heart-warming video.

• Ireland
30 Jun
@MALUSE
No-one hadintroduced cats to that part of Africa - how remiss of them. Europe has cats, Africa has monkeys - until humans interfered with things.

• Germany
30 Jun
@xFiacre
Many species have been introduced by people to countries where they don't belong. No good has come out of such actions. Somewhere in the world is an island (I've forgotten the details) where a cat hopped off a ship. It must have been pregnant because soon the island was full of cats and no birds live there any more.





• Rockingham, Australia
1 Jul
That's so cute. I love the way he puts his tail round the cat's neck.

• United States
1 Jul
I am always touched when I see members of different species forming a bond. This was no exception. Thank you for this post.

• United States
8 Jul
This is so sweet, and yes I wish everyone could be friends like this.

• Roseburg, Oregon
3 Jul
That video was so cute the cat just laid there. i think mine would have ran off.