A Biographical Sketch of One Of America's Lesser-Known Founding Fathers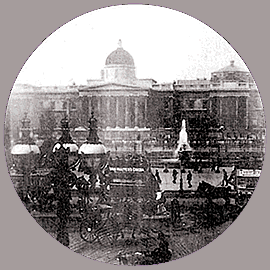 United States
July 3, 2022 9:35am CST
Today, I would like to introduce you to my ninth great-grandfather, Rev. Thomas Dungan, youngest son of "the Mother of Governors," Frances Latham, and her first husband, William Dungan. Thomas was born in 1634 in the parish of St Martin-in-the-Fields at the northeast corner of Trafalgar Square in the City of Westminster, London, England. His father was a perfumer, and his maternal grandfather Lewis Latham was a Sergeant Falconer under King Charles I. William Dungan died in 1636, and two years later, Thomas, his siblings, mother, and step-father, Jeremiah Clarke, became some of the first settlers of Newport, Rhode Island. And it was there Thomas studied the ministry under Roger Williams and Rev. William Vaughn (his mother's third husband). Thomas was a freeman, and in 1663, he married Elizabeth Weaver, the daughter of Clement Weaver and Mary Freeborn and granddaughter of William Freeborn (a founding settler of Portsmouth, Rhode Island, who, along with twenty-two other supporters of Anne Hutchinson, signed the Portsmouth Compact on March 7, 1638). The significance of that compact for us today is that it was the first document in American history to sever political and religious ties with England. Thomas was a soldier and legislator. In 1655, he lived in Newport, Rhode Island, where he was Sergeant of the Newport Militia. And in 1678 and 1681, he was elected to the Rhode Island Assembly. Then, in 1682, he completed his education for the ministry and sold his estate in East Greenwich and homestead in Newport. Then, he moved his family to Cold Spring, Bucks County, Pennsylvania (about two miles from where I was born and raised), where in 1684, he established the first Baptist church in the Province. Did you notice that I did not capitalize the first letter of the word "first"? That means there never was a Baptist church in Pennsylvania until Thomas came along. How cool is that? Thomas died in Cold Spring, Bucks County, Pennsylvania, in 1688, and they laid him to rest in his churchyard. There were nine children born to Thomas and Elizabeth: William, Elizabeth, John, Clement, Rebecca, Thomas, Jeremiah, Mary, and Sarah. I descend from their son Thomas, a yeoman.
1 response

• United States
3 Jul
You are so lucky to know your ancestry. After my grandparents and parents, the rest of my family still lives in Italy.

• United States
3 Jul
I traced Whozeewhatzit's Italian ancestors back eight generations back from his grandparents. Whozeewhatzit is 70. So, I am sure your ancestor's records are available somewhere and may have already been digitalized. I traced Whozeewhatzit's in the early 2000s.

• United States
3 Jul
@Chellezhere
I used Ancestry.com a couple of years ago and couldn't find anything. What do you use?

• United States
3 Jul